Better seal quality and higher output convinces Dutch cheese co-packer to implement second SealScope™
After the successful integration of its first SealScope™ inspection system on a horizontal flow pack line in 2014, Hazeleger Cheese* decided to install the SealScope™ technology on a second packaging line…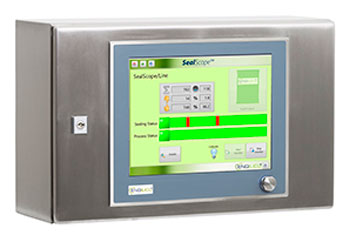 HMI, operator monitoring interface
After the successful integration of its first SealScope™ inspection system on a horizontal flow pack line in 2014, Hazeleger Cheese* decided to install the SealScope™ technology on a second packaging line.
Impressed by the increase in both its packaging quality and a significant higher production output Hazeleger Cheese continues to aim for zero-defect flexible packages and is for the second time partnering with Engilico, the Belgian developer of SealScope™.
*Hazeleger Cheese is a packaging company of Dutch cheese specialty products and service provider for a number of cheese brands.
Higher FTR through process optimization and monitoring
As SealScope™ continuously monitors the machine process parameters the food packaging company today succeeds in keeping its process within tolerance. This results in a higher 'first-time-right' ratio (FTR) and an increased machine output. Additionally compromised seal packages due to folds, wrinkles, product in seal etc. are being identified and rejected.
With the help of SealScope™ Hazeleger has also further fine-tuned its packaging process, reduced the number of systematic errors (caused by non-fine-tuned process parameters) and today manages to keep the process at all times within well-defined boundaries . Early warning alarms notify the operator in case of process drift allowing corrective actions before incidental errors become repetitive.
In 2014, at the start of its first SealScope™ HFFS-integration around 5% of the packages showed some kind of inconsistency. Today the objectified SealScope™ monitoring data made process improvement possible and has caused this number to drop to an amazing 0.5%.
In-line, non-destructive 100 % seal inspection
Increasing upstream and downstream automation triggers the necessity of fast and automatic 100% seal inspection before the product is put into boxes and sent off to the final customer.
Fully automated packaging lines today not only limit manual inspection of the packaged product, but also call for the SealScope™ technology as it inspects every individual package without damaging the package or slowing down the process.
Are you looking for better packaging results?
Please contact our team at [email protected] , visit the website www.engilico.com or call our the Engilico head office at +32-(0)16 49 81 30.
Related topics
Related organisations