Festive food safety campaign launched by FSS
The campaign uses tongue-in-cheek humour to get the food safety message across, featuring Santa Claus stricken by a bout of food poisoning…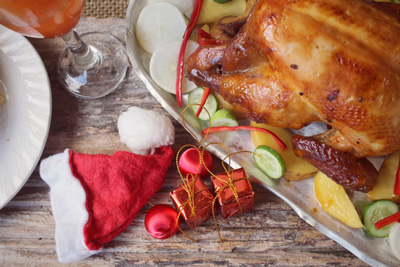 Food Standards Scotland (FSS) has launched its festive food safety campaign, urging Christmas cooks to follow simple food safety tips when preparing meals.
The campaign encourages people to make sure food poisoning is the last thing on their Christmas list.
Webinar: eBook: Thermo Fisher Scientific Food Integrity Collection 2017
Over the course of the year Thermo Fisher Scientific have provided expert comment on a whole swathe of issues including food fraud, origin testing and labelling regulations. This collection also provides access to Thermo Fisher's Food Authenticity webinar series for 2017, where experts delve into olive oil characterisation, gelatin speciation, honey and chromatography, and more.
The campaign uses tongue-in-cheek humour to get the food safety message across, featuring Santa Claus stricken by a bout of food poisoning. 
Don't miss our new Food Waste conference!
This event pioneers the conversation on issues relating to food waste, from legislation to packaging and household trends. It will also equip delegates with the strategies and techniques for measuring, monitoring and analysing supply chain to identify areas of food wastage.
Glasgow shoppers and commuters will be targeted with food safety advice at Glasgow Central Station on Tuesday 15 December and Buchanan Galleries on Friday 18 and Saturday 19 December where Santa's elves will be handing out campaign materials featuring useful food safety tips to help make sure food poisoning is the last thing on their list. It's hoped the advice will lead to more people following the Four Cs of food safety: cleaning, cooking, chilling and avoiding cross-contamination, with specific advice on the storage, preparation and cooking of turkeys and leftovers.
Cooking large quantities of food can lead to a spike in illness
Geoff Ogle, Chief Executive of FSS, warned poor preparation and cooking larger meals than normal is what can lead to a spike in illness. He said: "Christmas is a time for all the family to come together and enjoy themselves and food plays an important part of that.
"Home cooks are usually preparing larger quantities of food from party snacks to turkey roast dinners. When you've got a lot to do in the kitchen and in a hurry you can take your eye off the ball when it comes to hygiene, and when that happens there's more scope for things to go wrong."
Geoff Ogle said there are number of simple things that people could do to help reduce food poisoning infections. He added: "These should include allowing adequate time to defrost your turkey in the bottom of your fridge or somewhere cold: large turkeys can take a couple of days. If it's not completely de-frosted it can mean inconsistent cooking through the bird and won't get rid of bugs like campylobacter which can cause food poisoning.
"Also make sure it's cooked through until the juices run clear, store leftovers in the fridge and eat them within two days unless they've been frozen, and re-heat them just once. And keep your fridge temperature at 0-5°C."
Related topics
Related organisations