DuPont BAX System real-time PCR assay for Salmonella receives AOAC-RI validation extension
The AOAC-RI has approved a method extension for the DuPont BAX System real-time PCR assay for Salmonella to include enrichment protocols using Actero Salmonella Enrichment Media from FoodChek Systems…
The AOAC Research Institute (AOAC-RI) has approved a method extension for the DuPont™ BAX® System real-time PCR assay for Salmonella to include enrichment protocols using Actero™ Salmonella Enrichment Media from FoodChek™ Systems.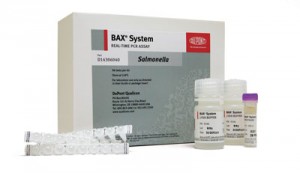 Included in this method extension are protocols for two new sample types – milk chocolate and chocolate liquor – and shortened protocols for dry pet food and environmental sponges.
"Chocolate products have become a higher-priority food type for Salmonella testing, but are difficult to test with rapid molecular methods due to the inhibitory properties of chocolate," said Morgan Wallace, DuPont Nutrition & Health senior microbiologist and validations leader for Diagnostics. "By combining the robust formulation of Actero™ media for enhanced Salmonella enrichment and the sensitivity of PCR processing and automated detection with the BAX System real-time PCR assay, this new AOAC-approved method for milk chocolate and chocolate liquor provides customers with an accurate, reliable testing method that can easily fit with a standard laboratory work flow."
In addition to providing Salmonella testing of these new sample types, this proprietary media helps to provide faster, simpler enrichment procedures for testing products with the BAX System method.
"Actero™ Salmonella Enrichment Media reduces the total enrichment time for sample types such as pet food and environmental swabs by about 7-9 hours compared to enrichment with standard enrichment media. This time savings, combined with the reduced media volume required, can help improve food safety testing efficiencies and the financial bottom line for food companies and commercial testing laboratories alike," said William J. Hogan, FoodChek™ chairman, president and CEO.
BAX System breaks down samples at the genetic level
The DuPont™ BAX System provides advanced, automated testing for foodborne pathogens, spoilage organisms and other microbes in raw ingredients, finished products and manufacturing environments. The system breaks down samples at the genetic level using the power of the polymerase chain reaction (PCR), then uses target-specific primers to automatically detect the presence or absence of the target bacterial DNA and provide clear yes-or-no results. With certifications and regulatory approvals around the world, the BAX System is recognised as one of the most advanced pathogen testing systems available to the food industry today.
FoodChek™ Systems Inc. of Calgary, Alberta, Canada, strives to be the leading global developer and provider of proprietary rapid, accurate and cost-effective food safety testing products for contaminant detection of E. coli O157, Listeria and Salmonella throughout the human food production chain. For more information about FoodChek™ and its products, visit www.foodcheksystems.com.
DuPont Nutrition & Health addresses the world's challenges in food by offering a wide range of sustainable, bio-based ingredients and advanced molecular diagnostic solutions to provide safer, healthier and more nutritious food.  Through close collaboration with customers, DuPont combines knowledge and experience with a passion for innovation to deliver unparalleled customer value to the marketplace. More information is available at www.food.dupont.com.
DuPont has been bringing world-class science and engineering to the global marketplace in the form of innovative products, materials, and services since 1802.  The company believes that by collaborating with customers, governments, NGOs, and thought leaders we can help find solutions to such global challenges as providing enough healthy food for people everywhere, decreasing dependence on fossil fuels, and protecting life and the environment.  For additional information about DuPont and its commitment to inclusive innovation, please visit www.dupont.com.
Related topics
Related organisations