Tesco launches electric lorry fleet
Tesco has launched an electric lorry in what it claims is an industry first, which it says will replace around 30,000 diesel-powered road miles.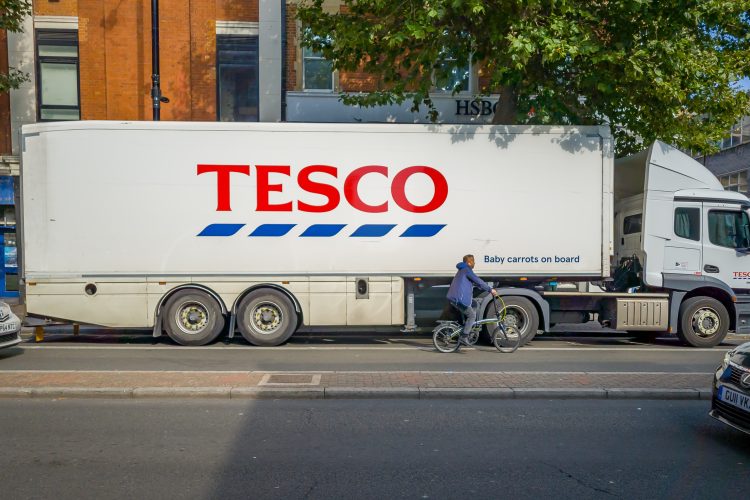 The electric trucks will replace some of the miles covered by diesel-powered trucks like this one
In what's been called an industry first, Tesco has become the first retailer to launch a zero-emission electric lorry to make deliveries from its distribution centres to stores in city centres.
The first electrically-powered lorry of its kind, made by Renault Trucks, is now delivering to more than 400 stores in Greater London, with further electric lorries entering service in the coming months. The lorry has a range of up to 130 miles and is able to carry the same payload as the diesel truck it replaces.
Many towns and cities are planning zero-emission zones to tackle poor air quality, which means electric vehicles will play an increasingly important role in delivering goods into areas where diesel lorries are prohibited.
Tesco claims the lorry is expected to replace around 30,000 miles per year of diesel-fuelled road miles with clean green energy, removing 23 tonnes of CO2e per year. To power it, Tesco has installed electric charge points at its Dagenham distribution centre.
The Renault Trucks D Wide E-Tech vehicle has multi temperature zones – allowing the truck to move stock that has different temperature needs,
"We all want to see improved air quality and less pollution in our towns and cities, and electric vehicles will play a crucial role in achieving this," said Jason Tarry, Tesco UK and ROI CEO.
"The Tesco distribution network is one of the largest in the UK and provides us with a great opportunity to roll out new technologies like this industry-leading E Tech electric truck from Renault Trucks. Together with our switch to electric home delivery vans and rolling out electric vehicle charging points for our customers, we're really excited about the improvements we're making across our business, and our transition to electric vehicles."
Currently, heavy goods vehicles, including delivery vehicles, make up around 16 percent of the UK's domestic transport emissions and addressing this can play a significant role in delivering the UK's net zero ambitions. Adding electric delivery lorries to its fleet will contribute to Tesco's efforts to achieve net zero emissions in its own operations by 2035.
In January this year, Tesco became the first UK retailer to add electric heavy freight articulated trucks to its fleet, that transport products emissions-free between Cardiff rail terminal and its distribution centre in Magor.