Cutting plant suspension lifted
The FSA has granted conditional approval to the Aberystwyth meat plant that had its approval suspended during the horse meat investigations…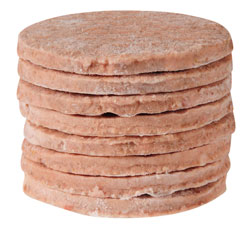 FSAI published the findings of a targeted study examining the authenticity of a number of beef burger, beef meal and salami products...
The Food Standards Agency has granted conditional approval to the Aberystwyth meat plant that had its approval suspended during the horse meat investigations.
On 12 February the Agency announced that it had suspended operations at Farmbox Meats Ltd, Llandre, Aberystwyth as part of its ongoing investigation into the mislabelling of meat products.
The FSA has now decided to lift the suspension of the approval of this cutting plant, which means it will once again be allowed to operate under conditional approval. This conditional approval expires on 5 April 2013 and a decision will be taken as to whether the plant should be granted full approval to operate.
The FSA has required the establishment to provide guarantees before allowing it to operate again and has also informed the business that it will not hesitate to withdraw its approval if there is sufficient evidence that there is non-compliance with all requirements placed on food business operators.
Related topics
Related organisations