Study calls for new research on E.coli in cattle
A report has recommended that the use of livestock feed additives and cattle vaccines should be investigated…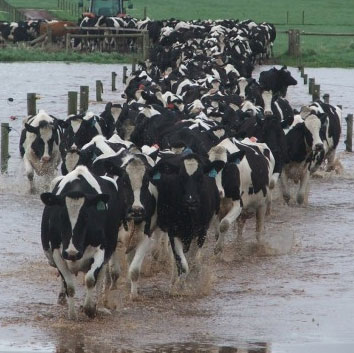 A report, published today by the FSA in Scotland, has recommended that the use of livestock feed additives and cattle vaccines should be investigated for the control of E.coli O157 on UK farms.
About E.coli 0157 and the study
E.coli O157 is a serious gastrointestinal pathogen which can be transmitted from cattle faeces to humans via the environment or through the food chain.
A literature review identified three control strategies which had been shown to reduce the prevalence and/or shedding of E.coli O157 by infected cattle:
the use of probiotics in feed
the vaccination of animals
measures for improving biosecurity on farms
Analyses compared the costs of implementing each as a control strategy against the public health benefit. The results suggested that, at a national level, the use of vaccines or probiotics could be cost effective.
Both of these approaches have shown promise in research carried out in the US. However, little work has been undertaken to establish how feasible it would be to implement these methods in UK farming systems, and how effective they could be in reducing the public health risk associated with E.coli O157 in this country.
Talking to farmers
A survey of around 500 UK farmers indicated that there are high levels of awareness of the risks of E.coli O157 to public health, and recognition that they have a responsibility to address the issue.
Despite this, many are not convinced of the benefits of investing in treatments such as vaccines and probiotics. However, the responses suggested that improved access to information and evidence for the safety and effectiveness of controls would encourage farmers to take action.
Farmers who opened their premises to the public were more likely to be willing to pay or to spend time in controlling E.coli O157, and the findings suggested that targeted vaccination to open farms could be a viable option for reducing human exposure to the pathogen.
Further research
This study has been an important first step in identifying methods with the potential to manage the spread of E. coli O157 on UK farms.
It makes recommendations on how farmers could be incentivised to implement control measures and highlights the need for further research to strengthen the evidence base on how on-farm interventions could benefit public health.
The Agency aims to publish its requirements for research, to address some of these recommendations, in March 2013.
Background to the study
Co-funded by the Department of Environment, Food and Rural Affairs (Defra), this study was undertaken by the Scottish Agricultural College (now Scotland's Rural College; SRUC) in collaboration with the University of Glasgow.
It addresses a recommendation made in the report of the Public Inquiry into the foodborne outbreak of E.coli O157 which occurred in South Wales in 2005. See the link below for more information about this and to access the full study.
Science behind the story
E.coli O157 is a verocytotoxin producing pathogen belonging to a group of bacteria called Enterohaemorrhagic E.coli (EHEC). These can cause mild to severe illness, characterised by abdominal cramps, vomiting and bloody diarrhoea.
EHEC infections can also lead to the serious conditions haemolytic uraemic syndrome (HUS) and thrombotic thrombocytopaenic purpura (TTP). These conditions affect the blood, kidneys and, in severe cases, the central nervous system – and can even lead to death. In the UK, EHEC infections are most commonly attributed to E.coli O157, for which there were over 1,000 cases reported in 2010 and 2011.
The main source for EHEC is the gut of ruminant animals, particularly cattle, which excrete or shed the bacteria in their faeces. Some cattle excrete EHEC at significantly higher levels than other animals in the herd; a phenomenon known as 'supershedding'. Humans can become infected through direct exposure to faeces in the environment or when faecal contamination enters the water supply or food chain.
Related Items
Feasibility of introducing methods, in the UK, for reducing shedding of E. coli O157 in cattle
Related topics
Related organisations