How pop-ups can maintain food safety this summer
Summer is the season of al fresco dining and many caterers will be looking to take advantage of this taste for fresh air. George Hand, Sales Manager for Cleaning, Hygiene and Catering at Office Depot, tells us how food businesses that choose to venture boldly outdoors can avoid coming to regret their decision.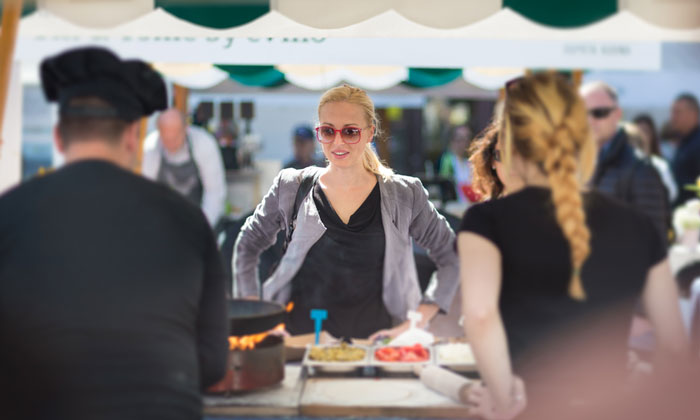 SUN'S OUT: Al fresco service presents a different set of challenges
As temperatures rise during the summer months and more people head outdoors, the UK's pop-up restaurant scene will be poised to take advantage of an influx of customers. However, in order to prevent damaging outbreaks of food poisoning and similar illnesses, it is essential to maintain a focus on food safety.
With Food Safety Week taking place from 10 – 16 June, there is no better time to for owners of pop-up restaurants and stalls to consider how a meticulous approach to cleaning and the right cleaning products can help them to keep customers healthy and happy, avoid reputational damage and encourage repeat business throughout the summer months.
While some people may believe that opening a pop-up restaurant is a quick way to increase profit margins and raise a business' profile, the reality is that running a successful pop-up requires a great deal of forward planning, organisation and hard work. There is a lot to be considered when setting up a catering business and health and hygiene should be the number one priority.
With a lack of space and often limited facilities, cross contamination and general food safety can pose a significant risk to pop-up food stalls. The most common cause of food poisoning, campylobacter, can easily be spread through improper handling of poultry, meat and dairy products. Similarly, bacteria such as listeria and E.coli can be found on the most unlikely foods, including mixed salad leaves. With this in mind, efforts should always be taken to ensure that proper food hygiene procedures are followed, whether that be using the correct chopping board, keeping raw food away from ready-to-eat products or washing fresh produce before it is served.
Likewise, perishable foods must be kept at the correct temperature to prevent the growth of harmful bacteria. Temperature control is likely to be one of the biggest challenges in a pop-up scenario, however, methods such as ensuring chilled food is kept outside the fridge for the shortest time possible, using a thermometer to record fridge temperatures and not overfilling the fridge can minimise the risk of bacteria multiplying.
As a small customer-facing business, poor hygiene standards within pop-up restaurants will be noticed by the public and can quickly cause irreversible reputational damage. Therefore, it is vital to ensure not only that stalls comply with all food hygiene regulations, but also that worktops are kept clear and tidy – not always an easy task in the fast-paced, high-pressured environment of the hospitality industry. Educating the workforce is key to ensuring high levels of health and hygiene. Regular training should be used as an opportunity to cover new procedures as well as recapping the basics.
Hand hygiene is particularly crucial in the hospitality world, with unclean hands posing a significant threat to levels of customer safety. While the process of washing hands before and after handling food is second nature to most, many people do not realise that hands must be washed for at least 20 seconds to kill germs. Alongside training, signage can also be used to remind employees of the importance of following a thorough handwashing procedure.
As a small customer-facing business, poor hygiene standards within pop-up restaurants will be noticed by the public and can quickly cause irreversible reputational damage.
In order to promote good hygiene, employers should aim to provide the best available quality of soaps and cleaning agents for the environment. Yet, it should be noted that hygiene products are not a one-size-fits-all solution and the specific needs of the environment should be considered before purchase. It is also necessary to manage stock levels so that cleaning and hygiene products are always available, especially around peak times such as bank holidays where demand may increase.
Where space is a premium, businesses may wish to consider switching from pre-diluted chemicals to concentrate alternatives and utilising a dilution control system to ensure that the correct amount of concentrate is used. Not only will this approach save space, it will also mean that products last longer than their pre-diluted counterparts, helping to cut costs and reduce environmental impact.
Maintaining a thorough approach to food safety is a full-time role and businesses should be aware that an environmental health officer may pay an impromptu visit to make sure that high standards are being maintained. By introducing policies and procedures early on and ensuring the cleaning essentials being used are fit for purpose, pop-ups can ensure that they are more than just a flash in the pan this summer.
About Office Depot
Boasting a strong brand name and a loyal customer base, Office Depot Europe operates in 14 European countries across three main activities and brands: "Viking", Contract, and Retail. Under the prestigious "Viking" brand, the company is a leading vendor in six product areas: office supplies, printing and document services, paper, computers and printers, business services like facility management, and office furniture, with direct sales to over 1.2 million small and mid-sized firms in ten European countries via the online channel, mail order, and call centres. The main markets for "Viking" are the region covering Germany, Austria, and Switzerland, plus the UK. The Contract segment, which boasts an attractive and loyal customer base together with a stable distribution network, maintains contracts to supply over 100,000 large business customers and corporations in the main markets in the UK, Benelux/France, Germany, Austria, and Switzerland. The Retail segment sells products under the strong Office Depot brand to over 600,000 active customers in over 100 stores and online.