Improved aquaponic technology for efficient and sustainable food production
Feeding the growing world population in a sustainable way requires both political and technological solutions. The European Union is at the forefront of the global debate on food security and protection of the natural resources that become scarcer and scarcer. In 2010, the European Union launched the Europe 2020 strategy aiming at driving the European growth in a sustainable way through ambitious targets. The strategy's objectives related to resource efficiency aims at finding innovative ways to optimise food production and to face the challenge of water availability in Europe and worldwide. The EU funded project INAPRO responds perfectly to these challenges as it is aimed at developing and demonstrating a model-based optimised aquaponic system as a green technology that could play a crucial role in sustainable food production and water saving.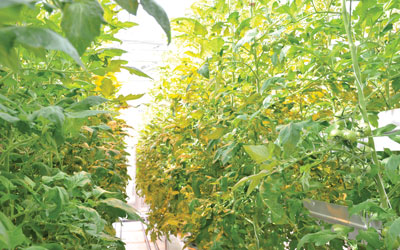 Aquaponics is an environmentally friendly food production technology that couples aquaculture (e.g. production of fish) and horticulture as hydroponics (e.g. production of vegetables) in one system. The nutrientrich water from the fish unit is used as fertiliser for hydroponically grown crops and so reduces the sewage of the fish unit as well. Compared to a single fish or plant production, aquaponics saves water, energy and nutrients. This technology has ancient roots with predecessors like the Asian polycultural farming systems (paddy fields) or the Aztec agricultural islands (chinampas).
Despite the great role that aquaponics could play in producing healthy and sustainable food, the technology did not spread out on the market until now. Indeed, currently existing commercial approaches of aquaponics vary to a large extent in size, complexity and technologies used, often lacking stability, technical and technological standardisation and economic profitability. Classical aquaponic systems couple both units (aquaculture/hydroponics) through a single water recirculating system. The wastewater from the aquaculture which is used to nourish the plants is directly recirculated back into the fish tanks. However, aquaculture and hydroponics have different requests, e.g. concerning pH values, and such systems do not reach the optimum nutrients requirements of plants with higher demands such as tomatoes…
Webinar: eBook: Thermo Fisher Scientific Food Integrity Collection 2017
Over the course of the year Thermo Fisher Scientific have provided expert comment on a whole swathe of issues including food fraud, origin testing and labelling regulations. This collection also provides access to Thermo Fisher's Food Authenticity webinar series for 2017, where experts delve into olive oil characterisation, gelatin speciation, honey and chromatography, and more.
The rest of this article is restricted to logged-in members. Login or subscribe free to read it.