Making plant-based work for pastry chefs
Bethan Grylls speaks to Marike van Beurden, Co-founder of Be Better My Friend, the company behind "the world's first" 100 percent plant-based butter for professional pastry chefs.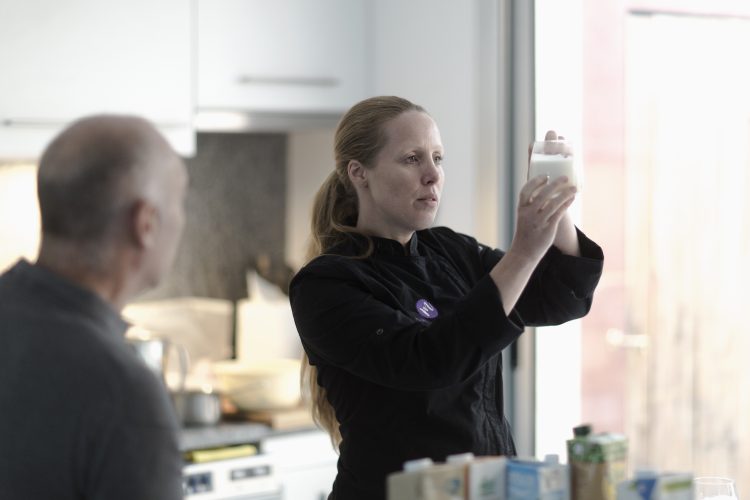 Marike van Beurden ©ivo+Ana
Crafting the perfect pastry is a delicate artform dating back centuries. It's believed that the ancient Egyptians, Greeks and Romans created honey cakes, dumplings and more with a basic filo-like pastry. Traditionally, pastry has been made with animal derived products, but fast forward to today and more and more modern consumers are turning to plant-based options – so what does this mean for pastry chefs who now have to alter their ingredients?
Plant-based butters have been on the supermarket shelves for a few years now, with options for consumers becoming more diverse, but for pastry chefs, Marike van Beurden, Co-founder of Be Better My Friend (BBMF), says choice has been limited…until now.
The Dutch-based company, which was set up by chef Beurden, alongside food scientist Pere Castells and global food strategist Joost Lindeman, claims to be the world's first 100 percent plant-based butter dedicated to pastry chefs.
Making the BBMF plant-based butter
The story for BBMF begins with a book – a cookbook to be exact. Beurden was keen to create clean label, vegan recipes for pastries, but discovered that a lot of plant-based ingredients on the market also came with long ingredients lists of their own.
"You start reading labels and saying to yourself 'do we really need all these ingredients?'" explained Beurden. "So I started to create formulas for vegan butters and creams."
The problem, according to Beurden, is that making pastry is already labour intensive, without adding all these extra steps in.
"And then Covid hit… My calendar as an international consultant went from full to empty."
But the story was far from over. Her now Co-founder, Lindeman, spotted an opportunity to continue developing the formula and commercialise it as an easy alternative to dairy-based butter for pastry chefs.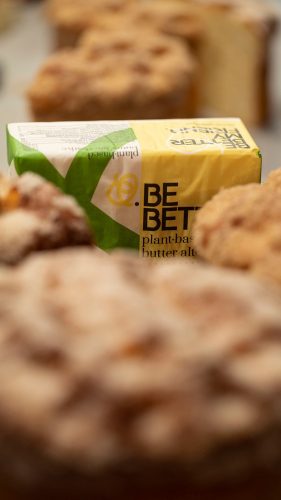 As Beurden experimented with ingredients in her own kitchen, Lindeman found them a strategic partner in Royal Smilde Foods who have a long history in producing fats. During the R&D stages, the recipe was reformulated another 15 times, with Beurden testing each one for baking, whipping and overrun (the difference between the pure butterfat and the fat manufactured from that given amount) to ensure it was up to par.
As she analysed the competition, she noticed that many of the clean labelled plant-based products were based on nuts – a major allergen. Not only that, but they also appeared to contain a lot of water.
"Water has a huge influence on baking," she noted. Taking cookies as an example, she explained that with too much water, the dough can become overly elastic.
So the challenge was devising a product that had the same workability as dairy-based butter without adding in lots of other ingredients or major allergens.
Elasticity also plays a big part in the type of pastry one is baking, and due to plant-based butter acting differently to dairy, this meant another recipe was needed for those making croissants. This is because croissants have layers which need to remain during baking, so the butter must melt at a particular point. As a result, the recipe for the croissant plant-based butter has been tweaked to give the butter further elasticity – achieved by adding more shea butter.
The other obstacle Beurden faced was colour. Wishing to keep her products 'clean', she also didn't want to add any colourings, but that meant final products would appear more pale than one is used to. "Even in dairy butter, there's colourings. A dairy butter traditionally is not as yellow as it comes," she continued.
Fortunately, Beurden said "there are always ways around these things", such as a simple temperature adjustment or longer baking time. And although these challenges were tricky to navigate initially, Beurden said it was made much easier with the expertise of her business partner, Castells, who helped develop a more stable formula not just in terms of appearance and workability but also shelf-life.
Price points and sustainability
As Theodore Roosevelt famously said, "Nothing in the world is worth having or worth doing unless it means effort, pain, difficulty."
This is certainly true for BBMF. With all the challenges around formulation Beurden faced, the end result has also brought chefs a few key benefits. The first being around flavour.
"Often, butter overtakes flavour; you generally taste dairy before anything else," Beurden told New Food. But BBMF, she says, has been developed with a neutral taste, enabling chefs to bring the flavours they want to highlight, like chocolate and fruit, to the fore.
The other good news – for chefs in an industry which is being severely hit by rising energy costs – is that this plant butter is said to be significantly cheaper than most dairy butter.
"It does depend on the country and the market has been fluctuating, but generally speaking, we're quite often a couple of Euros a kilo cheaper," she claimed.
Moreover, data from Eaternity (a Swiss agency that specialises in measuring the environmental footprint of food products) has confirmed that BBMF uses 79 percent less CO2 and 86 percent less H20 than dairy butter.
Unnecessary ingredients?
Now having perfected its formula, BBMF contains a blend of vegetable oils and fats (shea, organic coconut, rapeseed) which together mimic the melting behaviour of dairy butter. It is currently in nine countries: UK, Germany, France, Spain, The Netherlands, Hungary, Greece, Australia and Singapore, with plans to expand further.
"Our main vision is to stop pastry dependency on animal-based products. When I transferred from traditional pastry into vegan pastry, I realised the extend to which I used butter and eggs, among other things, which are not necessary.
"It's time to rethink pastry as we know it. We no longer have to solely rely on dairy butter to create amazing tasting pastry applications. There is now a highly credible alternative."
Related organisations
Related people