Street food in the US
If you've visited the US, you'll likely have experienced the delights the food trucks have to offer. Here New Food finds out how these meals on wheels became so embedded in the country's culture and some of the most successful businesses among them.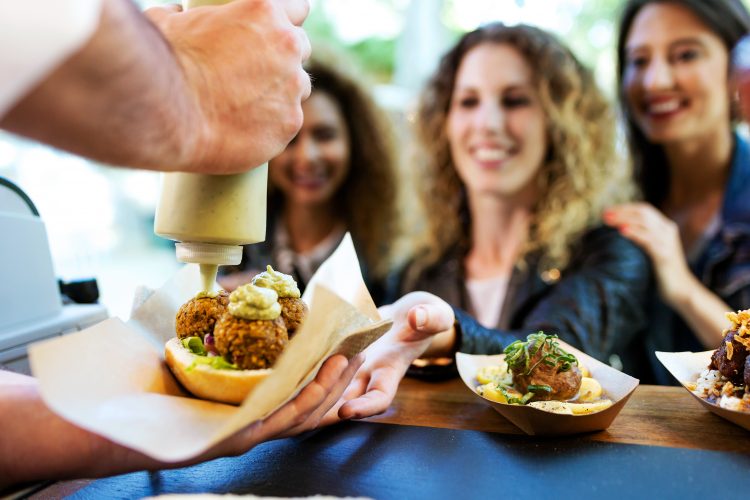 The US is enormously diverse due to the number of cultures it's home to. Indeed, people from all over the world have come together to share their cultures and learn from one another.
This amalgamation of cultures is truly present in the country's food. Restaurants serving phenomenally authentic Japanese or Indian food don the streets, as well as eateries boasting unique fusions of different origins.
A history of US food trucks
Food trucks are an integral part of American food culture, but they only really became popular after the financial crisis of 2008, when many unemployed people decided to take a risk and start their own business with such a venture. Why food trucks? It was much cheaper than a restaurant in a fixed location and also less risky.
The number of food trucks increased exponentially, and with it the competition intensified. As a result, food trucks had to ensure they were delivering on high quality – and we'll give a nod to some of the region's most popular ones in this article.
Although food trucks are popping up all over the world, it is hard to deny that the US has led the way in terms of monetising new ideas, taking culinary risks, and allowing local cultures to take their cuisine and turn it into something special. If you're planning a holiday to the US, make sure to stop at a local food truck festival to get an idea for what works. Remember, if you travel to the US you'll need an ESTA. An ESTA is a travel authorisation that makes travelling easier, eliminating the need for a visa or a trip to an embassy. 
Wherever you land in the US, you will find food truck culture, and each town has certain names that stand out among the crowd. These particular food trucks have not only managed to set themselves apart with excellent food, but also novel concepts.
The biggest US names in food trucks
Luke's Lobster, New York
How does a former investment banker become a lobster roll restaurateur? The founder of Luke's Lobster grew up in Maine, where his father worked as a fisherman and lobsterman. As a child, Luke Holden worked summers at the port, but after graduating from Georgetown University, he moved to New York to work as an investment banker. When he couldn't find a decent, affordable lobster roll, he decided to make and sell his own in 2009.
Thanks to his father, Holden was able to purchase directly from Maine fishermen, ensuring that the lobsters were fresh. Today, he sells lobster, crab and shrimp rolls; grilled cheese sandwiches with lobster; and chilled lobster tail platters with cocktail sauce and butter.
The Taco Truck, Hoboken, New Jersey
The Taco Truck, which opened in 2009, serves authentic Mexican dishes, including Al Pastor Tacos (marinated pork, onion, cilantro, pineapple, fresh green salsa), Aguacate Tacos (crispy avocado, black beans, sesame seeds, pickled onion, tortillas fritas, chipotle salsa), and a Barbacoa Burrito (braised beef, onion, coriander, roasted red salsa, red rice, black beans, Mexican crema), just to name a few dishes on the menu.
The owners spent some time in Mexico and designed the menu there with the help of chefs from the region. Depending on the schedule, tthe food truck can be found in New York, New Jersey, Pennsylvania and Connecticut.
Ms. Cheezious, Miami
It's hard to argue that grilled cheese isn't the king of comfort foods. The owners of Ms. Cheezious, the Miami-based food truck company, certainly agree. In December 2010, their first Ms. Cheezious food truck appeared in Miami, offering a modern twist on the grilled cheese sandwich.
Offerings include the grilled blue and bacon (crispy bacon with creamy blue cheese and green onion on sourdough bread), and the BBQ pulled pork melt (pulled pork with sharp cheddar cheese on Texas toast). For dessert, you can expect the s'mores melt – toasted marshmallows, salted chocolate-hazelnut spread and graham cracker crumble on sourdough bread.
Fukuburger Truck, Las Vegas
After Colin Fukunaga baked hamburgers in his grandfather's sandwich shop when he was young, he wanted to open his own business. In 2010, his mother noticed many taco trucks popping up in Los Angeles. Fukunaga was not interested in tacos, he wanted to combine West Coast burgers with Japanese flavours. So on 4 July 2010, he opened his Fukubuger Truck in Las Vegas, serving burgers with toppings like wasabi mayonnaise, pickled red ginger and his secret "crack sauce". 
Kogi BBQ, Los Angeles
Roy Choi, the owner of this Los Angeles-based food truck company, is known in the industry as the godfather of the food truck movement. He launched his first food truck in L.A. in 2008, fusing Korean and Mexican food in dishes such as spicy pork tacos and Kogi kimchi quesadillas.
He now has four food trucks running around Los Angeles, serving Asian rice bowls, like the chubby pork belly bowl (gochujang-laced pork with a fried egg, pickled radishes, vegetables, cotija and peanuts) and the sour cream hen house (marinated grilled chicken with a fried egg, vegetables, sour cream sambal, Thai basil, roasted sesame and red chilli peppers).
Visiting the US
These five food trucks have unlocked the secret of what it takes to be successful in this business. If you want to try all the goodies these trucks have on offer, or travel for business (food inspiration, discussing franchising opportunities etc.), you'll need to pay the US visit – and an ESTA to do so.
Follow this link to find out the requirements for travel to the US here.  
Related topics
Related regions