Food industry automation – a silver lining of the pandemic
Food tech writer, Pramod Bandara, shares some recent developments in automation that have helped food companies tackle the challenges of recent years.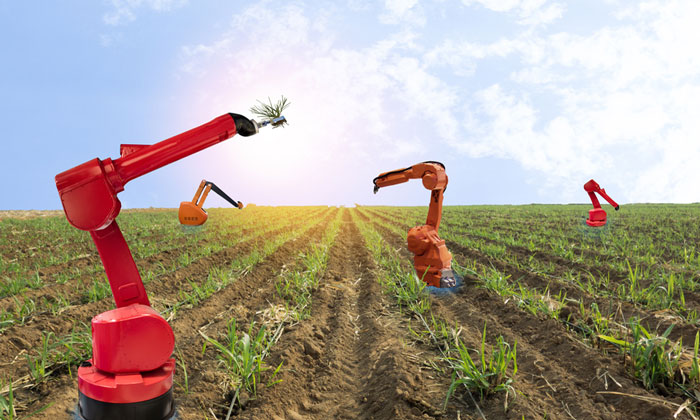 The possibilities of automation in agriculture are wide ranging
Automation in the food industry is quite challenging due to the wide variation of food products and processes. Despite this, most large-scale food companies have successfully automated their processes and are reaping enormous benefits as a result.
The COVID-19 pandemic created numerous pressures on food businesses, necessitating increased production, improved efficiency, and maximum food safety while utilising the minimum number of employees. Fortunately, several new technologies have evolved including robots, drone technology, internet of things (IoT), and industry 4.0 in different sectors. But how have these technologies have been applied to the food industry?
Despite making great strides in many areas, the food industry still has much to do in terms of improvement. Alongside changes in people's food consumption patterns, food manufacturing, processing, packaging and even distribution has been subject to change. During the pandemic, many factories were shut down, and those that remained operational had to cut worker numbers given the requirement to maintain social distancing. This caused production to fall and consequently we saw a rise in food prices. The inability to meet consumer demands necessitated updating existing technology and applying new automation in numerous areas of the food industry.
Robotics in food production
The use of robots is one of the most popular and common automation applications in food production. Bastian Solutions, KUKA Robotics, ABB Group, DENSO Robotics and FANUC Robotics America are leading commercial robot manufacturers for the food industry and their applications can be seen in meat and dairy processing, food delivery and food services, packaging and palleting, etc. The innovation of gripper technology has advanced applications of robotics, as it is able to pick up and hold food in a similar way to a human hand. The packaging materials that need to be folded sharply by hand are now done so using this technology.
Line tracking combined with machine vision uses robots to pick products when in motion; this application is particularly suited to cheese production. Here, the robot gathers information from a vision guided system, which in turn improves reliability.
Many unit operations in meat processing are also achieved using robots, which also serves to ensure food safety. These include operations that must be carried out inside a cold box or freezer, as these are better performed without human involvement. Cutting and trimming activities can be risky to humans but robots can perform them precisely and efficiently with far lower risk of contaminations. X-ray detection systems are used by deboning robots to detect the left and right side of the meat cuts and take measurements such as bone lengths, which helps to ensure higher yield. It also helps to prevent knife damage and improves yields since deboning is achieved by dismantling, rather than cutting the meat off the bone.
Drone technology
Unmanned drone technology is another key development and is used in the agriculture sector for pesticide and fertiliser application, as well as planting purposes. The use of drones for food delivery is also becoming a reality with several experimental applications including the successful pizza delivery by a reputed company.
This technology has both advantages and drawbacks however, and people are not keen on drones as a food delivery system due to safety issues. However, it represents a cheap and efficient method that can reduce carbon footprints and contribute to sustainability targets. Drones can also be used for quality inspections in manufacturing plants and warehouses. Instead of deploying operators to large silos and hard-to-access areas, drones can be easily and safely sent to monitor them using a screen
Connected devices
Sensors, cloud systems, blockchain and intelligence-based autonomous systems are IoT technologies that have significantly impacted modern food system automation. They enable the integration of physical processes, computation and networking in a cyber-physical system. Among them, artificial intelligence (AI) demonstrates human intelligence in machines, aiding decision making as well as problem solving using a set of software. This is an essential part of automation and food sorting, assisting in the development of products and  improving hygiene, thus ensuring food safety. For example, AI-based cameras are used to detect whether the employees who handle foods are practicing suitable hygienic measures, such as wearing appropriate clothing and protection gear. Some machine learning algorithms are combined with AI to examine the features of a food product for sorting purposes. This technology is more advanced than the robot sorting system since AI detects numerous features of a product.
Industry 4.0
The latest trend for automation is the fourth industrial revolution, which is also called industry 4.0. It improves efficiency, safety and quality while minimising cost, time and waste, as it comprises a connected system of devices, machinery, sensors and data analytics. Such automation works toward the development of the smart factory concept and fully automated processing plants.
However, automation can also reduce the wages and employment to population ratio of a geographic area. According to research, replacing a thousand workers with one robot in the US resulted in a 0.42 percent wage decline and 0.2 percent reduction in employment1. Simply put, adding one robot causes a reduction of six workers. Although this increases profit and helps to improve the skills of the workforce by learning to use new technologies, it arguably could replace thousands of jobs.
In the near future
There is a real possibility of performing all processing activities in a fully automatic capacity within the food industry. Many of these technologies can be used to perform complicated tasks alone or collaboratively with human interventions.
Aside from the recent pandemic, the world may face similar challenges in the future. Globally, our climate is being adversely impacted due to human activities, and the food system is directly and indirectly affected by such issues. Food industry automation is one solution which may help us in the future.
References
Brown S. (2020). A new study measures the actual impact of robots on jobs. It's significant. [online] MIT Sloan. Available at: https://mitsloan.mit .edu/ideas-made-to-matter/a-new-study-measures-actual-impact-robots-jobs-its-significant.
About the author
Pramod Bandara is a young academic writer with expertise in food technology. He is currently following the BSc degree in Food Science and Technology at Sabaragamuwa University of Sri Lanka.