Video: Applications in Focus – Food Integrity
Ocean Optics discuss applications of miniature, modular reflectance spectroscopy for Food Integrity using a dual channel Vis-NIR system including the new ultra-compact Flame-NIR spectrometer…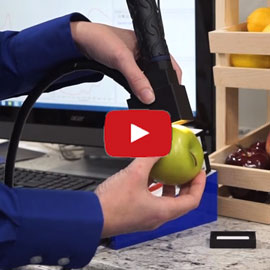 Watch the video below where Ocean Optics discuss applications of miniature, modular reflectance spectroscopy for Food Integrity using a dual channel Vis-NIR system including the new ultra-compact Flame-NIR spectrometer.
UV-Vis and NIR spectroscopy are a powerful part of the toolkit for non-destructive, rapid screening of food throughout the supply chain. Visit Ocean Optics at Food Integrity 2016 (Prague April 6-7) or download the Ocean Optics Food Integrity brochure today for more information.
Webinar: eBook: Thermo Fisher Scientific Food Integrity Collection 2017
Over the course of the year Thermo Fisher Scientific have provided expert comment on a whole swathe of issues including food fraud, origin testing and labelling regulations. This collection also provides access to Thermo Fisher's Food Authenticity webinar series for 2017, where experts delve into olive oil characterisation, gelatin speciation, honey and chromatography, and more.
Tagged with: Ocean Optics, Food Fraud, Near Infrared Spectroscopy (NIR)
Related topics
Related organisations