Glanbia Nutritionals presents diverse portfolio of snacking solutions at ProSweets 2019
Leading nutritional and functional ingredient specialist, Glanbia Nutritionals, will present its diverse range of specialist nutritional solutions for the first time at ProSweets 2019…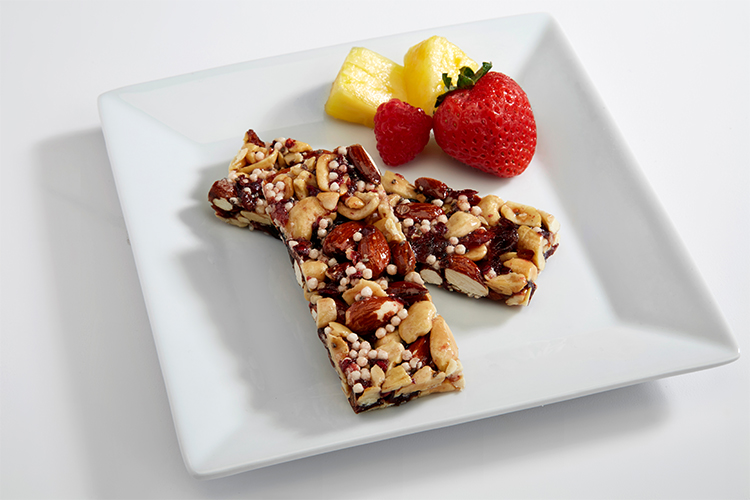 Leading nutritional and functional ingredient specialist, Glanbia Nutritionals, will present its diverse range of specialist nutritional solutions for the first time at ProSweets 2019. With a team of experts at hand, Glanbia will also feature in guided tours discussing the challenges in developing solutions that meet the demands of the industry. Focusing on healthy snacking, Glanbia Nutritionals will be situated in the dedicated ingredients area of the show, which will highlight reformulation for sweets & snacks. With this theme in mind, Glanbia will showcase three different protein bars, meeting the growing demand for healthier products with simple ingredients. Demonstrating Glanbia Nutritionals' innovative ingredients portfolio, these snack bars provide an indulgent treat with a healthy nutritional edge.
An indulgent taste in a lighter form
One of the featured products will be a whipped texture protein bar, featuring BarPro® 287 and BevGrad® XtraSmooth. The finely milled flaxseed of BevGrad XtraSmooth provides ALA-Omega 3 and a smooth taste, which when combined with the specially designed milk protein concentrate of BarPro® 287, creates a smooth and light satisfying texture. The bar benefits from 13g of high-quality protein per 50g bar, making it a convenient solution for those looking to boost their protein intake whilst on the go. These impressive nutritional benefits are imparted within a lighter and aerated texture, which provides a healthier sensation whilst still being nourishing and fulfilling for the consumer.
Combining fruit and nut with additional protein
Providing an excellent mouthfeel, flavour and texture, the trail mix protein bar combines fruits, nuts and chocolate into a new but familiar format. Perfect for health-conscious consumers, there is 10g of protein per 35g bar. Containing BarFlex® 191 and OatPure™ Gluten Free Jumbo Oats, the Trail Mix Protein Bar provides a chewy and satisfying eating experience, with slow release carbohydrates for maintained energy levels throughout the day. Glanbia Nutritionals' innovative whey protein isolates and concentrates minimise bar hardening whilst providing a clean flavoured protein. This allows the Trail Mix Protein Bar to enjoy a long shelf life and makes it an excellent choice for consumers who want a satisfying and satiating snack experience.
Classic confectionery style with a high-protein twist
Glanbia Nutritionals is also proud to offer a high protein chocolate confectionery bar solution, which demonstrates that high protein content can be delivered in a classic confectionery style bar. Featuring 20g of protein per 60g bar, it contains both whey protein isolates and concentrates, which are synergistically combined to create a clean flavoured and short textured bar. The bar offers consumers a delicious and indulgent snack that is also healthy.
Blurring the line – confectionary gummies for supplements
In addition to demonstrating their own capabilities, Glanbia will also be showcasing their collaborative expertise. Domaco, a Swiss company, has used Glanbia Nutritionals' quality custom nutrient premixes to create fortified gummy sweets, which will be available on the Glanbia stand throughout the exhibition. Domaco used a vitamin-mineral premix to develop hair-nail-skin soft gummies, combining Vitamin A, C Riboflavin, Niacin, Biotin, Zinc, Copper and Selenium targeting hair nail and skin health. The naturally flavoured wild berry gummies are made without adding colours.
Targeting immune health for children are the 7+ Immunity Boost Multivitamin Gummies, that deliver a balanced mix of immune health supporting vitamins and minerals, like vitamins A, D, E, C, B6, B12, Thiamin, Riboflavin, Folic Acid, Biotin as well as Zinc and Iodine. Domaco gummies do not contain any preservatives and the soft-gummies are lactose- and gluten-free.
"2019 promises to be a particularly exciting year for Glanbia Nutritionals, and it is a great start to be exhibiting at ProSweets. The trend for healthy snacking shows no sign of stopping, and we are proud to be at the forefront of this" comments Dagmar Ortlepp, Marketing Manager at Glanbia Nutritionals. Ortlepp continues: 
"There has been increasingly high demand from consumers for protein enriched snacks and manufacturers can struggle to find ways of creating these products in an enjoyable format for consumers. We are able to offer several nutritional solutions that cater to this, which we will be showcasing at ProSweets. Our expert blend of ingredients and professional capabilities enable the ultimate taste experience for consumers. We are fortunate enough to be on the ProSweets guided tour and look forward to demonstrating our capabilities further". 
Please click here for more information.