APRIL Robotics Inspires Food Revolution
How many robots prepare and cook food in your factory?
It's an area set for major growth and over 30 food businesses were inspired to take action; transforming their manufacturing with robotics and automation at OAL's Food Manufacturing 2030 Conference.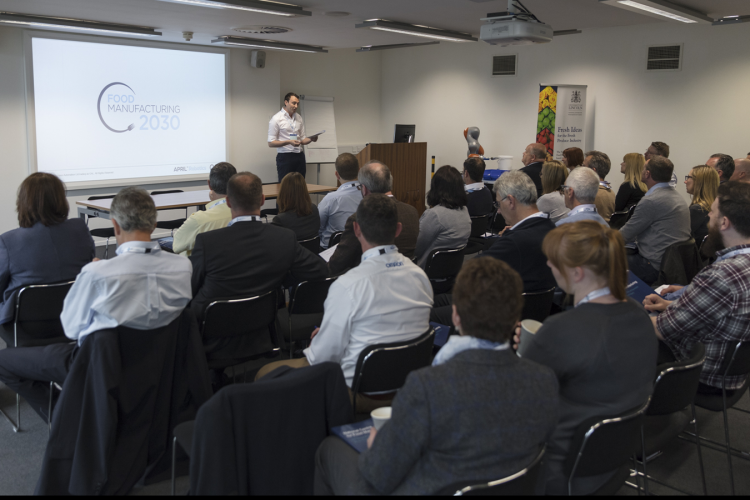 With a combination of inspirational speakers and demonstrations, OAL, the University of Lincoln and ABB educated food manufacturers on the use of robotics and automation to overcome their manufacturing challenges.
The UK is uniquely placed to pioneer the food robotics revolution bringing with it higher skilled jobs and fantastic export opportunities. In the process, a new food manufacturing industry will be created, no longer characterised by low paid, unskilled labour but higher skilled, better paid jobs to run our autonomous food factories.
OAL demonstrated the use of digital technologies with their APRIL Robotics Flexible Food Manufacturing platform. APRIL puts robotics at the heart of food manufacturing allowing end to end handling and processing of food ingredients with minimal human interventions. Applications demoed included cooking, weighing and use of artificial intelligence systems for validation.
To inspire action, the event featured major British automation success stories:
Chris Brett from Ocado technology shared how they were transforming food retailing with digital technologies.
Steve Sanders explained how JSP Safety Products had transformed its manufacturing processes with over 30 robots, onshoring jobs to the UK.
Mike Wilson from ABB discussed robot adoption best practices.
And it definitely sunk in. A Director at from a major UK food business stated:
"This is something that [major food manufacturer] need to do now! The day has opened our eyes to what is around and available."
During the debate, the need for demonstrators and funding was raised. These areas were addressed by Liz Berry from the Food and Drink Federation. Liz explained the latest funding opportunities for food companies. While Val Braybrooks encouraged food manufacturers to work with academia more to explore and trial these new technologies.
Related topics
Related organisations