Salt levels in British sausages haven't moved in six years
The level of salt in UK sausages is roughly the same as it was in 2011 – falling foul of salt reduction targets.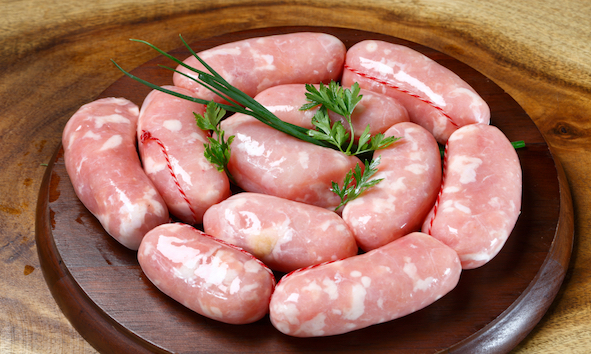 IT'S TIME: CASH is calling for stricter regulations on salt content
Research conducted by a campaign group focussed on salt production has found that a sausage sandwich made with British sausages contains more salt than a double cheeseburger and large fries.
Consensus Action on Salt and Health (CASH), based at Queen Mary University, London, used the new and updated FoodSwitch UK app to assess salt levels in best-selling sausages.
It found that the average salt content is 1.3g/100g, or 1.16g per two sausages, a figure that has remained relatively unchanged since 2011 and exceed the salt reduction targets in place at the time.
As the 2017 voluntary salt targets set by Public Health England (PHE)  are due to be met in just three weeks' time, CASH is calling for mandatory salt targets to be set, as the food industry has failed to protect the public's health voluntarily.
The worst offender is Richmond, whose full range of sausages tops all other manufacturers for salt.
In fact, the salt content of their sausages has remained consistently high since 2011. The research found huge variation in salt levels across all sausages, from the highest at 2.3g/100g (Richmond 12 Skinless Pork Sausages) to the lowest at 0.75g/100g (The Co-operative Irresistible Six Sweet Chilli Sausages) – a three-fold difference in salt content per 100g.
The survey also found large variations within supermarket own-brand sausages – the saltiest variety sold by Asda (Extra Special Six Bacon & Maple Syrup Pork Sausages, 1.1g per sausage) had more than double the salt per sausage of Asda's least salty variety (Extra Special 6 Lincolnshire Pork Sausages, 0.45g per sausage).
Responding to the report, an Asda spokesman said: "Our range of sausages is compliant with the Government's salt guidelines, but our customers probably won't be surprised to discover that our bacon and maple syrup sausages have a slightly higher salt content than average.
"However, we're pleased that the report also shows that we also offer two of the least salty sausages in this study – meaning whatever their tastes, our customers can find a banger to suit at Asda."
Professor Graham MacGregor, Professor of Cardiovascular Medicine at Queen Mary University of London and Chairman of CASH said: "The UK has led the world on salt reduction but this survey clearly shows that many companies are not cooperating with the current voluntary policy.
"Public Health England, who is now responsible, must get tough on those companies not complying and set new mandatory targets to be achieved by 2020 without further delay.
"Otherwise, thousands of people will die from unnecessary strokes and heart attacks every year. Salt reduction is the most cost-effective and most successful public health preventive measure made to date, and it is a national tragedy that it is being allowed to fail."
Dr Alison Tedstone, Public Health England's Chief Nutritionist, added: "Our salt consumption has decreased over the last decade – a loaf of bread has forty per cent less than it used to. However, some products are still too high in salt and we know this can be reduced further.
"We've been very clear with the food industry on the importance of meeting the 2017 salt targets. We'll report on their progress next year and will provide advice to government on the next steps."
Related regions
Related people