Lycored's super-stable colours extend surimi seafood shelf life
Lycored's naturally sourced colors can extend the shelf life of surimi seafood products by as much as three months, new research shows.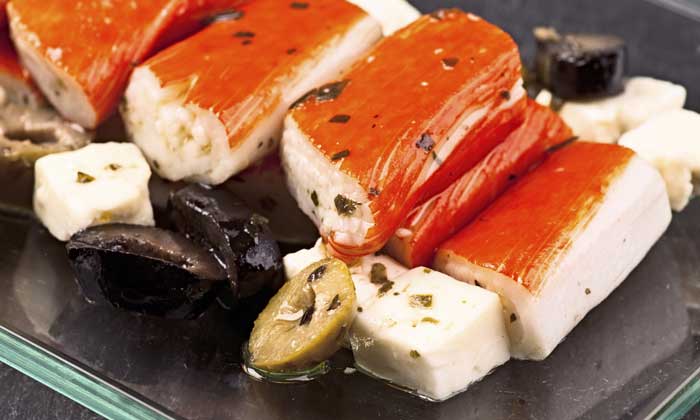 Surimi, a white Asian fish paste, is the basis of a range of seafood products, such as crab-sticks. Many use orange, red or pink colors in their coating but the use of some commonly used colorants presents challenges. Paprika can deliver an off taste and carmine migrates very visibly.
Lycored offers a range of red, pink and orange colourants from Lycopene (Tomat-O-Red) and BetaCarotene (Lyc-O-Beta). The company set out to test their stability in surimi coatings when exposed to shelf-life conditions, comparing them with the performance of carmine and paprika.
The colourants were blended into the outer layer of seafood sticks which were stored in chilled conditions and exposed to light levels of 8330 Lux – significantly higher than typical grocery store conditions. Colour stability was measured using the Delta E system which registers shifts visible to the naked eye, and colour migration was monitored using digi-eye photography to capture the transfer of colour from the coloured layer to the white surimi mass.
The samples coloured with carmine and paprika all registered a colour shift visible to the naked eye within 31 days. By contrast, all the samples coloured with Lyc-O-Beta or Tomat-O-Red maintained colour stability for at least 66 days, with three of them lasting the full 90 days of the trial without any visible shift.
The trial demonstrates that using Lycored colours can add a minimum of 30 days' chiller cabinet life under accelerated-type conditions. In real terms, this equates to at least two to three months. Furthermore, they allow manufacturers to avoid the use of chemicals to prevent bleeding.
Christiane Lippert, Head of Marketing, Food, at Lycored, said:  "Surimi seafood is a healthy, sustainable source of protein which is ideal for consumers seeking to eat less red meat. Manufacturers who use our naturally sourced colours gain a significant advantage in terms of shelf life, as well as avoiding the use of chemicals. We can also help them extend their ranges by offering colour match solutions for new shellfish variants."
Related topics
Related organisations