New active food label combats food fraud and boosts consumer confidence
With food safety and traceability issues increasingly in the spotlight, a Bristol technology company has come up with an innovative label technology…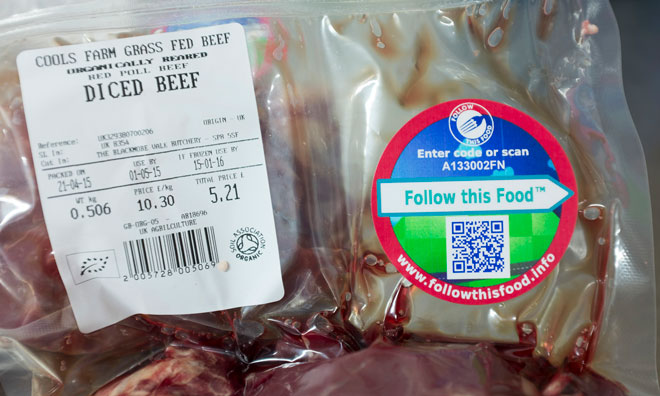 With food safety and traceability issues increasingly in the spotlight, a Bristol technology company has come up with an innovative label to provide consumers with detailed information about where their food comes from and how it has been processed.
And customers of a group of small businesses in the south west are among the first to benefit from the peace of mind that full traceability can bring.
 
Followthisfood is described as an 'active' food label. Unlike existing labels, Followthisfood can be scanned with a smartphone to reveal the product's complete journey from source producer, including how it was treated and processed, before reaching the customer. In the case of meat products, it can even track back to an individual animal, offering true 'farm to fork' traceability.
 
Agrantec Ltd developed Followthisfood as part of its NotaZone software suite designed to help food producers and processors record, manage and share the production, processing, warehousing and delivery information that they have to maintain to comply with food legislation. Followthisfood draws on this information to provide a consumer-oriented timeline together with details of how the food was grown and processed.
"Food labels should help consumers understand what's inside the packet, yet every day we read stories of misleading…"
 
Goldhill Organics is a Dorset-based online food delivery company that sources grass-fed meat from Blackmore Vale Butchery in West Stour, north Dorset. Blackmore Vale and its supplier farms use NotaZone to manage their production and processing records, enabling them to share data and generate the full traceability information accessed by scanning the Followthisfood label on Goldhill's grass-fed meat and meat box range. This enables customers to see the complete history of the produce and help them understand why it may cost a little more than less traceable food.
 
NotaZone software is already used by businesses large and small, however, this is thought to be the first example of small local companies using the kind of system that is more usually associated with complex supermarket supply chains.  
 
Martin Coates, Agrantec's CEO, said "Food labels should help consumers understand what's inside the packet, yet every day we read stories of misleading – if not downright fraudulent – labelling of produce, including fake farms created for cynical marketing purposes, bizarre processing techniques and mislabelled ingredients. Nowadays it can be very hard to know what you can really trust.
 
"Our active labels offer savvy shoppers the confidence that the food they are buying is exactly what it claims to be. The scanning process is quick, free and easy to use. It proves the authenticity of the food, demonstrates quality and helps to build trust with suppliers, reassuring shoppers that there is no risk to the health and wellbeing of their family."
 
Nick Somper, co-founder of Goldhill Organics said, "Providing high-quality, local produce in a really transparent way is the very essence of what Goldhill does and FollowthisFood really reinforces that very strong commitment.
Buying locally-sourced high-quality food is hugely important to our customers and Followthisfood will give them a real sense of trust and confidence in our offering through fantastic engagement with our producer farms."
_______________________________________
If you agree with New Food that food fraud is one of the greatest problems facing our industry, take a look at our upcoming conference in May as we strive to provoke debate and discussion among industry professionals regarding this currently contentious topic.
Click here to register your interest or sign up…