JDM Food Group reaches £4 million investment milestone
Posted: 20 June 2016 | Victoria White, Digital Content Producer | No comments yet
A £350,000 storage expansion has taken JDM Food Group's investment in its Bicker factory past the £4 million mark over the last 24 months…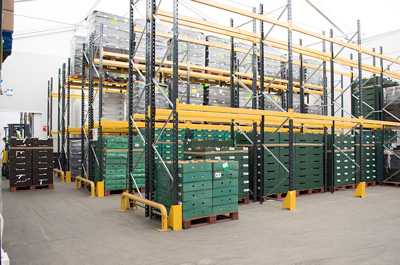 A £350,000 storage expansion has taken JDM Food Group's investment in its Bicker factory past the £4 million mark over the last 24 months.
Since 2014, the Lincolnshire food manufacturer has invested in expanding and upgrading its production plant to enhance and develop its existing capabilities, as well as a newly-built training office and dedicated training room. 
Commenting on the investment, Mark Cooley, Despatch Manager for JDM Food Group, said: "The company has grown significantly over recent years, taking on more customers and, therefore, processing and manufacturing more output. As production expands, so does the need for a larger despatch and storage area, which is why we decided to invest in increasing the amount of space dedicated to storing all our products."
Doubling the company's storage capacity
The three-month development project, which includes two temperature-controlled storage areas with specially designed racking to maximise pallet storage, has doubled the company's storage capacity and will allow the fast growing business to continue meeting customer demand.
Mark continued: "This new development, along with all of the other plant expansion projects we've completed over the past two years, will allow us to continue growing and developing while providing customers with the quantity, quality and diversity they require.
"Not only will the investment in our facilities give us larger, more state-of-the-art spaces to manufacture, process and store all of our products, but they will also make us more efficient and allow for future growth, meaning the possibility of new jobs being created as a result."
Recently named one of Europe's fastest growing privately held companies, JDM Food Group has grown 109% and added 80 jobs over the past three years. Established in 2000, JDM Food Group was initially focused on supplying a range of garlic varieties to buyers, before eventually moved into the import and supply of ginger. Now, JDM Food Group supplies over 250 food manufacturing sites and has become one of the UK's leading suppliers of garlic, ginger, sweet potatoes and butternut squash.  
Related topics
Related organisations