Recalled Mars products found to be on sale in the UK
Reporters from the Daily Mail have been able to purchase recalled boxes of Mars Celebrations from shops in Bristol, London and Bramley and Armley in Leeds…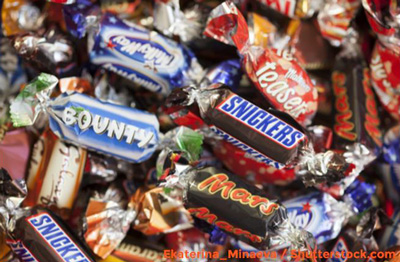 Earlier this week, Mars issued a voluntary recall of variants of its Snickers, Mars, Milky Way and Celebrations chocolate confectionery as a precaution after small bits of red plastic were found in a Snickers bar in Germany.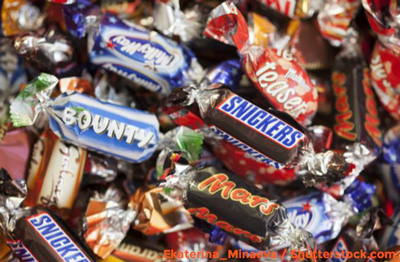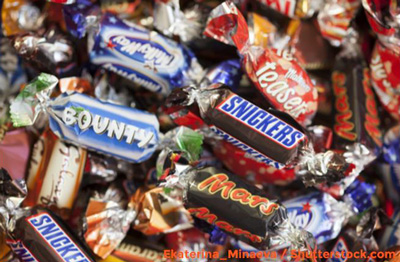 The recalled products have best before dates of 19th June 2016 and 8th January 2017 ( a full list of the products can be found below). Mars has said the recall concerns only specific products that were manufactured at the company's Netherlands facility during a limited production period, 5 December 2015 to 18 January 2016. 
In the UK, the recall relates to 250g packs of Mars Fun-size; 227g packs of Milky Way Fun-size, two Variety Fun-size packs and Celebrations boxes, weighing 388g and 245g. While major supermarkets and retailers have removed the affected products from their shelves, reporters from the Daily Mail have been able to purchase recalled boxes of Celebrations from shops in Bristol, London and Bramley and Armley in Leeds.
Co-owner of one such shop selling the recalled Celebrations, Gurdip Baryah, told the Daily Mail: "'I didn't know about the recall. Those chocolates are new stock. They came in last week. The suppliers will usually send a letter if something needs recalled but I haven't had a letter from them or Mars."
The Daily Mail reported that the owners of the other shops were also unaware of the recall.
Mars has said it is working with its customers to remove the recalled products from shelves 'as quickly as possible'.
The full list of recalled products, sold in Germany and the Netherlands:
Celebrations Bonbonbox 100g (Best before date: 06.27.2016, 06.28.2016, 30.06.2016, 03.07.2016)
Celebrations Box 190g (BBD: 06.26.2016, 03.07.2016, 07.17.2016, 07.24.2016, 07.31.2016, 07.08.2016, 08.14.2016, 08.21.2016, 08.28.2016)
Celebrations Box 277g (BBD: 07.10.2016, 07.11.2016, 07.24.2016, 08.14.2016, 08.21.2016)
Celebrations can 1,5kg (BBD: 06.19.2016, 06.26.2016, 03.07.2016, 07.17.2016, 07.24.2016, 07.31.2016, 08.21.2016, 08.28.2016)
Celebrations metal tin 320g (BBD: 06.26.2016, 03.07.2016, 07.24.2016, 07.08.2016, 08.14.2016, 08.21.2016, 08.28.2016)
Celebrations Easter Egg 246g (BBD: 06.19.2016, 06.26.2016, 07.17.2016, 07.08.2016, 08.21.2016, 08.28.2016)
Mars Duo Pack 6 x 70g (BBD: 07/08/2016)
Mars Duo Pack 70g (BBD: 04.09.2016, 09.11.2016, 09.18.2016, 09.25.2016, 09.10.2016)
Mars mini bag 250g (BBD: 04.09.2016, 09.18.2016, 09.25.2016, 02.10.2016, 09.10.2016)
Mars mini bag 333g (BBD: 04.09.2016, 09.11.2016, 02.10.2016, 09.10.2016)
Mars Mini Box Catering (BBD: 04.09.2016, 09.11.2016, 09.25.2016 ,, 02.10.2016, 09.10.2016, 10.16.2016)
Mars Miniatures bag 130g (BBD: 04.09.2016, 09.18.2016, 09.25.2016, 02.10.2016, 09.10.2016)
Mars Bar 10 x 45g (BBD: 09.11.2016, 09.18.2016, 09.25.2016, 10.16.2016)
Mars Bar 12 x 45g (BBD: 09/10/2016)
Mars Bar 5 x 45g (BBD: 09/10/2016)
Mars Bar 51g (BBD: 04.09.2016, 09.11.2016, 09.18.2016, 09.25.2016, 09.10.2016)
Mars bars 6 x 50g (BBD: 04.09.2016, 09.25.2016, 09.10.2016, 10.16.2016)
Mars Bar 7 x 45g (BBD: 04.09.2016, 09.11.2016, 09.18.2016, 09.25.2016)
Mars Bar 8 x 35g (BBD: 04.09.2016, 09.11.2016, 09.18.2016, 09.10.2016, 10.16.2016)
Milky Way Mini bag 250g (BBD: 04.09.2016, 09.18.2016, 02.10.2016)
Milky Way Mini Bag 330g (BBD: 04.09.2016, 09.18.2016, 02.10.2016, 01.08.2017)
Milky Way Mini Box Catering (BBD: 04.09.2016, 09.18.2016, 02.10.2016, 01.08.2017)
Mixed mini bag 1130g (BBD: 07.17.2016, 08.14.2016, 08.21.2016, 09.11.2016)
Mixed mini bag 1425g (BBD: 07/17/2016, 04/09/2016)
Mixed mini bag 400g (BBD: 07.17.2016, 07.08.2016, 08.21.2016, 08.28.2016, 04.09.2016, 09.11.2016)
Mixed Miniatures 3kg (BBD: 07.10.2016, 07.24.2016, 07.08.2016, 08.21.2016, 09.11.2016)
Snickers Duo Pack 6 x 80g (BBD: 06.19.2016, 07.17.2016, 07.19.2016, 08.21.2016, 08.28.2016)
Snickers Duo Pack 80g (BBD: 07.10.2016, 07.17.2016, 07.24.2016, 07.31.2016, 07.08.2016, 08.14.2016)
Snickers mini bag 250g (BBD: 07.17.2016, 07.31.2016, 08.14.2016)
Snickers mini bag 333g (BBD: 07.10.2016, 07.17.2016, 07.31.2016, 08.14.2016)
Snickers Mini Box Catering (BBD: 07.17.2016, 07.31.2016, 08.14.2016)
Snickers Miniatures bag 130g (BBD: 07.10.2016, 07.17.2016, 07.24.2016, 07.31.2016, 07.08.2016, 08.14.2016)
Snickers bars 12 x 50g (BBD: 07.08.2016, 08.14.2016, 08.21.2016)
Snickers bars 3 x 50g (BBD: 07/10/2016)
Snickers bars 5 x 50g (BBD: 07/24/2016)
Snickers bars 50g (BBD: 07.10.2016, 07.17.2016, 07.24.2016, 07.31.2016, 07.08.2016)
Snickers bars 6 x 50g (BBD: 07/10/2016, 07/24/2016)
Snickers bars 7 x 50g (BBD: 03.07.2016, 07.10.2016, 07.17.2016, 07.31.2016, 07.08.2016)
Snickers bars 8 x 35g (BBD: 07.10.2016, 07.17.2016, 07.24.2016, 07.31.2016, 07.08.2016, 08.14.2016, 08.21.2016)
The list of products recalled in the UK: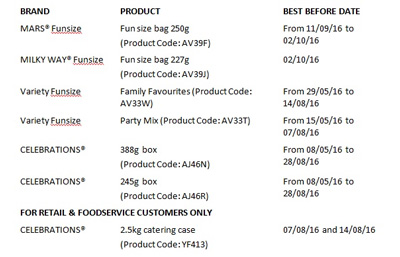 Related topics
Related organisations