Müller concludes Dairy Crest dairies acquisition
The company will now bring Müller Wiseman Dairies and Dairy Crest's dairy operations together to create a new organisation called Müller Milk & Ingredients…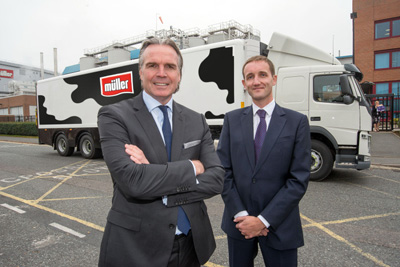 Ronald Kers (Unternehmensgruppe Theo Müller Chief Executive) and Andew McInnes (Müller Milk & Ingredients Managing Director)
Unternehmensgruppe Theo Müller has completed the acquisition of Dairy Crest's dairy business.
The company will now bring Müller Wiseman Dairies and Dairy Crest's dairy operations together to create a new organisation called Müller Milk & Ingredients.
Müller announced its intention to acquire the dairy operations of Dairy Crest in 2014. The acquisition comprises Dairy Crest's processing, trading and distribution activities relating to liquid milk, packaged cream, flavoured milk and bulk commodity ingredients. It includes Dairy Crest's dairy facilities at Severnside, Chadwell Heath, Foston and Hanworth together with around 70 depots, employing around 3,500 people. The Competition and Markets Authority (CMA) approved the acquisition in October 2015 following agreement that Müller would toll process a nominated volume of fresh liquid milk for fresh milk processor Medina Dairy at the Severnside facility to ensure competition for national multiple tenders in the South West, Wales, the South and the Midlands.
Commenting on the acquisition, Unternehmensgruppe Theo Müller Chief Executive, Ronald Kers said: "With this transaction now concluded we have the opportunity, together with our colleagues, customers, farmers and suppliers, to build on our progress in the UK and create an exciting new future for our dairy business."
Mark Allen, Chief Executive of Dairy Crest, commented: "We are delighted that the sale has successfully completed. This is a transformational moment for Dairy Crest and the wider dairy industry and helps bring much needed stability to the UK dairy sector… Dairy Crest can now focus on growth, through both our branded cheese and spreads operations and new revenue streams from manufacturing products for the fast-growing global infant formula market."
Müller renames its Müller Dairy yoghurt and chilled desserts business
Müller Milk & Ingredients Managing Director Andrew McInnes added: "It is clear that we have a committed workforce and a key priority is to get to know our new colleagues and ensure that they have the information they need to perform their roles and their questions are answered."
Employees will be able to access detailed information on the vision and plans for the new organisation through a series of site meetings together with information sent to their homes and available on a dedicated online portal. Customers, farmers and suppliers will also receive information on the new organisation which is tailored to meet their needs.
Müller is also renaming its Müller Dairy yoghurt and chilled desserts business as Müller Yogurt & Desserts. Managing Director Bergen Merey said: "Our branded and private label yoghurt and desserts business continues to develop strongly at our production sites in Market Drayton, Minsterley and Telford. We've got great plans for 2016 and it makes sense to rename the business to reflect the products which we are proud to make."
Related topics
Related organisations