New York could fully legalise cannabis as early as this year
With a Democrat majority in the state legislature, there is a real chance cannabis could be legalised in New York this year.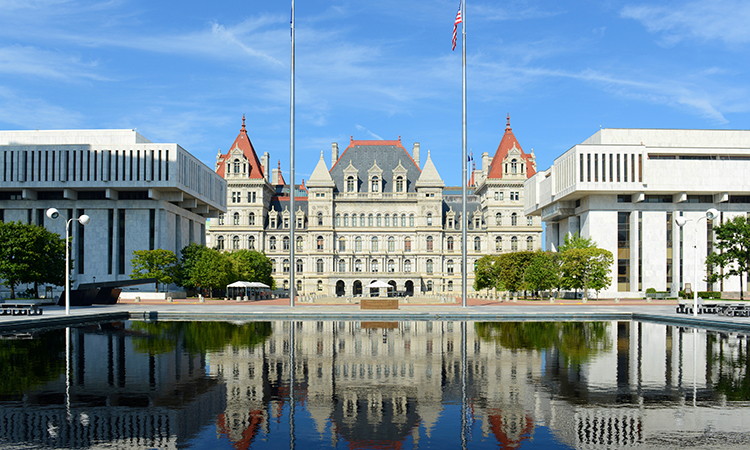 A Democrat majority in New York's Capitol in Albany could lead to a legalisation of cannabis in the state in 2021.
The state of New York could be set to legalise cannabis for the first time in its history, as Governor Andrew Cuomo expressed support for the ground-breaking legislation which would open the door for CBD food and supplement manufacturers to sell their products in the state.
Governor Cuomo used his State of the State address to call for the legalisation of the drug in one of America's most populous states. This is in fact the third time in a row that Governor Cuomo has asked for this particular change in legislation, but a shift in the political landscape has made the possibility of a legalisation bill passing through state legislature more likely.
As a result of the elections that took place across the US in November, the Democrats hold a majority in both the New York State Assembly and New York State Senate in Albany. This is, of course, no guarantee that a bill would pass, but Democrats tend to be more liberal leaning when it comes to issues such as the legalisation of marijuana.
New York state has tricky rules surrounding CBD products such as gummies and oils. Thanks to an absence (up until recently) of guidance at the federal level, states across the US have been left to regulate CBD products themselves – leading to what has been described as a "patchwork" of legislation. A complete legalisation of cannabis in the state would make things significantly clearer, remove many of the obstacles facing CBD manufacturers, and fully open the gates to one of the US' most lucrative markets: New York city.
There have been murmurs that New York's politicians may be motivated by more than just liberal ideologies if they are to legalise cannabis in the state. An update to the state's budget revealed a $15 billion shaped hole in the books, largely caused by fallout of the COVID-19 pandemic. Time Out has reported that the New York mayor's office has predicted that the legalisation programme would bring in $300 million in tax dollars, which whilst not a silver bullet, would help plug the gaps in an ever-increasing budget hole. In a tweet last week, Governor Cuomo admitted that "This program will generate much-needed revenue, while allowing us to support those that have been most harmed by decades of failed cannabis prohibition."
No formal bill has been drafted yet, but CBD manufacturers in the US can perhaps be quietly confident that 2021 could be the year that they get their hands fully on New York and it's lucrative markets.