Results of Europe-wide beef product survey published
In February the EC asked all member states to carry out a survey of beef products to check for the presence of horse DNA…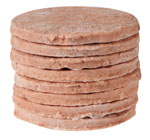 In February the European Commission asked all member states to carry out a survey of beef products to check for the presence of horse DNA. These results have now been published.
In the UK, 150 samples of beef products were taken for the survey. This was in addition to the work the FSA has undertaken with local authorities across the UK on testing beef products and formed the third phase of our current programme.
The Agency reported all results to the European Commission last week. None of the UK samples were found to contain horse DNA at or above the 1% threshold for reporting.
The UK's results, along with those from other member states, have been published by the Commission and can be accessed here.
Member states were also asked to provide information on phenylbutazone (bute) testing being carried out at slaughterhouses. On 11 February, the FSA introduced a 'positive release system' at horse slaughterhouses in the UK. Under this system, every horse carcass is sampled for the presence of residue from the veterinary medicine. Carcasses are only released from the slaughterhouse if no bute is found.
During the period 11 February to 4 April 2013, 836 carcases were tested for bute. Fourteen carcasses were found to contain bute and were prevented from entering the food chain.
Related Items
Horse meat investigation
Follow the progress of the ongoing investigations, find answers to commonly asked questions and view test results.
Update on EU sampling programme
Read the 28 February update
Related topics
Related organisations