Packaging materials and methods for dairy applications
Milk is the best example of a food product that, due to processing technology, packaging material and method, is able to extend its shelf life from hours into weeks and months. The first packaging of milk came with the introduction of sterilised milk processing, in which the glass bottle formed an integral part. The glass bottle as the retail package for milk was used until the 1930s, at which time waxed paper was introduced. The development and introduction of plastic materials, both alone and in combination with paper, resulted in a wide range of containers suitable for dairy products packaging.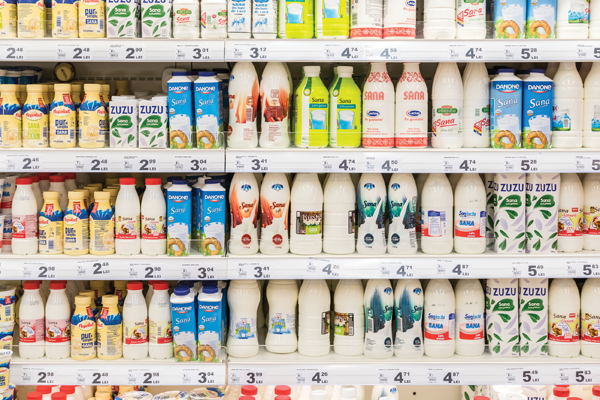 The shelf-life of bottled fluid milk is reported to average between 10 and 21 days when stored at 4-8°C1. The shelf life varies depending on raw milk quality, processing conditions, microbial growth, packaging materials2 , exposure to light2,3 and temperature abuse4.
The dairy industry is able to achieve a 45-day shelf life through the use of ultrapasteurisation (UP) processes, while ultra-high temperature (UHT) processed products achieve a shelf life of three months to one year with no refrigeration5 . The shelf life study, by Petrus et al.4 evaluated the influence of storage temperature on the microbiological stability of homogenised whole pasteurised milk packaged in different polyethylene (PE) monolayer materials, pigmented with titanium dioxide (TiO2). Based on the results of the study, high-density polyethylene (PE-HD) bottles were better for storing pasteurised milk compared with that of a low-density polyethylene (PE-LD) pouch (Table 1, page 57). Zygoura et al.6 evaluated the influence of the packaging material on the shelf life of commercialised pasteurised milk in Greece. The product was stored at 4◦C with exposure to fluorescent lighting. Under these conditions the stability was only five days. Although the product had been exposed to light, the researchers had used multi-layered plastic bottles with a high barrier. Polyethylene terephthalate (PET) is another plastic material used for milk packaging. Pigmented PET enhances its versatility by protecting the food from light, which in turn helps to protect food flavour against light-induced lipid oxidation5,7. Losses of ascorbic acid (AA) during milk storage have been reported for UHT milk storage at various temperatures; durations of storage; and with different packaging materials, such as C-enamelled tinplate cans8 ; brown glass bottles9 ; and aseptic multilayer containers5. Jeon et al.8 reported a total loss of AA in UHT milk packed in C-enamelled tinplate cans after 30 days of storage at 3°C. According to Solano-Lopez et al.10 AA concentration degraded in the UP-PET bottled milk after 60 days of refrigerated storage, while sensory evaluation of the milk remained without noticeable change.
Issue
Related topics
Related industry sectors