Adapting to the latest bakery trends
BakeAway's Doug Hall explains how the bake-at-home manufacturer has adapted its product range to suit consumer needs.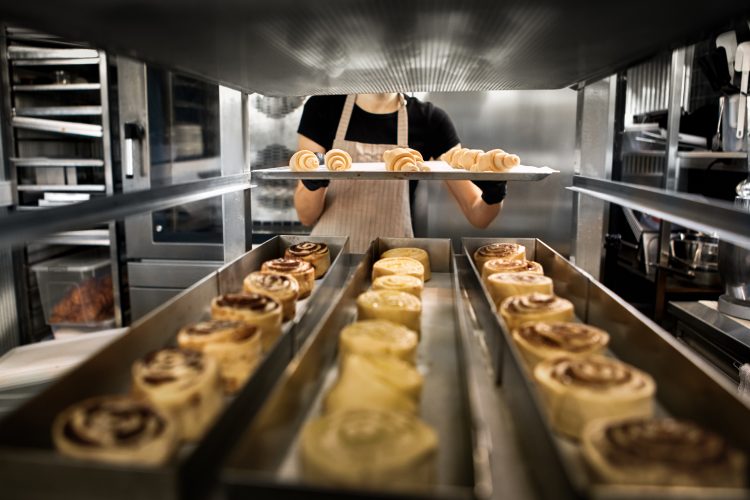 It's no secret that the UK food and drink industry has seen unprecedented changes in recent years. Lockdown, the introduction of High Fat Salt and Sugar (HFSS) restrictions and the current cost-of-living crisis have forced key industry players, such as BakeAway, to adapt as it looks to future-proof its growth.
BakeAway is a UK manufacturer creating a range of bake-at-home products, including pastry, dough and pancakes, both for their own pancake brands, licensed products and private label. Here, the manufacturer explains the main drivers in its sector at present and explains how it is adapting to meet current consumer trends.
Getting HFSS-ready
In October 2022, regulations on high, fat, salt and sugar (HFSS) products came into place and arguably provided the biggest shake up to the UK manufactured food industry in a long while.
With stricter regulations still to be imposed in October 2023 – there will be limited opportunity for HFSS products bought through volume promotions, such as 'buy one get one free' offers, major snacking manufacturers have been scrambling to develop new products to bypass the laws.
BakeAway has revealed how the recent law changes have impacted its business and inspired its NPD plans. BakeAway's recent NPD has included the launch of OaYeah! pancakes, made from an oat-based drink which contains less saturated fat and sugar than cow's milk chilled pancakes. Data shows that oat milk is the UK consumers number one choice of dairy-free milk alternative.  
"We know that consumers want reduced fat, salt and sugar options when shopping for themselves and their families, but they do not want to compromise on taste or stray too far from their weekly shopping budget," said Jennie Bosson, Marketing Manager at BakeAway.
"This insight was key to the development of our latest product launch, OaYeah!, our HFSS-compliant ready-made, dairy-free pancake brand.
"According to the Bloomberg Intelligence Report, plant-based food sales are expected to increase fivefold by 2030. Our own insights – which helped inform our new product development with OaYeah! – reflect this trend, with more consumers looking for products with additional benefits, such as plant-based milk and protein enhancements. Consumer insights will continue to shape the future of BakeAway and inform our innovations moving forwards."
Maximising data
Lockdown encouraged many UK consumers to 'find' their kitchens again and, like many home cooking products, the pastry and dough sector greatly benefited from this, with Kantar estimating growth of the category going from 39 to 46 percent currently.
The closure of bars and restaurants over lockdown meant that consumers were unable to dine outside of the home. This trend is continuing due to the current cost-of-living crisis we are living through. According to a YouGov poll, more than a third of people have been forced to reduce, or stop spending money entirely, on eating out and takeaways over the past six months.
In addition to external factors leading people to eat at home, rather than going out, the nation's love of baking and the penchant for 'Fakeaways' cannot be overlooked either.
BakeAway is effectively using data to inform its NPD and ramp up production in order to cater to these trends.
 "The cost-of-living crisis is impacting UK consumers' disposable income and, according to Mintel, we should expect more home dining occasions due to the cost of living," continued Bosson.
"Pastry is a household staple which empowers consumers to prepare cost-effective meals using the ingredients they have in their kitchen and readymade pastry as a delicious base. Whether consumers are choosing to elevate the humble sausage to a tasty sausage roll or using leftovers from Sunday roast dinner to make a midweek chicken pie, BakeAway is on hand to provide the ingredients, as we supply UK retailers nationwide."
Elliot Cantrell, Head of NPD at BakeAway added: "UK consumers are increasingly environmentally conscious, and sustainability has long been a priority for UK retailers. This was highlighted by the World Wildlife Federation's Basket initiative which aims to halve the environmental impact of UK shopping baskets by 2030. Given this is such a fundamental issue, we set off to do our part at BakeAway, evaluating consumer usage and reducing pastry sizes from 375g to 320g, in line with our findings. We are committed to working with local suppliers, to improve quality and consistency."
Staying on top of trends
Alongside its staple offerings, BakeAway has expanded its product range to adapt to current trends in the marketplace – including chilled pancakes, which it sees as an important part of the bake-at-home goods sector.
"Chilled pancakes provide the ultimate convenient treat for any time of the day, whether that's breakfast, lunch, dinner, dessert or a quick snack. Both OaYeah! and Abra-ca-Debora are incredibly easy and versatile all consumers need to do is add their favourite toppings and enjoy. That is their key point of difference versus traditional bake-in-store-or-at-home offerings of croissants, for example," explained Bosson.
Nielsen data from January 2023 shows that the chilled pancake
Whilst it is too soon for BakeAway to discuss OaYeah!'s success [the brand launched in February 2023], the brand has seen positive statistics in the sales of Abra-ca-Debora, as it continues to grow YOY with value up by 9.4 percent.
"Successful food manufacturing businesses need to ensure to roll with the times and tap into latest trends. In the context of pastry and dough, this might be through development of more HFSS-compliant products, spotting potential opportunities through closures of in-store food counters, or ensuring they're catering for the pennywise and health-oriented customer," concluded Cantrell.
About the author
Doug Hall is Sales Director at Bakeaway.