Packaging Contaminants: Food contact material regulations in Europe
Food packaging and food contact materials are essential to provide consumers worldwide with safe and nutritious food. Packaging manufacturers must be prepared to deal with a diverse global regulatory landscape, as well as customer procurement requirements based on voluntary standards. This article gives an overview of recent European regulations and TÜV SÜD's testing strategy, with a focus on plastic materials.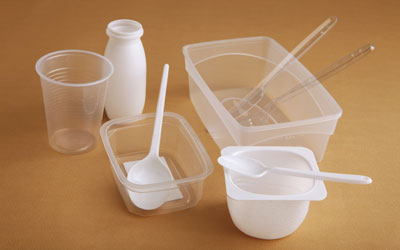 European regulations on food contact materials
The European Legislation on Food Contact Materials is based on the framework Regulation (EC) No 1935:2004. This Regulation establishes the general requirements for food contact materials and the authorisation of new substances. Regulation (EC) No. 1935:20041 includes the following requirements:
Food contact materials:

Must be safe.
Must not transfer their components into food in quantities that could endanger human health, change food composition in an unacceptable way or deteriorate its taste and odour.
Must be traceable throughout the production chain.

Articles intended for food contact must be labelled or bear the glass and fork symbol (Figure 1, page 47). This labelling is not obligatory if food contact is obvious by the article's nature, e.g. knife, fork, wine glass.
Labelling, advertising and presentation of food contact materials must not mislead consumers.
Information on the appropriate use of food contact materials or articles must be provided, if necessary
Are manufactured according to good manufacturing practice
Furthermore, the Good Manufacturing Practice (GMP) is described and regulated in the Commission Regulation (EC) No 2023/20062, which establishes the general principles for improving a GMP quality system applied to food contact materials…
The rest of this article is restricted to logged-in members. Login or subscribe free to read it.