Love Food Give Food: Action Against Hunger making a difference
Action Against Hunger marketing executive director Jean-Michel Grand shares insight into how the hospitality industry is helping to tackle the hunger crisis through its Love Food Give Food campaign and discusses some ongoing challenges.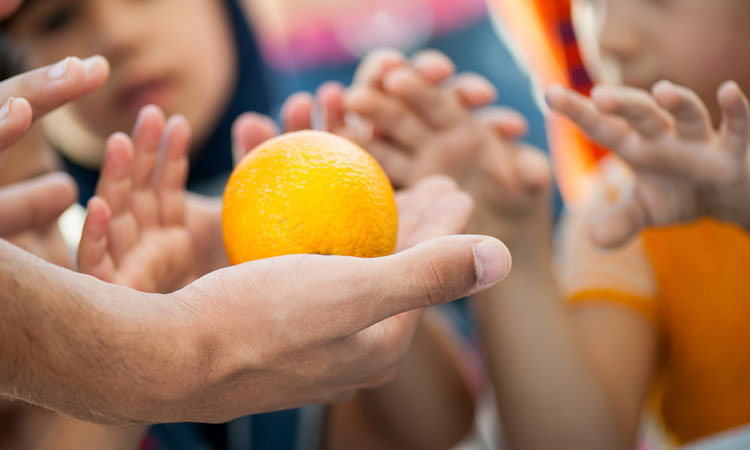 Action Against Hunger is a global humanitarian organisation that's been working for over 40 years to help end hunger. Its Love Food Give Food campaign launched ten years ago, partnering with restaurants to generate funds to help those most in need. 
The help we provide as a charity is needed now more than ever before. Right across Africa, communities are suffering from the lasting effects of the climate crisis and its continued impact on food security. The World Health Organization (WHO) estimates that 265 million people around the world are currently facing a hunger crisis and we are seeing more emergent issues as a direct result of the climate crisis. For example, an estimated 1.3 million people in Madagascar's Grand Sud region are facing extreme hunger and 28,000 are living in a state of famine. Madagascar's crisis can be attributed directly to a changing climate – an issue that, if allowed to continue unchecked, will see millions more in hunger crisis in the coming years.
Right now, the lives of 11 million children under five are at risk due to life-threatening hunger; that is four times the number of people who lost their lives in the first year of the pandemic. Hunger remains one of the biggest killers of young children across the globe, with almost half of all deaths of children under five attributed to malnutrition. This is a devastating statistic, particularly when you realise that it only costs one pound to provide a day's worth of life-saving, therapeutic food. That £1 figure gave us the inspiration for a campaign that would enable food lovers in this country to support in improving conditions for those in crisis.
Love Food Give Food
Ten years ago, we started our Love Food Give Food campaign, partnering with a growing number of restaurants to help us raise much-needed funds for our frontline services across the world. As a charity, our fundraising need is voracious and I am delighted to say that the hospitality industry here in the UK has answered the call for help in the most phenomenal way.
The premise to punters was a simple one – eat out in your favourite local restaurant and add £1 to your bill, to support the campaign. A decade on, we have over 200 participating restaurants and over 17 million supporters, who have raised an impressive £3 million for Action Against Hunger, which goes directly towards supporting communities in the UK and across the world who are facing life-threatening hunger.
A changing climate is brought about by the richest nations on earth, but its impacts are felt most harshly by the poorest.
Our marketing of the campaign promotes a real feel-good factor for customers and, in turn, provides a welcome boost for the hospitality industry. The world is facing a global hunger pandemic with millions of people suffering from lack of food due to poverty, climate change, conflict and COVID-19. Our UK restaurants and those eating out are in a fantastic and unique position to make an impact in the fight against global hunger across 46 countries, including right here in the UK.
Restaurants taking part this year include Yo! Sushi, Hakkasan, Darjeeling Express through to Hawksmoor and Caravan.
Lasting impacts of malnutrition in Madagascar
Madagascar is one of the African countries most exposed to the effects of climate change. The southern districts of Madagascar have the least access to drinking water in the country and are hit hard by the effects of climate change.
The extended drought in Grand Sud has had the most devastating impact that we have seen in the last decade for the region.
Our work in Madagascar has exposed us to many devastating stories. Owing to the complete lack of rainfall for over two years in some areas, the situation has become dire, with serious food scarcity from the unfavourable conditions for crops and livestock.
The most vulnerable in society – namely, women and children – suffer the most dire of consequences in these situations. The delivery of vital aid by charities like ours really is the difference between life and death.
It is frustrating to see situations like that of the one in Madagascar unfold, as it is entirely avoidable. A changing climate is brought about by the richest nations on earth, but its impacts are felt most harshly by the poorest.
As well as providing children with lifesaving treatment for malnutrition, we are also providing farmers with training, equipment and seeds; and teaching them how to get rid of pests and be resilient to climate hazards. Action Against Hunger treats more malnourished children than any other charity and we won't give up until the world is free from hunger.
Keep loving and keep giving
The ten-year anniversary gives us cause to reflect and celebrate what an amazing hospitality industry we have here in the UK. The generosity of spirit and willingness to support our campaign blows me away every year. They gently impress upon their customers that their actions make a difference and I can promise you, they make a REAL difference.
Here's to the next ten years of Love Food Give Food – my sincere wish is that before its second tenure, we no longer require it and that we have finally eliminated hunger for good.
About the author
Jean-Michel Grand has been the executive director of Action Against Hunger's UK office since 2003.
He joined Action Against Hunger in 1994 as a field worker and spent nine years in some of the world's most challenging environments, responding to a variety of humanitarian crises. These included conflicts in Bosnia, Chechnya and Tajikistan; severe droughts in north-east Kenya, Malawi and Zimbabwe; HIV- and AIDS-affected areas of Zambia; and human rights challenges in Burma.
Related topics
Related organisations
Related regions