Say hello to pink Prosecco
Tickled pink about its new pink Prosecco offering, PizzaExpress' Food and Beverage Director talks drink trends with New Food's Editor.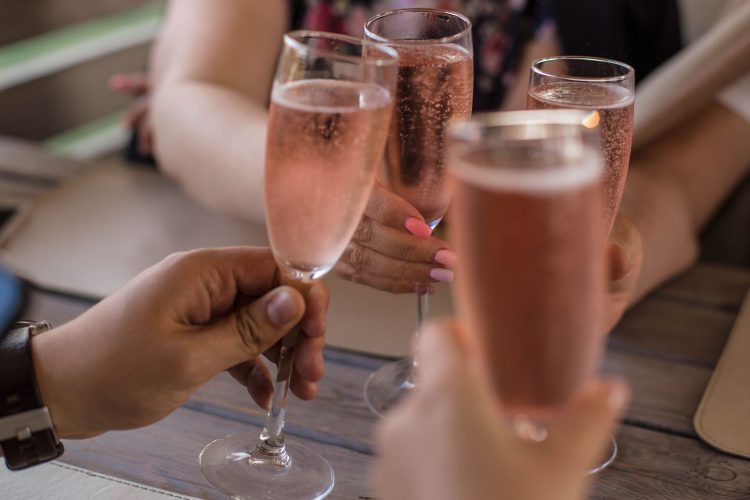 PizzaExpress has just expanded its drinks menu with the launch its Prosecco DOC Rosé.
Tipped as one of the biggest drinks launches of the year, Prosecco DOC Rosé was only approved for production by the Prosecco DOC Consortium in May, with bottles from its first production run arriving this month. Unlike other sparkling Italian rosé already on the market, 'pink Prosecco' uses an approved blend of Glera and Pinot Noir grapes grown exclusively within the Prosecco region in the north east of Italy; the latter variety giving the liquid its pink hue.
New Food hears from Jane Treasure, PizzaExpress' Food & Beverage Director about the new fizzy tipple, drink trends in the Covid era, and the future of dining.
Q: What kinds of drink trends are you seeing right now? 
We are seeing a lot of premiumisation in line with the continued popularity of the 'less but better' trend, across both alcoholic and non-alcoholic drinks. We know our customers want something delicious and are happy to pay a little bit extra for premium ingredients, sometimes opting for just one premium version of their drink, rather than two of the less premium versions. Non-alcoholic is also growing, so we are always on the lookout for great options within this category, to make sure we continue to offer a great, balanced range.
Q: How are you delivering to these demands, particularly in such testing times?
Alongside listening to feedback from customers and our teams, we always keep a close eye on what is going on in the industry, working with our suppliers to understand emerging trends so that we can adapt accordingly. For example, during the first lockdown we hosted virtual cocktail sessions with Fever Tree, which allowed us to get feedback direct from attendees; some of those recipes may find their way onto the menu in 2021!
Q: What is Prosecco DOC? 
Other than delicious? DOC defines where the wine has come from and the methods by which it has been produced. Prosecco was granted the Controlled
Designation of Origin status on 17 July 2009, and the Prosecco DOC Consortium was created on 19 November of the same year, to coordinate and manage the Prosecco DOC. The organisation unites all involved in Prosecco creation, to ensure the designation continues to grow and that the production regulations are complied with. 
​The Prosecco DOC Consortium are understandably very protective of Prosecco, its quality and image and – after lobbying by the Prosecco growers over a number of years – in May 2020 the Consortium unanimously voted to allow the production of Prosecco DOC Rosé.
Compared with traditional prosecco, DOC Rosé has the addition of 10-15 percent pinot noir. This gives it that lovely pale pink colour and a bright, fruit-led, summer berries flavour that is just a delight.
Q: What considerations does the PizzaExpress team take into account when adding a new drink to its menu? 
We are always on the lookout for delicious new drinks for our customers to enjoy with their pizza: if it tastes good with pizza and is beautifully presented, it catches our attention. We also want to ensure as many of our customers as possible can enjoy it, so if it's gluten-free, vegan, or suitable for home delivery, that definitely ticks a few more boxes.
Q: How do you see the future of dining evolving? 
Restaurant dining has had the most challenging year, which has brought the technology within our restaurants to the forefront. From digital menus, to ordering at table, if you didn't know how to scan a QR code in March, I am sure most do now!
I look forward to seeing how this progresses, while retaining what is at the heart of a great dining experience – people. Most importantly, I look forward to the time when we can safely see busy, bustling restaurants, full of vigour, fun and, of course, pizza.
Related topics
Related organisations
Related people