In a nutshell: An interview with Rohit Shroff, Application Specialist, Tecan Schweiz AG
Posted: 2 January 2014 | Rohit Shroff, Application Specialist, Tecan Schweiz AG | No comments yet
Tecan is a global provider of instruments and solutions for laboratory automation in various markets with a broad portfolio for the food testing industry. Founded in 1980 in Switzerland, Tecan now has over 1,100 employees and owns production, research and development sites in both Europe and North America; maintaining a sales and service network in 52 countries. An original equipment manufacturer (OEM), Tecan is also a leader in the development and manufacture of OEM instruments and components that are distributed by partner companies…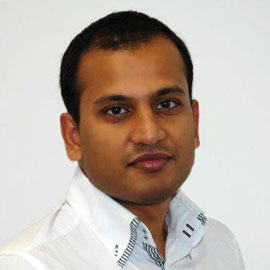 Rohit Shroff, Application Specialist, Tecan Schweiz AG
Tecan is a global provider of instruments and solutions for laboratory automation in various markets with a broad portfolio for the food testing industry. Founded in 1980 in Switzerland, Tecan now has over 1,100 employees and owns production, research and development sites in both Europe and North America; maintaining a sales and service network in 52 countries. An original equipment manufacturer (OEM), Tecan is also a leader in the development and manufacture of OEM instruments and components that are distributed by partner companies.
Safe and healthy food is a fundamental necessity for all people, and while advances in storage and transportation technologies and a globalised food supply chain provide a constant supply of food products to consumers, it also poses a significant challenge to manufacturers and regulatory agencies to ensure that the supply is free from harmful substances. To combat this challenge, the food industry has adopted a 'farm-to-fork' food safety approach which involves monitoring of raw materials, semi-finished and finished products. In addition, recent food scandals, such as melamine in milk, have implicated that the regulatory environment is getting tougher, with an ever-increasing number of compounds to be tested before the release of a product batch. "This is where mass spectrometry fits – in line with the need of food safety analysis," says Rohit Shroff, Application Specialist at Tecan. "It allows for specific identification and quantification of compounds in a broad variety of food matrices.
"Mass spectrometry delivers the sensitivity, specificity, short turnaround times and high-throughput that a food testing laboratory requires, and consequently liquid chromatography mass spectrometry (LC-MS) is a widely used tool in today's food safety arena. LC-MS is used to test for pesticides, antibiotic drug residues, contaminants, allergens, adulteration, authenticity profiles, vitamins and nutritional analysis. Major developments in the LC-MS technology also enable the detection of hundreds of different compounds in a single analysis; providing significant advantages over several other analytical techniques."
What are the current hurdles for food scientists working with LC-MS? "Sample preparation prior to LC-MS analysis has emerged as the major bottleneck for food scientists," reveals Shroff. Sample preparation is critical in obtaining sensitive, reproducible data from LC-MS instruments. And while sample preparation can be as simple as sample distribution to a new tube or plate format, it can also include various extraction techniques to be able to enrich or extract specific compounds required for further downstream analysis.
"As food matrices are heterogeneous, these extraction techniques can range from simple sample dilution prior to injection into an instrument to solid phase extraction (SPE), liquid-liquid extraction (LLE) or protein precipitation / purification techniques," Shroff explains.
"Sample preparation is carried out manually in large parts by laboratory technicians, but manual sample processing can lead to a comparably low throughput, a higher number of repeat tests and overall lower quality of data, which ultimately results in higher variation depending on the expertise of the technician carrying out the tasks."
Tecan's range of automated solutions can help to address the issue of manual sample preparation. "Tecan's Freedom EVO® platforms seamlessly automate sample preparation protocols such as SPE, LLE and protein precipitation and purification. The instruments can prepare samples in different formats ready for injection into LC-MS devices. They also allow generation of customised output files which can be fed into LC-MS instruments as batch lists, reducing manual interactions and documentation to a minimum," says Shroff.
"Full process automation allows for extended walkaway times and even for unattended overnight runtime, which allows our customers to achieve their throughputs and enables staff to attend to other tasks. Tecan is also committed to providing easy-to-use solutions, which can be seen in the TouchTools™ software, which allows the customer to run applications by working their way through a graphic user interface, without having to learn liquid handling software.
"The ability to transfer sample preparation and assay steps to an automated liquid handling platform allows larger facilities and companies to share common procedures between subsidiaries or departments, greatly reducing the training effort to implement the procedures with new employees and different facilities."
Tecan provides highly flexible and modular platforms which can be tailored to the specific needs of a customer, beyond sample preparation for mass spectrometry. This includes chemical analysis, ELISA testing, microbiology and genomic testing.
"The Freedom EVO® platform is available in three sizes and can be integrated with a variety of modules, depending on the customer's application of interest," says Shroff. "Tecan understands that laboratories need to be dynamic – the protocols they are running may change over time. The modular worktable of our instruments allows our customer to adjust to these changing needs in food testing; providing longevity of the automation
Issue
Related topics
Related organisations