Minimising production costs is not witchcraft! Turbidity sensor technology has been correctly applied
It has finally become easier to integrate good measurement technology into processes through better procedures and simple handling of devices.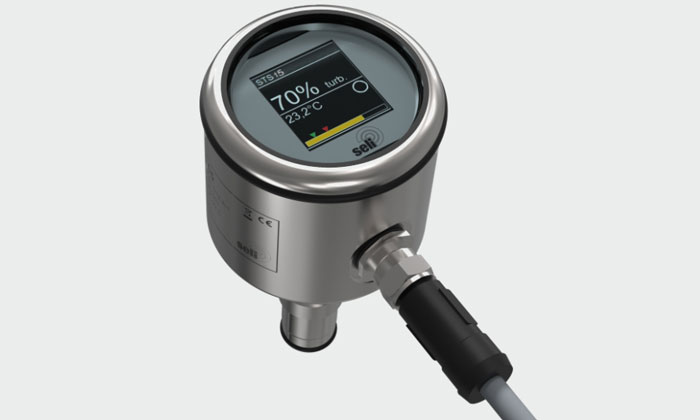 Due to Seli's developments in the field of turbidity measurement technology, a change has taken place in recent years. Seli has pioneered the development of simple turbidity sensors for phase separation in the field of turbidity up to complex measuring instruments for quality assurance. From low turbidity values to very high turbidity values, almost anything is now possible with this technology.
The latest development is the STS15 sensor with patented backscattering for highest turbidity values in liquids.
A new technology in optical evaluation has minimised the previous problems with devices using this method. With this new device, the contact surface with the process does not form a usual flat window, but a ball prism. The advantage is that this ball prism can be integrated into the front of the device without a seal for the process. Therefore there is no maintenance effort for the user.
A further advantage of this optical design is that expansion of the materials is prevented, thus ensuring a high level of impermeability against moisture penetration by the process.
Due to the optical behaviour of the ball prism, it is possible to exclude transverse influences caused by false reflections and absorption. The measuring point to the medium is thus optimally given. The slight increase at the ball surface to the process guarantees a speed increase, which ensures a quasi-continuous cleaning of the surface.
The formation of bubbles on the optics, which is harmful to a measurement in the process, is also excluded by the contour of the surface. The device can be completely integrated into the process flush with the front except for the small increase of the ball prism. Due to the modular hygienic process connection concept, 'HygienicConnect', each standard process connection is possible. Therefore any existing process installations can also be used.
The device provides the user with both an adjustable analog output of 4-20 mA and an adjustable limit value. In order to give the user a quick indication of their application, the compact design of the devices allows a test measurement to be carried out directly in a small container with the product to be measured. The user needs a maximum of 30 seconds to set up the device. This allows a quick statement and thus integration into the processes.
As an additional benefit, Seli provides reference standards for testing the instruments. This ensures that the user can quickly and easily check and secure the device function.
Related topics
Related organisations