28 In Line Magnets remove metal from baby food
Posted: 11 May 2017 | Bunting Magnetics Europe Ltd | 1 comment
Bunting Magnetics Europe Ltd has supplied a record 28 Pneumatic In-Line Magnets (PIMs) to a major global Baby Food products company in Germany….
2 PIMs ready for despatch to Germany
The Magnetic Separators are installed into food processing lines to attract and remove any magnetically susceptible materials.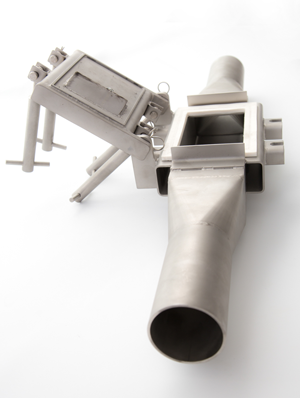 Bunting Magnetics is one of the world's leading suppliers of Magnetic Separators and Metal Detectors.  The European manufacturing headquarters are based in Berkhamsted in Hertfordshire, UK and they have an extensive overseas network of distributors and marketing agents.  In January 2017, the company acquired Master Magnets, significantly expanding their range of Magnetic Separators and Metal Detectors.
Metal is commonly found in food during processing.  The metal can originate from a breakdown of processing equipment (e.g. failure of a screen or pump), or even be delivered with the food raw materials.  The vast majority of food producers use Magnetic Separators and Metal Detectors to remove and detect any rogue metal before any food product leaves the production plant.
Pneumatic In-Line Magnets (PIMs) are specifically designed for installation in pneumatic conveying systems.  The 28 supplied for the Baby Food application in Germany are fitted with extremely powerful Neodymium Iron Boron Rare Earth Magnets.  These produce the highest magnetic field and capture even small shards of metal and work-hardened stainless steel.
The internal design of the PIM ensures that the product flow is not compromised or restricted.  This is especially important when the food product has lumps (e.g. chunky vegetables).  The powerful flat-faced magnet with two tapered-steps is mounted on one side of the PIM and swings out from the body for easy cleaning.  To ensure there is no leakage during operation, the flat-faced magnet is held firmly into place by long-threaded bolts.  The PIMs supplied to the Germany Baby Food producer are all finished to a Food Grade standard.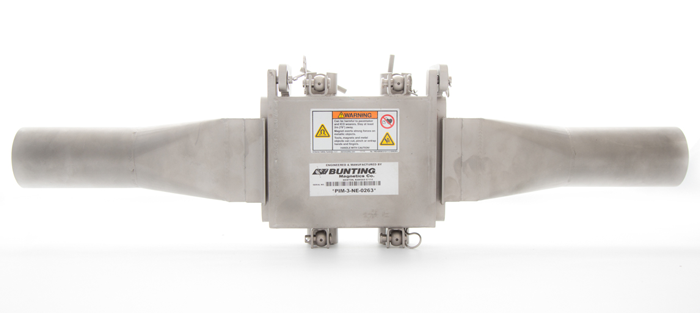 For use in horizontal pneumatic conveying lines, the fabricated tube and access door are designed to operate with pressures up to 15psi.  Compression couplings speed in-line installation and there is an optional portable cart available for easy handling.
The Pneumatic In Line Magnet is one of a range of Magnetic Separators commonly used to remove metal from Baby Food and other Foodstuffs.
For further information on the supply of the 28 In Line Magnets, please contact us on [email protected]