Ensuring full enjoyment: Lubricating greases in the food industry
Rhenus Lub describe for New Food best practices when lubricating grease in the food industry…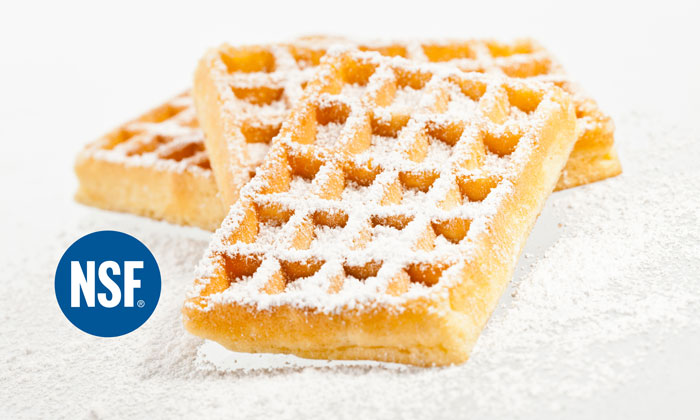 Rhenus Lub describes for New Food best practices when lubricating grease in the food industry.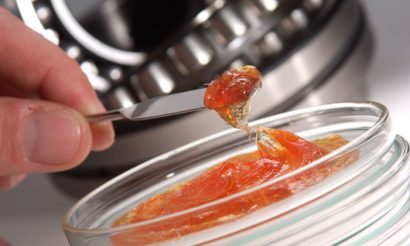 Taking a huge bite into a delicious waffle — just thinking about it is enough to make our mouths water. To ensure that this pleasure isn't jeopardised, manufacturers of industrial food products such as baked goods need to be especially rigorous when it comes to complying with legal regulations: Legislators set out extensive requirements to ensure that consumers can be confident of the impeccable quality of processed foods.
Effective and harmless to health
Whether it's baked goods or cereals, fruit, vegetables or beverages — all of these foodstuffs pass through a number of processing stages during manufacturing or harvesting, preparation and packaging. Automated processes play an increasingly important role in this process — and this includes the lubricants used, which are under increasing scrutiny due to the potential health risks. Lubricant specialist Rhenus Lub knows all about the special demands that must be met by food-grade greases. In addition to offering high levels of performance, products from the Mönchengladbach-based company are perfectly suited for use in the food and luxury food industry, as they also fulfil the world's most stringent food hygiene requirements.
The use of lubricants in food production is particularly challenging due to the extreme environmental conditions: extreme temperatures, acids, alkalis, alcohol or water must not affect them, and they must be resistant against cleaning agents and disinfectants. Only then can special greases completely fulfil their wide range of functions: They help to ensure efficient energy transfer and minimise friction, prevent deposits, collect wear particles and provide extensive corrosion protection to keep surfaces flawless. This helps to extend the service life of the machines and make the manufacturing process safer and more economical.
Certified to the most rigorous standards
In addition to these technical performance features, which are also required for other applications, it is crucial that further properties are considered when choosing a lubricant that comes into contact with a foodstuff. It is essential that the quality of a foodstuff is not reduced if it comes into contact with the grease. This means that the grease must have a neutral taste and smell, be compliant with food regulations and pose absolutely no risk to health. International approval is also necessary for greases that are subject to the strict requirements of the US Food and Drug Administration (FDA). Based on the provisions of the US authority, lubricant manufacturers can register their products with the NSF International certifying body. For example, lubricants registered in the H1 category can be used anywhere where contact between the foodstuff and the lubricant cannot be entirely excluded. If a product is certified by the NSF, it meets the world's strictest standards in relation to food hygiene.
Rhenus Lub manufactures a wide range of H1-certified lubricants that provide the optimum choice for the respective production machines while posing no risk to health — even for the example of industrial waffle baking machines mentioned in the introduction. High temperature resistance poses an additional challenge for lubrication of mechanical units in this application, which the selected H1-certified Rhenus Lub lubricants successfully overcome.
The requirements for lubricants with NSF/3H approval are even more extensive. This certification covers products that regularly come into direct contact with foodstuffs during use, for example as a separating agent in baking moulds during the preparation of a wide range of baked goods. For this specialist environment, Rhenus Lub offers a selection of 3H process oils for the food industry. The lubricants satisfy the strict requirements of the FDA and meet the necessary application-specific challenges — for absolute food quality.
State-of-the-art production facilities for optimum food quality
Right from the development phase of new formulations, Rhenus Lub puts the focus on raw materials: Only components that can also be found on the FDA's positive list are used. This way the Mönchengladbach-based experts know that they can fully ensure the required quality standards and satisfy the various requirements. For example, Rhenus Lub produces lubricants for the food and feed industry in its own hygiene area within its grease factory in Mönchengladbach. Newly built in 2005 and with an investment volume of 16 million euro, this grease factory is one of the most modern in Europe.
The "food-grade grease" production area includes the production and filling of special lubricants and features separate boilers. It is certified as kosher to comply with Jewish dietary laws and halal for the dietary laws of Islam.
"This means that we can ensure that contamination with non-food grade raw materials is ruled out," explains Dr Marco Pfeiffer, Product Manager for lubricating greases at Rhenus Lub.
"We also regularly develop our portfolio to ensure that we can continue to fully meet the requirements of the food industry for high-performance lubricants in the future."
Related topics
Related organisations