Fastest-growing products 2016: Sparkling wine, the 'free from' trend and fresh fruit
The British public's desire to eat more healthily has propelled fresh fruit and 'free-from' to become the fastest-growing products at supermarkets this year…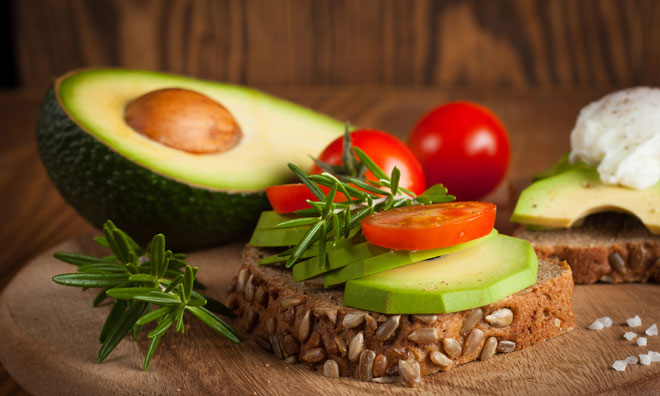 The British public's desire to eat more healthily has propelled fresh fruit and 'free-from' to become the fastest-growing products at supermarkets this year, according to measurement firm Nielsen.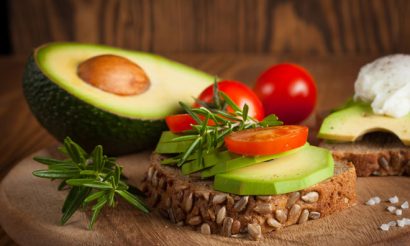 Nielsen's analysis of till sales (EPoS data) shows shoppers in the UK spent an extra £175.6 million on fresh fruit this year, compared to last year, while sales of 'free-from' products rose £122.9 million (18.9%). Sparkling wine is the only other category to see sales rise more than £100m in 2016 (£101.9 million or 15.5%).
Bottled water is the fourth fastest grower, a rise of £81.9 million taking it past the £1 billion mark.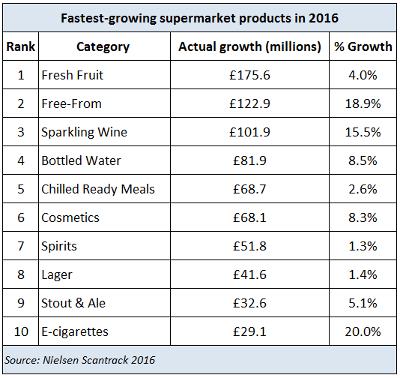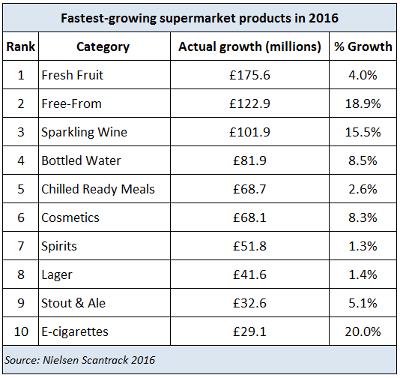 "The nation is increasingly concerned about diet and health – over four in 10 Britons now actively avoid certain ingredients in what they eat and drink – which is reflected in fresh fruit and free-from being the fastest-growing categories," says Mike Watkins, Nielsen's UK head of retailer and business insight. 
Adam Leyland, editor of The Grocer, who analysed Nielsen's data, says, "Fresh fruit's rise has a lot to do with avocados, whose sales have surged by more than a third, as well blueberries and raspberries. Prized as a source of 'good' fats and lauded by food bloggers such as Deliciously Ella and Gwyneth Paltrow, avocados are now Britain's eighth bestselling fruit."
Britons spent nearly £50 million more on avocados this year, making it the single fastest-growing food or drink item. 
Free-from's growth means it's worth £772.2 million a year and now a bigger category than instant coffee and sparkling wine. "To some, free-from may still have the air of an "alternative" or niche category but it's now nearly 40% bigger than a signature staple of British consumption – tea," notes Watkins.
"It's gone from being the preserve of medical condition purchasing, on its own small shelf space, to a lifestyle or general health choice punctuating the likes of ice cream, biscuits, butter, baby food and cough medicine. As one of the fastest growing categories, retailers are now giving free-from more space on shelves and it'll eventually feature in nearly every category and aisle."
Dairy-free brand Alpro is the most popular free-from brand with annual sales at £151.9 million, followed by Lactofree (£49.2 million), aimed at lactose intolerance, and grain-free snack brand Nakd (£36.3 million).