United Biscuits starts resupplying McVitie's Toasting Waffles
Following the voluntary withdrawal from sale of McVitie's Toasting Waffles, United Biscuits have confirmed that they have started to resupply the product…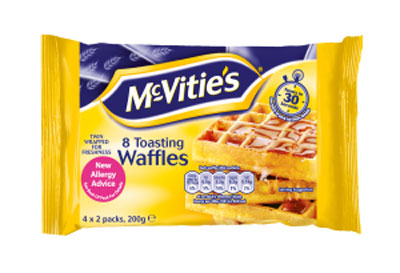 Following the voluntary withdrawal from sale of McVitie's Toasting Waffles earlier this month, United Biscuits has confirmed that it started resupply of the product on 10 July 2015.
The withdrawal took place after McVitie's Toasting Waffles production was moved to a new manufacturing site and consequently the recipe and some of the ingredients changed. The new recipe contained milk and lupin, which some consumers are allergic to. Although ingredient changes were updated in the ingredients panel on the product packaging, a small number of consumers purchased or consumed the product before reading the ingredient listing on the pack and without realising there has been a change.
Webinar: eBook: Thermo Fisher Scientific Food Integrity Collection 2017
Over the course of the year Thermo Fisher Scientific have provided expert comment on a whole swathe of issues including food fraud, origin testing and labelling regulations. This collection also provides access to Thermo Fisher's Food Authenticity webinar series for 2017, where experts delve into olive oil characterisation, gelatin speciation, honey and chromatography, and more.
United Biscuits have re-printed packaging with additional advice
United Biscuits took the decision to remove the product from sale until the issue was resolved.
Don't miss our new Food Waste conference!
This event pioneers the conversation on issues relating to food waste, from legislation to packaging and household trends. It will also equip delegates with the strategies and techniques for measuring, monitoring and analysing supply chain to identify areas of food wastage.
Since the withdrawal on 2 July, United Biscuits have re-printed packaging with additional advice, clearly communicating the recipe change on the front of the pack and directing consumers to the back of pack for the detailed ingredients. In the first instance this will be a sticker communicating the ingredient change followed by printed film to be included on packs by the end of July.
The product will be dated 2.09.15 onwards which are different date codes to the products affected by the withdrawal.
Related topics
Related organisations