Gluten-free goes mainstream with breakthrough cereal launch by Nestlé
New Gluten Free Corn Flakes from Nestlé will occupy a prime position next to traditional cereals; including Nestlé's other popular choices CHEERIOS and SHREDDIES…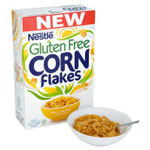 New Gluten Free Corn Flakes from Nestlé will occupy a prime position next to traditional cereals; including Nestlé's other popular choices CHEERIOS and SHREDDIES.
The gluten-free cereals market is growing significantly with a 2014 IRI report estimating the British market to be worth £17.5 million annually and growing up to 37% YOY for the last 5 years, indicating a strong demand for innovative new products in the gluten-free arena.
Dr Jolene McMonagle, a CPW nutritionist who has been at the heart of the development of Nestlé's new Gluten Free Corn Flakes, said: "We've known for a long time that gluten-free products are increasing in popularity, but we also recognise that some of the gluten-free breakfast cereal products do not offer the same taste and flavour as their mainstream cereal counterparts."
"We developed Nestlé Gluten Free Corn Flakes to provide families with a gluten-free option that is full of flavour, but without the gluten. Additionally, our Gluten Free Corn Flakes are fortified with vitamins and minerals to ensure that essential nutrients are in every bowl."
David Homer, Chief Executive Officer of Cereal Partners Worldwide, the joint venture between Nestlé and General Mills, said: "Gluten Free Corn Flakes is all about giving everyone more choice when it comes to breakfast.  We are meeting the changing needs of consumers by providing a gluten-free breakfast alternative for busy, health-conscious families."
"We are extremely pleased that Nestlé Gluten Free Corn Flakes will be available in the mainstream cereal aisle at a competitive price, which, for the first time, makes a gluten-free breakfast cereal accessible to everyone."
To accompany the mainstream placement the cereals will come with a mainstream price in-line with other cornflake offerings as opposed to the higher price usually associated with gluten free products. Nestlé Gluten Free Corn Flakes will be widely available in major supermarkets and come in two tasty varieties: Traditional and Honey, which will have R.R.Ps of £1.99 and £2.19 respectively.
New Gluten Free Corn Flakes are fortified with B-vitamins and iron.  Each 30g serving contains 31% of the recommended daily allowance (RDA) of Vitamin D, 51% RDA of Riboflavin, and 30% RDA of iron.
IRI 52 week data, September 2014.
* With 125ml semi-skimmed milk