Human milk oligosaccharides, a success story
Jennewein Biotechnolgie produces human milk oligosaccharides (HMOs), which are functional sugars.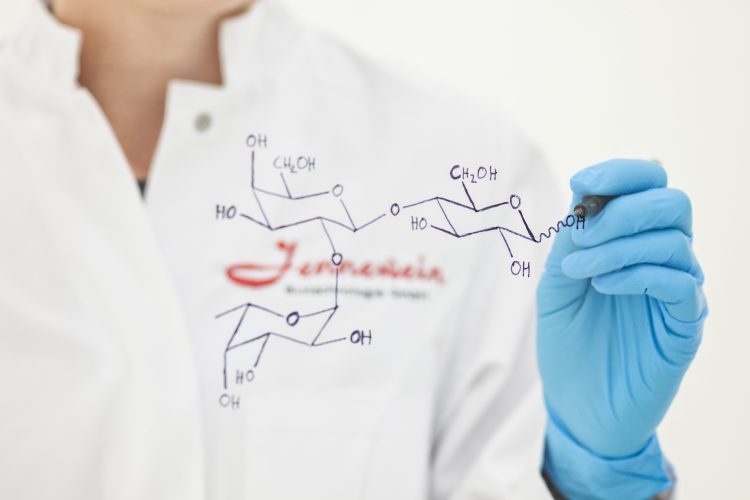 When Stefan Jennewein and his brother Klaus founded Jennewein Biotechnologie GmbH in 2005, they had clear goals in mind: They wanted to develop a biotechnological product that is beneficial, is significant for the market and can be sold inexpensively on an industrial ton scale. Furthermore, this product is intended to contribute to the protection of health, in this case specifically for infants and children.
Jennewein Biotechnolgie produces human milk oligosaccharides (HMOs), which are functional sugars. In addition to fats and lactose, they are the third most significant element in breast milk. There are around 200 different human milk oligosaccharides with different functions and structures. Scientific studies have shown that these sugar molecules have a positive effect on the health of infants: they strengthen the immune system, promote the development of a healthy intestinal flora, prevent infections by warding off pathogens such as noroviruses and rotaviruses and support the neuronal development of infants. 1. In addition, they reduce the risk of allergic reactions and could protect premature babies from necrotising enterocolitis, a dangerous gastrointestinal disease. 2.
The portfolio of human milk oligosaccharides is produced by an in-house developed innovative fermentation process based on scientific research and results. To achieve this, the bacteria strain E.coli B21 is genetically modified by the biotechnologists so that these bacteria produce the enzymes necessary to form HMOs. 3. This sustainable and cost-efficient production takes place in large industrial fermenters. A special feature of these biotechnologically-produced sugars is that they are chemically identical to their models in human breast milk. An HMO that very commonly exists in humans is 2′-fucosyllactose; which, among other things, promotes a healthy gut microbiome and offers protection against infections. 4. 2′-fucosyllactose, along with other HMOs, has been produced industrially by Jennewein Biotechnologie since 2015. Since 2016, it has been supplied to baby food manufacturers in the USA and since 2017 in Europe. Therefore, infants who cannot be breastfed and are fed with this baby food can benefit from its health-promoting advantages. This means that, a good ten years after the company was founded, the most important goals has been achieved: the cost-efficient production of a product on an industrial ton scale, that is beneficial, makes a society-wide contribution to health and has achieved market significance under the brand name Mum's Sweet Secret.
As the next step, to optimise infant and toddler food, Jennewein Biotechnologie has now developed a new 5′-HMO mix that is even closer to the natural situation of breast milk and which contains the five most commonly-occurring HMOs in natural concentrations: 2′-fucosyllactose, 3′-fucosyllactose, Lacto-N-tetraose, 3′-sialyllactose and 6′-sialyllactose. This mix also contains neutral and acidic HMOs and combines a large number of the health effects proven for the individual HMOs in one product. These include also protection against pathogens ,a healthy intestinal flora, a stable immune system and the brain development.
In order to test whether the 5′-HMO mix is well tolerated by infants and to ensure safety for approval as a food supplement in the European Union (Novel Food) the company launched a clinical study in December 2018 to be carried out in hospitals in Italy, Spain and Germany. 324 babies are being tested; the clinical phase ends in June of this year; the analysis and product launch are expected in the autumn.
To increase the production, which is necessary due to the expansion of the HMO range, the company has acquired the former Artus Mineralquellen plant in Bad Hönningen, near the company's Rheinbreitbach site. In the future, spray-dried HMO products will be produced there in 200m3 fermenters. The research activities will be bundled in a research centre, the R&D Centre in Bonn. The focus there will be on research on metabolic engineering an the human microbiome.
In terms of future prospects and the fact that Jennewein Biotechnologie is among the leading international manufacturers of human milk oligosaccharides, the company can now boast a success story after fifteen years: "We wanted to make a significant contribution to improving infant food, whereby we use nature as a model to produce oligosaccharides identical to human milk and provide them to end users. As not every baby is breastfed by their mother, we wanted to close this gap" explains company founder Stefan Jennewein. An idea and a goal that have been realised and achieved.
References:
1 Bode, Lars, Human milk oligosaccharides: every baby needs a sugar mama. In: Glycobiology, Volume 22, Number 9, September 2012, P. 1147–1162
2 ibidem
3 Claudia Hüther-Franken, Babys Best Sweets: Süß und überaus gesund, LVT Lebensmittelindustrie 7–8, 2019, P. 27
4 Thurl S. et al. Systematic review of the concentrations of oligosaccharides in human milk. Nutr. Rev. 2017, 75:920–933
Related topics
Related organisations