GoodMills Innovation presents functional and versatile ingredients at Fi Europe & Ni
New ingredients from GoodMills Innovation were showcased at this year's Fi Europe & Ni which address the demand for intestinal health and personalised nutrition products.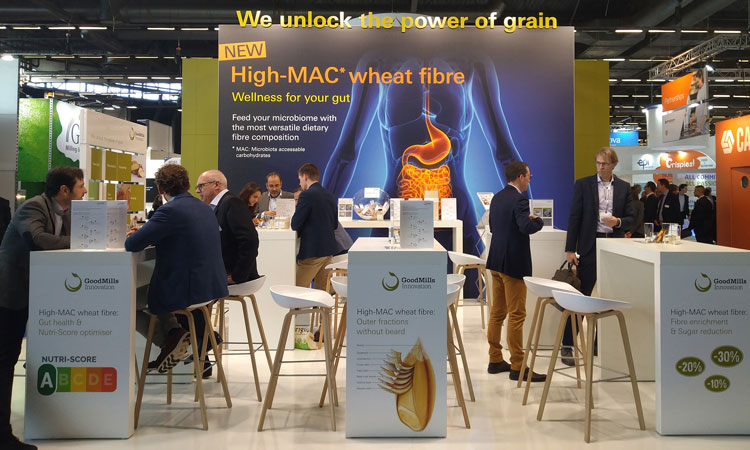 Intestinal health is a topic that is shaping the industry: a fact that became clear at GoodMills Innovation's stand at this year's Fi Europe & Ni, in Paris. With the new ingredient High-MAC Whole Fibre, the Hamburg-based company offers a tailor-made substrate for the intestinal flora that is suitable for a range of applications. Visitors to the show received High-MAC sandwich biscuits with cocoa cream, which contain the ingredient in the dough and filling. Thanks to High-MAC, these biscuits are not only rich in optimally bioavailable dietary fibres for the microbiome, but also contain significantly less sugar without affecting taste.
Scientific studies have proved that the condition of the intestine and its microbiome has a decisive and direct influence on overall wellbeing. This has led to an increase in consumer demand for foods that have a beneficial effect on the intestine. Transparency Market Research forecasts an average annual growth rate of more than ten percent for prebiotic ingredients by 2025.
With High-MAC Whole Fibres GoodMills Innovation presented a versatile cereal ingredient that can be optimally utilised by the bacteria of the intestinal microbiome thanks to its minimal particle structure of less than 100µm. Studies have confirmed that very fine grain fibres can be used particularly well by the gut flora. In order to achieve this fine structure, High-MAC Whole Fibre is micronised and refined in a gentle 'multi-micro process'. Obtained from the outer layers of the wheat grain, it contains natural wheat dietary fibre with minerals, vitamins and polyphenols that are all highly bioavailable – in contrast to cellulose, for example, which is an indigestible and chemically processed dietary fibre made from wheat straw.
High-MAC Whole Fibre is suitable for bakery and dairy products, fibre-enriched drinks and dietary supplements. Thanks to its natural sweetness, manufacturers of pastries and confectionery – from biscuit dough products to those with cream fillings – can reduce sugar content by up to 30 percent.
Personalised nutrition: focus on blood sugar
Personalised nutrition is based on the assumption that each individual will metabolise the same food differently – with differing dietary responses dependent on genetic disposition and/or microbial composition. For example, the latter dictates whether blood sugar levels rise sharply or moderately after a meal.
As a pioneer in the field of functional ingredients for personalised products, the Hamburg grain specialist also showcased RUTIN X – Tartary Buckwheat in the form of low-bitter flour and crisps, at the world's leading trade fair for food ingredients. Due to its high rutin content, Tartary Buckwheat is traditionally considered a blood sugar reducer in Asian medicine. With RUTIN X as an ingredient, products that increase the glucose level can be functionally enhanced.
In addition, GoodMills Innovation debuted GLYX Wheat, which scores with a fibre content of 40 percent and a low glycaemic index. This makes products with GLYX Wheat particularly appealing for people whose usual reaction to white flour is a spike in blood sugar levels.  
"For a long time, grain in general and wheat, in particular, were under constant fire, and considered 'thickeners' and 'sickeners'," said Michael Gusko, Managing Director of GoodMills Innovation. "Our ingredients, however, all of which have a positive effect on intestinal health and blood sugar levels, are proof that innovative cereal ingredients can be highly functional and offer real added value."
Related topics
Related organisations