Ancient grains – why they've captured the food industry's attention
Cereal foods have nourished humans for millennia and their dependability has been both a blessing and a challenge for the industry. Grains have been hidden in plain sight, so to speak, with their familiarity overshadowing any hope at stardom. Yet by shifting the focus to lesser known ancient grains, these economical staple crops are being rebranded as fashionable ingredients. Kelly Toups, Programme Director, Oldways Whole Grains Council, investigates how ancient grains are capturing the attention of novelty-seeking millennials and trend-setting chefs alike.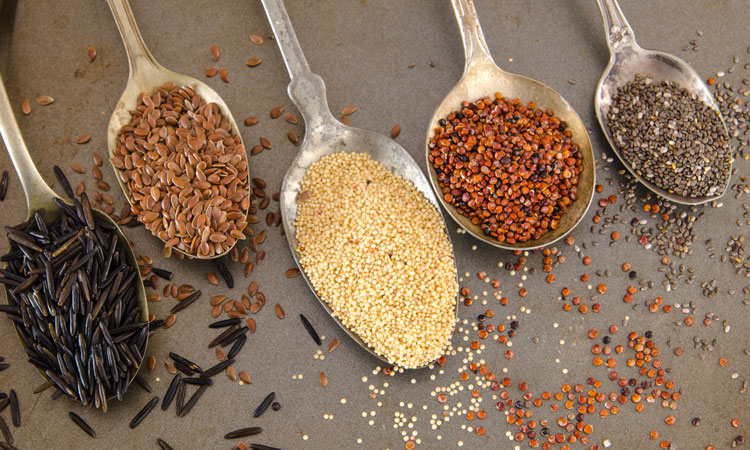 What is an ancient grain?
The Oldways Whole Grains Council describes ancient grain as grains that have been largely unchanged over the last several hundred years. This means that einkorn, emmer (or farro), Kamut, and spelt (all of which are types of wheat) would be considered ancient grains. However, the modern wheat used in our breads and cereals, which has been bred and changed for several generations, is not an ancient grain. Grains largely ignored until recently by Western palates (such as sorghum, teff, millet, quinoa, and amaranth) are also typically considered to be ancient grains, as are heirloom varieties of other common cereal crops (like black barley, red rice, or purple corn).
Why now?
Once hidden in the health-food aisle, whole grain products – whether made with whole wheat or with grains such as quinoa or sorghum – are now reaching mainstream consciousness. This is due in part to the rising interest in gluten-free products. While industry folk shivered in their grain silos, fearing backlash against cereal crops as a whole, gluten-free diets have actually opened as many doors as they have closed. Since only wheat, barley, and rye contain gluten, people trying to follow a gluten-free diet can simply get a bit more creative with their grain choices. Thus, gluten-free ancient grains, including quinoa, teff, and amaranth, have become increasingly familiar to consumers, regardless of their dietary restrictions and preferences.
Dieters' tendency to avoid 'white foods', like white bread or mayonnaise, is also giving colourful ancient grains a leg up amid other carbohydrate choices. Those desperate for some break in the monotony of white flour, white rice, and white potatoes are finding respite in the myriad of colourful, textural whole grain options (such as tri-colour quinoa, greenwheat freekeh, and purple rice).
Of course, it is not just the nutrition conscious who have taken fondly to ancient grains. In fact, one of the biggest drivers of their staying power has been the enthusiastic embrace of the foodservice industry. Ancient grains have been named a hot trend by US chefs year after year in the National Restaurant Association's Culinary Forecast, moving up to the #14 spot out of over 100 top trends in 2017.1 The popularity of ancient grains is a natural outgrowth of the widespread attention that has been given to food and nutrition over the past decade, as well as the growing culinary curiosity of the average consumer. Thanks to cooking shows, food blogs, international travel, and the growing conversation about our food and where it comes from, consumers are eagerly embracing new cuisines and ingredients.
Growth market for ancient grains
For many ancient grain novices, quinoa can be viewed as the gateway grain. According to Datassential's 2016 Trending Grains Report,2 quinoa appears on 9% of all US menus, and an impressive 22% of fast casual menus. This pseudo-cereal is appealingly fast cooking (12-15 minutes), a quality that sets it apart from its more mainstream counterpart, brown rice. Other whole grains, such as bulgur, freekeh, and millet, have been sleeper ingredients in the grain aisle, but thanks to a tip off from high-end food magazines and health-centric food blogs, consumers are beginning to catch on.
Exact sales data are tightly guarded, but market research reports do indicate that the interest in ancient grains is growing. While representing only a small sector of the market, Kamut, sorghum, and millet are showing impressive growth in the foodservice industry, appearing on 46-67% more menus than the previous year, according to Dataessential. Furthermore, according to a report from Stratistics MRC,3 the market for whole grain and high fibre foods (estimated at $29.4 billion in 2015) is expected to increase at a compound annual growth rate of 6.6% through 2022, reaching $46.2 billion, with especially strong growth in the baked foods segment and in the Asia Pacific region. Additionally, a 2015 report4 from market research firm Packaged Facts, found that nearly a fifth (19%) of US adults had purchased menu or grocery items with ancient grains in the past 30 days.
The trend towards more ancient grains is also evidenced in data from the Oldways Whole Grains Council, which certifies products for use of the Whole Grain Stamp5 on packaging. Their database includes more than 11,000 whole grain products available in 55 countries around the world. By looking at the ingredients lists of products that have been registered to use the Whole Grain Stamp, it's easy to watch particular grains gain in popularity. Quinoa's well-documented rise to fame is clearly evident – in 2011 3.3% of products bearing the Whole Grain Stamp included quinoa in their ingredients list and today an impressive 9.2% of Stamped products use quinoa. Sorghum, a grain that was hardly ever used in product formulas six years ago, now shows up in 3.5% of products using the Stamp.
Beyond boasting a highly desirable nutrient profile, grains like millet, amaranth and teff have the added benefit of being more sustainable crops that require less water than traditional wheat or corn. Millet and teff are resistant to droughts and floods, making them suitable for highly variable conditions that other crops cannot endure. Perhaps this explains why these grains are showing up in an increasing number of products. Millet is now included in 8.6% of Stamped products; amaranth is found in 3.7%; and teff, largely unheard-of outside East Africa until a few years ago, now appears in 1.4% of products using the Stamp.
Ancient grains are lacking the public research dollars and infrastructure that commodity crops like wheat and corn are privy to. However, as consumer demand for ancient grains continues to grow, farmers and food companies are taking the leap into this unsubsidised territory, slowly building up supply chain networks to make this shift economically sustainable.
Selling a story
From smoky freekeh to subtly sweet spelt, taste is an undeniable factor in the growth of ancient grains. Customers have little patience for foods otherwise. However, in today's value-driven food economy, it is the story behind the grain that seems to be luring customers into that first purchase.
Fairly or not, much of the blame for today's dietary ills has been cast on big food companies, for peddling highly processed foods made with salt, sugar and fat, rather than making healthy foods, like fruits and vegetables, more accessible to the wider public. Ancient grains, on the other hand, have rich histories in traditional cuisines around the globe, that pre-date the industry's 'meddling' in our food system. Quinoa, which was revered by the Incas, and teff, which is planted by Ethiopian nomads, have a lot more sex appeal than the identical rows of corn and dwarf wheat that dot our landscapes.
If nutty flavours and an enviable nutrition profile were not enough to convince customers to give ancient grains a chance, then an appeal to our laziness must be doing the trick. Manufacturers have responded to ancient grains' popularity by featuring grains such as farro and quinoa in snack bars, frozen ready meals, packaged pilaf mixes, and even in pre-cooked microwavable pouches (similar to instant rice). By including ancient grains in products, manufacturers can give a nod to the values that consumers hold dear (like naturalness or nutrition), without sacrificing the conveniences of the 21st century foodscape.
Biography
Kelly joined Oldways in 2014 to promote whole grains and healthy cultural food traditions. A registered dietitian by training, Kelly graduated from the University of Texas with a BS in nutrition, and completed her dietetic internship through the University of Texas coordinated programme. Kelly also holds a Masters degree in Gastronomy from Boston University, with a concentration in food policy. 
Kelly's passion for delicious and nutritious food developed after studying the Mediterranean diet in Sicily, and interning at the global headquarters of Whole Foods Market. Before joining Oldways, Kelly helped research Frances Moore Lappé's recently released book, World Hunger: Ten Myths (2015), and also managed an award winning healthy eating programme for Boston College Dining Services. 
References
National Restaurant Association (2017) What's Hot: 2017 Culinary Forecast. org
Datassential (2016) Trending Grains Report. datassential.com
Stratistics (2016) Whole Grain and High Fiber – Global Market Outlook (2015-2022).
Packaged Facts (2015) 19% of U.S. Adults Purchase Ancient Grains on Menus or at Retail. PRNewswire.
Whole Grains Council. Whole Grains Stamp. https://wholegrainscouncil.org/whole-grain-stamp
Issue
Related organisations