Organic essentials: what you need to know now
The concept of organic farming began in the early 20th century as a way to combat erosion and soil depletion,1 and was originally referred to as 'humus farming', with an emphasis on 'feeding the soil'. In this article Kitty Broihier, MS, RD, LD and Allison Stowell, MS, RD, CDN, from Guiding Stars discuss the concept of organic from its origins to what it means today.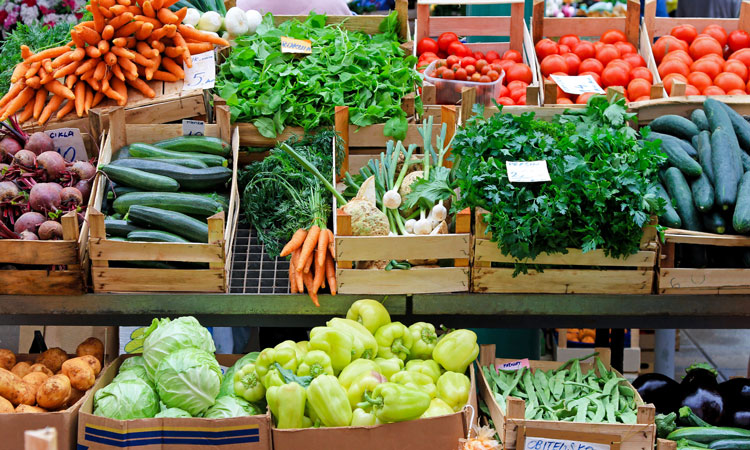 It was in the 1940s that the word 'organic' became the more popular way to describe farming that embraces sustainable methods and shuns the use of man-made chemicals for crop nutrition and pest management. Later in the 1960s, organic farming was linked to the growing environmental movement, and through the 1970s, organic foods gained visibility, creating the base for a growing public demand for organic foods.
The modern organic food industry has come a long way from the fringe food co-ops of the 1960s. Today's consumers are savvier about where their food comes from and how it's produced, yet there is still a knowledge gap when it comes to organic agriculture. Here we present information on organics that we think captures the 'must know' trends and tidbits about the organic food category as it stands today.
Organic is a growing category, but just a sliver of the pie
New data from the Organic Trade Association2 indicates that over 80% of US households – both urban and rural – now regularly purchase organic foods though just 5% of all food sold in the US in 2015 was organic.3 Although organic acreage increased over 10% from 2014 to 2016, according to the USDA Economic Research Service, this still represents just a small fraction of total US farm and grazing land.4 Total organic food sales posted a record high of 39.7 billion in 2015 (up 11% from 2014 figures),3 with fresh produce remaining the top-selling organic category in retail sales (comprising about 36% of the total). And, lest you start thinking that Americans have turned over a new leaf and are piling their plates with organic produce, the organic snack food category is alive and well. In the last 10 years, organic snack food sales have tripled (up 14% from 2014 to 2015 alone),3 while organic packaged-food sales overall slowed their growth slightly in the last year, up 14% in 2016 vs 18% in 2015, according to Bloomberg research.5
Many consumers don't know what 'organic' even means
In 1990 the National Organic Foods Production Act6 (part of the Farm Bill) called on the USDA to establish an organic production certification programme, a label for organically produced products, standards for organic production, including a list of approved/prohibited substances, and an accreditation programme. The USDA organic designation or 'seal' is based on food production processes and procedures—it doesn't infer better quality, higher food safety, more Earth-'friendliness' or greater nutritional content – something that many consumers don't realise.
One big misconception about organic crops is the belief that they are not sprayed with pesticides. Consumers are typically shocked to learn that organic does not mean pesticide-free. Organic crops are certainly sprayed with pesticides; the difference is that the pesticides are on a relatively short list of approved organic chemicals. It's not known how much of these organic chemicals are used on organic crops since that's not recorded, but given that some of them are less effective than synthetic pesticides, it's likely that some organic farmers use lots more pesticide per acre than conventional farmers. Another misconception is that organic food is 'cleaner' or less likely to cause food-borne illnesses than non-organic foods. In reality, the reverse may be true due to the prevalence of using manure as fertiliser.7 While conventional growers do this as well, they also can utilise techniques such as irradiation and other measures (not available to organic producers) to eradicate foodborne pathogens.
The health halo hovering over organics is still there
Despite the fact that USDA organic certification concerns itself with how food is grown, raised and processed – and not its nutritional value – roughly half the respondents in a 2016 Pew Research Center trends survey,8 said they believed organic fruits and vegetables were better for health than conventionally grown produce. Of those who had recently purchased organic food, 76% indicated that they purchased organic items 'to get healthier foods' (by contrast, only 33% indicated that helping the environment was a reason). The impact of the perceived healthfulness of foods with 'organic' labels to drive food preferences is not a new thing. In fact, Brian Wansink's group at Cornell Food Lab9 showed that when identical food products are presented to study subjects, those versions with an 'organic' label are estimated to have significantly fewer calories and to be lower in fat than the 'regular' variety! Perhaps the definition (or more accurately, lack of definition) of a 'healthy' food is the crux of the issue. Some consumers may be giving the nod to organics because organic methods are believed to improve soil quality. Regardless of the reason people are choosing organics, there is no denying that the category benefits from a substantial health halo.
The debate about whether organics are more healthful rests more on consumer perception than science
Unlike consumer perception, however, scientific research does not support the notion that organic foods are more nutritious. Both a 2012 analysis of published research10 and a large 2014 analysis11 basically found that both organic and conventional foods contained similar amounts of most nutrients. Differences were found between the two methods in some food categories, such as omega-3 fatty acids in meat and milk, and some natural antioxidant compounds in produce, but these differences tended to be small and ultimately they would not make a significant difference in the overall nutrient content of one's diet.
From a dietitian's viewpoint, the continued quibbling about variations in nutrient content clouds the issue. Most consumers fall far short of recommended intakes of fruits and veggies (frequently getting roughly half the target amounts), according to the 2015-2020 U.S. Dietary Guidelines.12 Increased consumption of all types of fruits and vegetables will make a bigger health difference overall for most of us than the tiny nutritional differences between organic and conventional produce. As for processed foods, I'd argue that, if organic status is the only difference in products, a cookie is a cookie, a slice of bread is a slice of bread.
New USDA Certified Transitional Program holds appeal for farmers, food manufacturers and consumers
Changing from a conventional to an organic operation is an expensive undertaking and takes several years to accomplish. That fact, combined with limited organic acreage and pastureland, means shortages of organic ingredients and raw materials – including organic feed for animals – are quite common. Together, these problems present substantial production and cost obstacles to food manufacturers looking to increase organic food production and fulfill consumer demand. Here's where the USDA's National Certified Transitional Program (NCTP)13 comes into play. Becoming certified in the NCTP is a pathway to organic certification14 for farmers who are moving to organic methods, but aren't completely there yet. The NCTP is separate from the National Organic Program,15 which began in 2002. The transitional status will follow standards set by the Organic Trade Association, and allow for increased supply-chain prices, as well as increased access to ingredients. As more farmers convert to organics, the prevalence of the 'transitional' seal on products will increase and become more familiar to consumers.
The nuances of product labelling terms are lost on consumers
Consumers look to food labels to help inform their purchases, yet there is much confusion over exactly what different labeling terms actually mean – and that's especially true when it comes to terms like 'organic', 'natural', and 'non-GMO' – all of which are frequently confused as being equivalent. A Consumer Reports survey conducted in 201616 found that more people purchase 'natural' foods (73%) than organic foods (58%). This may not be surprising, given that there is no FDA definition for 'natural' as it applies to processed food products (and only a loose USDA definition that refers to minimal processing for meat and poultry products). Therefore food manufacturers can quite easily label a product 'natural' and it's more prevalent than the 'organic' label, which requires adherence to a large and strict list of standards.17 No doubt, there are consumers who think that 'natural' foods are, in fact, organic,18 or that they are free from genetically modified organisms (GMOs) or hormones – but in all those instances they'd be wrong. (Some consumers even confuse 'local' products with 'organic'). As for GMO labelling, the presence of the 'Non-GMO Verified' label also does not mean the product is organic (though the reverse is true – organic products cannot contain GMO ingredients). What it does mean is that the product has gone through the verification process whereby at-risk ingredients are tested for genetic engineering, and that the product contains 0.9% or fewer genetically-modified ingredients. Unlike the USDA Organic seal, the presence of the Non-GMO Verified logo does not address any of the myriad other product characteristics that fall under the organic seal standards (such as humane animal treatment, the use of synthetic pesticides and fertilisers, or the administration of antibiotics to animals).
Consumer confusion over organic foods, labels and the role that these foods play in their diets is not surprising. Since the ultimate goal is a varied diet rich in nutrients, consumers need to find the approach that works best for them and allows for consumption of a wholesome, balanced diet.
Biographies

As a registered dietitian, Allison Stowell enables individuals to make positive, sustainable changes in their eating habits by stressing conscious eating, improving relationships with food and offering a non-diet approach for reaching and maintaining ideal body weight. She joined the Guiding Stars team to help people in a number of sectors (grocery, hospitals, schools and universities) to understand how to use the Guiding Stars nutrition navigation program to make healthier food choices.

Kitty Broihier has dedicated her career to helping businesses, public relations agencies, trade associations and the media navigate the ever-changing nutrition landscape. She is the president of NutriComm Inc., a consultancy specialising in food and nutrition communications. Kitty is also an adjunct faculty member of Southern Maine Community College's Dietetic Technology Department. Kitty has served on the board of the Maine Academy of Nutrition and Dietetics for many years, including two terms as president.
References
Kuepper, G. (2010) A brief overview of the history and philosophy of organic agriculture. Kerr Center for Sustainable Agriculture.
OTA (2017) New state data shows organic now in the kitchens of over 80 percent of U.S. households. OTA Press Releases. https://www.ota.com/news/press-releases/19567
OTA (2016) S. organic sales post new record of $43.3 billion in 2015. OTA Press Releases. https://www.ota.com/news/press-releases/19031
USDA (2013) Organic Production. USDA Data Products. https://www.ers.usda.gov/data-products/organic-production/organic-production/#National%20Tables
Rosero-Pena, D. Shea, K. (2017) Organic packaged food sales growth hits adolescence. Bloomberg Intelligence.
GPO (2010) UBCHAPTER M—ORGANIC FOODS PRODUCTION ACT PROVISIONS PART 205—NATIONAL ORGANIC PROGRAM. 17.
Mukherjee A,Speh D, Dyck E, Diez-Gonzalez, F. Preharvest evaluation of coliforms, Escherichia coli, Salmonella, and Escherichia coli O157:H7 in organic and conventional produce grown by Minnesota farmers. J Food Prot. 2004 May;67(5):894-900.
Funk, C. Kennedy, B. (2016) Americans' views about and consumption of organic foods. The New Food Fights: U.S. Public Divides Over Food Science. Pew Research Center.
Lee, J. et al. (2013) You taste what you see: Do organic labels bias taste perceptions? Food Quality and Preference, 29(1), 33-39.
Brandt, M. (2012) Stanford study shows little evidence of health benefits from organic foods. Stanford Health Policy. Freeman Spogli Institute for International Studies (FSI).
Baranski, M. et al. (2014) Higher antioxidant and lower cadmium concentrations and lower incidence of pesticide residues in organically grown crops: a systematic literature review and meta-analyses. Cambridge Core. Volume 112,Issue 5 794-811.
Dietary Guidelines Advisory Committee (2015) Dietary Guidelines 2015-2020 Chapter 2: Shifts Needed To Align With Healthy Eating Patterns. https://health.gov/dietaryguidelines/2015/guidelines/chapter-2/a-closer-look-at-current-intakes-and-recommended-shifts/#figure-2-3-desc-toggle
USDA Accreditation of the Certified Transitional Program. https://www.ams.usda.gov/services/auditing/certified-transitional
Stowell, A. (2017) National Certified Transitional program. Our Dietician.
National Organic Program. https://www.ams.usda.gov/about-ams/programs-offices/national-organic-program
Natural Food Labels Survey 2015 Nationally-Representative Phone Survey. CONSUMER REPORTS NATIONAL RESEARCH CENTER Survey Research Report. http://www.consumerreports.org/content/dam/cro/magazine-articles/2016/March/Consumer_Reports_Natural_Food_Labels_Survey_2015.pdf
Organic Standards. https://www.ams.usda.gov/grades-standards/organic-standards
Bradford, A. (2015) Food Labels: Definition of Natural and Organic. Live Science.
Issue
Related topics
Related organisations