Extrusion: Pasta the traditional way
Posted: 26 April 2016 | Pat Higgins, Head of Business Development, the Queally Group | No comments yet
In 1996 we were asked by an existing customer to supply their frozen pasta range to their operations in the UK and EU. We appointed a dedicated team to research pasta manufacturing, raw material and ingredient sourcing, product attributes and – most importantly – the market for pasta products.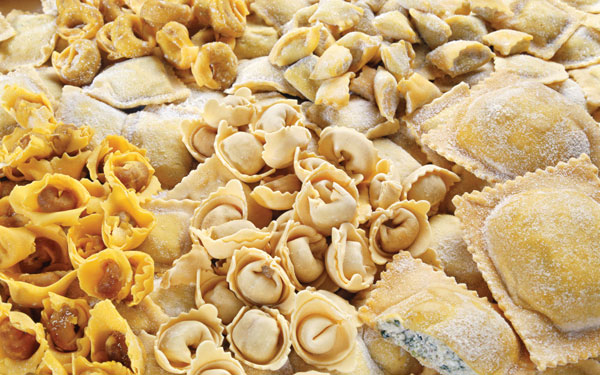 Pasta was believed to have been brought to Italy by Marco Polo many hundreds of years ago. We decided to manufacture pasta 'The Italian way' as we admired the respect and tradition of Italian manufacturers and, most of all, the quality of the products they produce. We visited and spent many hours with equipment suppliers and ingredient producers in Emilia Romagna, Lombardy, Parma, Bologna and Fidenza.
We evaluated lamination and extrusion methods and employed Italian consultants to ensure that our team gained the knowledge not just in the 'classroom' but on the production floor. We also worked with the Dept. of Agriculture & Food in Dublin, Ireland in designing our production facility to the highest standards, and with our Italian equipment and ingredient suppliers to ensure that our equipment was efficient, safe and well designed. Our ingredients – we only use Italian semolina and Ricotta to this day – were from reputable proven supplier(s). Indeed, since we opened we have sourced our semolina from the same Italian supplier.
The journey
From the start we produced a range of pastas including filled pasta, unfilled long and short pastas, lasagne sheets, and cannelloni using both extrusion and lamination equipment. Our cannelloni range is co-extruded.
Under the guidance and expert eye of our Italian consultants, we became experts at fillings and gained a reputation for exceptional filling delivery in terms of flavour, particulate and consistent fillings. We pride ourselves on delivering the same quality fill percentage in every shape that we produce.
The essential ingredients – kitchen, kit and consistency
Great raw materials and ingredients make great products, yet in addition we have always sought to excite our customers with innovation. This innovation must be backed up with production capability – and we have a robust screening and Stage Gate Process in place to ensure that each product progresses from concept, to kitchen, to production floor in a structured way involving our customers throughout.
Our production process from semolina and ingredient intake to finished product stage is set out in Figure 1.
In order to achieve pasta consistency we mix and knead/extrude our semolina and egg/water to develop the required level of mix. The plant is fed by two 40 tonne silos which pre sieve and then feed semolina hoppers located over each mixer. The process involves the mixing of the egg and water (and any additions such as herbs/spinach powder etc.) in the liquid holding tank. This is then pumped automatically to the turbo mixer where it is mixed together with the semolina at speeds of 800RPM and then deposited into the primary mixer (our standard recipes are normally 75% solids and 25% liquid). From there the process is continuous and it's then deposited into the secondary mixer before heading for extrusion or co extrusion depending on end product. The products are then pasteurised or water cooked before being IQF frozen and then bagged.
Our ingredients for fillings are delivered to our processing department at specific temperatures to ensure consistent operation of our filling and forming machines. Each filling has a very specific set of preparation instructions along with strict mixing times. Our extrusion equipment uses dies manufactured in Italy that deliver a rustic finish to our pasta shapes which is both visually attractive to the consumer and allows great sauce adhesion. On extruded products we work to 95-100 bar pressure and also control the extrusion head temperature, keeping it cool and at a desired temperature using a water chiller unit.
We purchase semolina to strict parameters of protein and gluten and sample every batch on intake. This is essential so that we can assure our customers that our pasta is not only great to eat but is the same in composition every time. All finished product is despatched on positive release. We approve our suppliers and all raw materials to a strict regime; the risk assessment includes accreditation, self-assessment questionnaires and auditing their production facilities around the world.
Skilled team
Our team today is highly knowledgeable and experienced in all aspects of production and the majority of staff have 10 years or more service, with many being here from the start of the business. We operate a regime of visual, microbiological, organoleptic and specification checks. Crucially, production is tasted daily at the start, middle and end of each shift to ensure that only consistent product is packed for our international customer base. We operate a culture of continuous improvement throughout our workforce.
In addition to pasta, we produce a range of pasta sauces as well as sauces from across ethnic cuisines, here at our facility in Naas. This allows us to offer customers a complete pasta and sauce solution whether Carbonara, Puttanesca or Pesto. We also produce concentrates and oil based products for our B2B customers who manufacture chilled and frozen recipe dishes, pizzas, artisan breads and ready-to-cook meal solutions. We have various pack formats from 30g – 190g sachets, 500g – 10kg pillow pack bags, as well as pots/tubs and buckets.
The products
Our filled pastas, which we produce using single and double sheet lamination and gentle filling injection technology, contain fillings of many varieties such as shellfish, salmon, beef, spinach and Italian ricotta, pulled pork, Parma Ham and Parmesan.
Our many shapes, each of which has its own traditionally crafted die from Italy, include: ravioli, tortelli, tortellini, tortelloni and capelletti, mezza luna, fiorelli, girasole, triangolotti and saccatini. What makes us stand out is the generous level of filling that we can deliver – over 50% – including strong visible particulate definition from lobster pieces to asparagus tips to whole mussels.
We also create recipes to reflect the differing palate of the customers we serve in Republic of Ireland, UK, France, Germany and Spain. These customers include leading restaurant chains, delivered wholesalers in the UK and France, major recipe dish manufacturers and international QSR operators.
Our world today
We operate within a highly sophisticated consumer world. Our mentality is that we sell what the customer wants; what is on the label and always highlighting the attributes, allergy information and preparation methods that deliver a wonderful meal occasion to customers both young and old.
We are a BRC accredited business and constantly challenge and audit our technical systems and standards to ensure safe food at all times. We have built up supply partnerships with our core suppliers: we know them, they know us and – very importantly – they know our customers and their demands. We combine our strengths to make sure that 'The Customer comes first – always!' Our innovation and research team visit markets across the world, often with our customers and suppliers, to jointly agree the next big thing or the trend that is set to become a market success.
We visit many trade shows every year to ensure that we are aware of any new process or machinery advances. Our latest result of this collaborative philosophy is our range of filled and unfilled Gluten Free pastas. We have developed these products over the past 18 months and have used expertise from Italy, US, UK and Ireland to deliver the ingredients, process and products that are about to deliver a Gluten Free/'Free From' solution to the Coeliac marketplace. The manufacture of Gluten Free products requires high precision, as – in the absence of gluten – we must formulate, mix, knead and form our products to deliver great texture and flavour and overall great eating experience.
To conclude, we are in business for our customers and for the long term.
About the company
Pasta Concepts Limited is based in Naas, Co. Kildare, Ireland and is a member of the Queally Group of companies. We are family owned and operate a 'Customer comes first – always!' policy.
Our roots are in farming and in transforming great ingredients from the land into great products for our international customer base. On the Naas site, which overall employs 800 people and is the largest value added site operated by Queally, we focus firmly on Value Added products.
We are part of the Culinary Food Group, which is the Sales, Technical and Innovation platform that Queally uses to sell its pastas, sauces, natural stocks and other value added meal components across the UK, Ireland and Continental Europe, and can be found at www.theculinaryfoodgroup.com 
About the author
Pat is Head of Business Development for the Queally Group and is MD of the Group's Sauces, Pasta and Pasta meals business. He also holds a key role within the Strategy, Banking and Finance Unit. He started his career at Coopers & Lybrand (now PwC). Prior to joining Queally, he worked in the IDA supporting growth in companies in the Agribusiness and Technology sectors. He is a former Vice President of the Irish Exporters Association.