Extrusion: Pasta the traditional way
In 1996 we were asked by an existing customer to supply their frozen pasta range to their operations in the UK and EU. We appointed a dedicated team to research pasta manufacturing, raw material and ingredient sourcing, product attributes and – most importantly – the market for pasta products.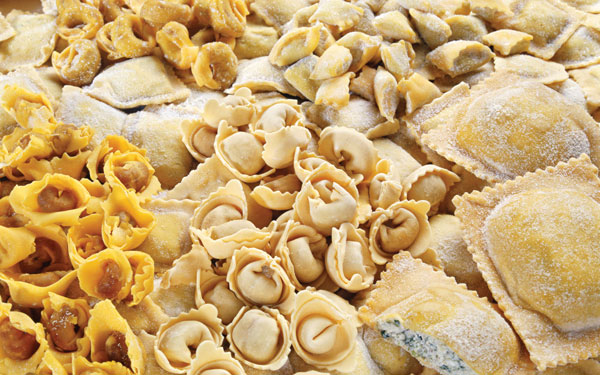 Pasta was believed to have been brought to Italy by Marco Polo many hundreds of years ago. We decided to manufacture pasta 'The Italian way' as we admired the respect and tradition of Italian manufacturers and, most of all, the quality of the products they produce. We visited and spent many hours with equipment suppliers and ingredient producers in Emilia Romagna, Lombardy, Parma, Bologna and Fidenza.
We evaluated lamination and extrusion methods and employed Italian consultants to ensure that our team gained the knowledge not just in the 'classroom' but on the production floor. We also worked with the Dept. of Agriculture & Food in Dublin, Ireland in designing our production facility to the highest standards, and with our Italian equipment and ingredient suppliers to ensure that our equipment was efficient, safe and well designed. Our ingredients – we only use Italian semolina and Ricotta to this day – were from reputable proven supplier(s). Indeed, since we opened we have sourced our semolina from the same Italian supplier.
Webinar: eBook: Thermo Fisher Scientific Food Integrity Collection 2017
Over the course of the year Thermo Fisher Scientific have provided expert comment on a whole swathe of issues including food fraud, origin testing and labelling regulations. This collection also provides access to Thermo Fisher's Food Authenticity webinar series for 2017, where experts delve into olive oil characterisation, gelatin speciation, honey and chromatography, and more.
The journey
From the start we produced a range of pastas including filled pasta, unfilled long and short pastas, lasagne sheets, and cannelloni using both extrusion and lamination equipment. Our cannelloni range is co-extruded.
Under the guidance and expert eye of our Italian consultants, we became experts at fillings and gained a reputation for exceptional filling delivery in terms of flavour, particulate and consistent fillings. We pride ourselves on delivering the same quality fill percentage in every shape that we produce…
The rest of this article is restricted to logged-in members. Login or subscribe free to read it.
Issue
Related topics
Related industry sectors