The ENERGY STAR difference
Commercial kitchens are extremely energy intensive. These establishments encompass everything from restaurants and bars, to school kitchens and hotels, to high volume quick-service restaurants. They can consume between 5-7 times more energy per square foot than other commercial buildings. The Environmental Protection Agency's (EPA) ENERGY STAR programme estimates that a single commercial kitchen appliance consumes more energy than an entire home; the annual energy consumption of a standard electric deep fat fryer is more than an average U.S. household's electricity use for a whole year!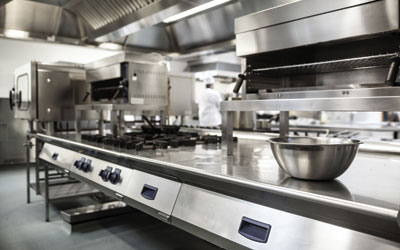 By outfitting a commercial kitchen with a suite of ENERGY STAR certified commercial food service equipment, operators could save nearly $5,000 a year on energy costs and reduce greenhouse gas emissions by about 42,000 pounds annually.
Equipment that earns the ENERGY STAR label is typically built better than conventional models, resulting in reduced maintenance costs and down time. The rising costs of utilities and ongoing maintenance costs greatly outweigh the initial purchase price of a piece of equipment. Making energy-efficient choices when it is time to upgrade or replace commercial kitchen equipment can help reduce utility bills, and make significant contributions to a cleaner environment. Many energy utilities also offer rebates for ENERGY STAR certified commercial food service equipment. More than 100 utilities across the United States offer incentives for commercial kitchen equipment. ENERGY STAR maintains a searchable database of current product rebates from utility companies and other energy-efficiency program sponsors.
Webinar: eBook: Thermo Fisher Scientific Food Integrity Collection 2017
Over the course of the year Thermo Fisher Scientific have provided expert comment on a whole swathe of issues including food fraud, origin testing and labelling regulations. This collection also provides access to Thermo Fisher's Food Authenticity webinar series for 2017, where experts delve into olive oil characterisation, gelatin speciation, honey and chromatography, and more.
New ENERGY STAR specifications for commercial kitchen equipment
Across more than 70 product categories, ENERGY STAR products are independently certified to meet strict specifications for efficiency and performance. These products use less energy, save money, and help protect the environment. The programme covers a broad range of commercial kitchen products including commercial dishwashers, fryers, griddles, hot food holding cabinets, ice machines, ovens, refrigerators, freezers and steam cookers. In order to earn the label, manufacturers use high-quality components and innovative technologies that often lead to additional benefits, including: shorter cook times, higher production rates, and longer product lifetimes…
The rest of this article is restricted to logged-in members. Login or subscribe free to read it.