The fickle friend of trust in the food industry
New Food's Bethan Grylls reports on the opening of the GFSI conference, where we learned about the changing nature of trust, which can never be taken for granted.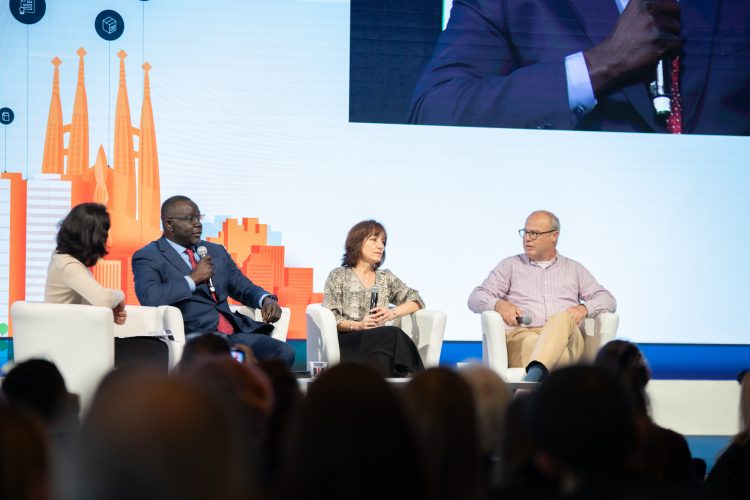 Howard Popoola, Monique Pellegrino and Roy Kirby discuss the importance of trust
A clear theme in this year's GFSI's conference is the matter of trust. "Trust is the basis of everything we do," Roy Kirby, Partner at FoodSafERM, said, as he took to the conference podium on day one, among other members of GFSI's Steering Committee. "It's the glue of life."
Kirby offered reassuring and warm words of the industry's respect for trust, calling it a "non-compete criteria". Certainly, the industry understands clearly that trust is expected of a product; the problem, however, as Kirby so aptly described, is that trust arrives on foot and leaves on horseback. In other words it's hard to build and very easy to lose.
The RASFF system reported 1,168 food recalls in Europe in 2020, which is estimated to have risen by 13 percent from 2019. Although the number of recalls seems to have remained fairly static in more recent times, "one in 10 people fall ill every year from contaminated food, and over 1,000 die," as Dr Francesco Branca, the World Health Organization's (WHO) Department of Nutrition and Food Safety Director noted in his introduction.
Indeed, despite consumers' expecting safe food products as a given, as Howard Popoola, Vice President of Kroger Co., so rightly pointed out: "Wherever you go, food safety is a threat." As such, now is not the time to stand still – and the GFSI's Steer Co., reassured the delegates that the group was certainly putting that mantra to practice. 
"For over 20 years, GFSI has led the charge in harmonisation," Popoola stated, adding that the organisation's presence has alleviated his concerns over food safety due to the network of experts embedding within it. 
However, achieving harmony within the sector is no mean feat. It was clear from the speaker lineup, which comprised of the likes of the Food and Agricultural Organization (FAO) of the United Nations, WHO, World Food Programme (WFP), Codex and GFSI committee members, that their though visions are aligned, the way in which action is executed is often segmented into silos. 
"Have you ever heard the expression 'it's like trying to herd cats'? That's what it's like trying to harmonise the sector globally," Popoola explained.
"There are new and emerging threats every day and GFSI has to respond to those through harmonised standards. This is an organisation which brings people together and gets companies talking," he continued. 
We have often banged the drum for the importance of collaboration and harmonious standards across industry at New Food, but as they say, Rome wasn't built in a day. Yes we have made progress, but we are far from the finish line. The partnerships which GFSI and so many others in the sector have established are vital stepping stones in securing a safe and accessible food system for all. 
As Dr Branco summed up nicely: "Food safety is important to achieve the three WHO goals of zero hunger, a healthier food system and no poverty."