Food for Thought: All you need to know about food-grade lubricants
In an interview with Dr Robert von Der Aa, Head of Application Technology at ADDINOL Lube Oil, New Food finds out more about the food-grade lubricants (FGL) market and what you should be looking for when shopping around.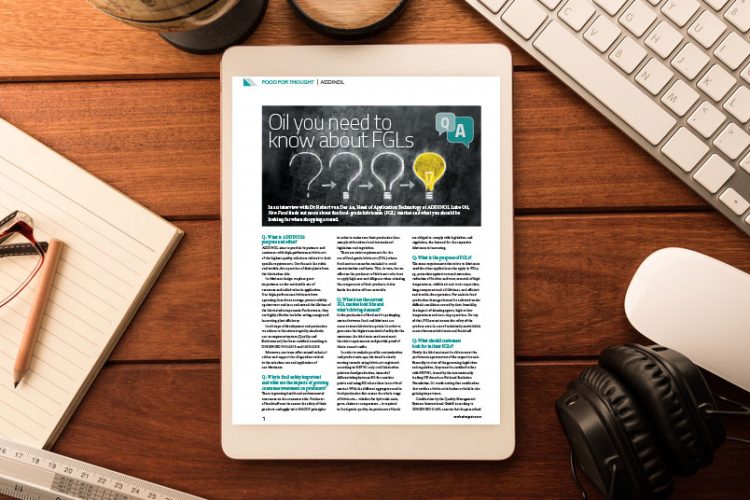 Q: What is ADDINOL's purpose and ethos?
ADDINOL aims to provide its partners and customers with high-performance lubricants of the highest quality, which are tailored to their specific requirements. Our focus is the stable and trouble-free operation of their plants from the lubrication side.
In lubricant design we place great importance on the sustainable use of resources and added value in application. Our high-performance lubricants have operating lives above average, protect reliably against wear and tear, and extend the lifetime of the lubricated components. Furthermore, they are highly effective tools for saving energy and increasing plant efficiency.
In all steps of development and production we adhere to the strictest quality standards; our management system (Quality and Environment) has been certified according to DIN EN ISO 9001:2015 and 14001:2015.
Moreover, our team offers sound technical advice and support for all questions related to the selection, use and application of our lubricants.
Q: Why is food safety important and what are the impacts of growing consumer awareness on producers?
There is growing health and environmental awareness on the consumer side. Producers of foodstuff want to ensure the safety of their products and apply strict HACCP principles in order to make sure their production lines comply with national and international legislation and regulation.
There are strict requirements for the use of food-grade lubricants (FGL) where food contact cannot be excluded to avoid contamination and harm. This, in turn, has an effect on the producers of lubricants who have to apply high care and diligence when selecting the components of their products; it also limits the choice of base materials.
Issue
Related topics
Related organisations