Hygienic design of conveyor systems – new EHEDG Guideline shows the way
Posted: 27 October 2014 | Jon J. Kold, Chairman, EHEDG Conveyer Systems Subgroup | 1 comment
With a new guideline on hygienic design of belt conveyors for the food industry, the European Hygienic Engineering & Design Group (EHEDG) addresses two of the major challenges in safe food production. First, how to avoid contamination of food through inadequately designed processing equipment. Second, how to improve food safety without operating costs for cleaning and production hygiene skyrocketing.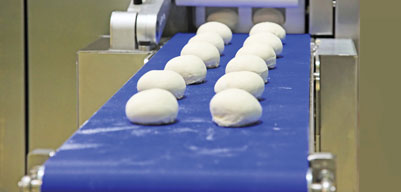 EHEDG is a consortium of equipment manufacturers, food industries, research institutes as well as public health authorities with the aim to promote hygiene during the processing and packing of food products. The principal goal of EHEDG is the promotion of safe food by improving hygienic engineering and design in all aspects of food manufacture.
Transportation of food products via belt conveyor systems is an important part of most food processing installations. Therefore good hygienic design of the conveyors is essential to ensure that the highest level of food safety is maintained while providing economic benefits by reducing the time, effort and cost of cleaning.
The new guideline applies to the hygienic aspects of belt conveyor systems used for the transport of product in areas where it is vulnerable to contamination. The guideline is intended to assist equipment designers, purchasing officers and production engineers. It may also be used as a communication tool between food processors and equipment suppliers.
The guideline is based on a prior Danish guideline on conveyors published in 2006 by Staalcentrum, an innovation network focusing on processing equipment for the food industry. Staalcentrum is funded by the participating companies and – as a partner in the Danish Material Network – by the Danish Ministry of Higher Education and Science.
In 2010 the EHEDG Secretariat called upon Staalcentrum to chair a subgroup named 'Conveyor Systems' commissioned to prepare an official EHEDG Guideline. The subgroup has 14 members representing companies and knowledge centres in eight countries: Denmark, England, the Netherlands, Israel, Switzerland, Germany, Belgium and the USA.
Belt conveyors
There are several types of belt conveyors. The Guideline describes hygienic design of the following types and components:
Friction driven
Positively driven
Modular belts
Metal and wire belts
Round- and V-profile belts
Frames
Belt support systems
Lateral guides for belts
Drive stations and motors
It is not the purpose of the guideline to recommend specific solutions or suppliers, but rather to provide guidance to current best practice.
The quick and efficient access to clean belt conveyors is a major consideration in the hygienic design process. Where the Guideline is successfully implemented, improved food safety and reduced operating costs will result.
Design rules
The construction engineer must ensure that the delivered equipment meets the requirements and is of a quality consistent with its intended use. Therefore, the Guideline comprises a number of general design rules leading to good hygienic design of conveyors as well as other types of equipment. As examples, a few of the general design rules are mentioned below:
The equipment must be designed to facilitate cleaning and be free of crevices, grooves, uneven or rough surfaces and any similar impediment in areas where cleaning is difficult or impossible
Hinges should be able to be disassembled for cleaning and inspection
The construction should be designed without hidden areas or blind spots where water, detergents or dirt may collect and accumulate
All horizontal surfaces should be reduced to an absolute minimum, and should have a five-degree inclination to allow water to run off
The equipment should be as open as possible.
Construction materials
Construction materials shall apply to the European regulation concerning materials in contact with food (EC 1935/2004) as well as national regulations. Therefore, the materials used in conveyor systems must be non-toxic and non-absorbent. They must not adulterate the food by imparting deleterious substances to it, nor affect its organoleptic characteristics. Obviously food-contact materials must not contain lead, arsenic, cadmium, or mercury which may leach into the food.
Generally, stainless steels offer excellent corrosion resistance, and are therefore widely used in the food industry. The range of available stainless steels is extensive but the selection of the most appropriate grade will depend on the conditions of intended use, the stresses to which the steel will be subjected and the constraints of machinability, formability, weldability, hardness and cost.
Aluminium is generally not sufficiently corrosion-resistant and should be avoided for food contact especially where wet cleaning procedures are applied. Similarly, zinc-coated substrates are not recommended. If nickel- or chromium-plated equipment is used, the plating must be manufactured reliably and its integrity regularly checked to ensure that it does not flake and thereby contaminate the product.
Plastic materials may be used to avoid metal-to-metal contact (e.g. for bearing surfaces), as guides and covers, or for hoses because of their flexibility and corrosion resistance, but it must be noted that some plastics are porous and can absorb product constituents and harbour micro-organisms.
Rubber materials and other elastomers which are commonly used for gaskets, seals and scrapers may be damaged by excessive mechanical or thermal compression or by severe deformation, and this may adversely affect their cleanability.
The use of many traditional materials (such as wood) in conveyors should be restricted and considered in all cases as a hygienic risk.
Attention should be drawn to EHEDG Guideline N°32 on the selection of Materials of Construction for Equipment in Contact with Food.
Specific design
In the following, a chapter from the guideline illustrates the content. The chapter describes measures to be taken by design of Fabric Conveyor Belts (light conveyor belt with fabric carrier). 'Fabric conveyor belts' or 'coated fabric belts' are defined in the International Standard ISO 21183-1 'Light conveyor belts – Principal characteristics and applications'. They contain an embedded fabric carrier. A driving pulley with or without friction cover drives the conveyor. Fabric conveyor belts are mainly used in straight running conveyors, either horizontal or inclined. However, also curve conveyors with special constructed fabric conveyor belts are available.
Construction
On the construction of Fabric Conveyor Belts the Guideline states:
Fabric conveyor belts typically have one or two fabric traction layers with a variety of thermoplastic or rubber covers on both sides
The belt material must be 'food approved' according to local legislation
The most common available colours are blue and white. Blue is nowadays preferred in the food industry, as it does not naturally occur in foodstuffs and is easy to detect as contamination
For hygienic reasons, it is important to keep the fabric embedded and not exposed to any dirt. Edge fraying should be avoided by sealing the edges, or by using special designed 'non-fraying' or knitted fabric conveyor belts
Fabric conveyor belts can be made endless by means of welding or with mechanical joining methods. The latter allows easier dismantling but can form a trap for germs and bacteria
Fabric conveyor belt accessories, like flights, are usually extruded and welded/stuck onto the belt surface. This should be done without creating any crevices
To track the belt, one (often the drive pulley) or several tapered or crowned pulleys are used. Alternatively, traction of the belt may be done with a fitted guiding strip welded on the running surface of the belt
For proper tracking of curved conveyors, the belts of the conveyors are equipped with guides such as welded profiles on the backside.
Cleanability
On the cleanability of Fabric Conveyor Belts the Guideline states:
Cleaning can be carried out manually or by Cleaning-In-Place. In general, the surface is homogeneous and smooth, and therefore easy to clean. To preclude porosity, the belt must have sealed and dense surfaces
Any damage to the belt (e.g. edge fraying, surface cuts) may prohibit proper cleaning, resulting in poor hygiene. To avoid belt damage through chemical degradation, the chemical resistance of respective synthetic belt materials must be considered
To clean the underside of the belt, the conveyor design must allow for release of the initial belt tension so that the belt can be removed or lifted
In cases where the belt is supported by a flat plate, full accessibility for cleaning the underside necessitates an easy method for removing the belt
As mechanical joints may become a trap for microorganisms, they must be fully opened and thoroughly cleaned.
Service and maintenance
On the service and maintenance of Fabric Conveyor Belts the Guideline states:
All belt surfaces should be regularly examined for damage – for example worn top coating, edges fraying, surface cuts and crevices and dirt accumulation. Particular care is needed with complex fabrications involving welded flights, guides and sidewalls
The belts, conveyor frame and slider bed should be regularly checked for accumulated dirt and damage
To avoid slippage on the drive drum during operation, the correct initial belt tension must be applied. For that purpose, the tensioning device must be intact and fully functional
All rotating conveyor components (drive-, tensioning-, head- and tail pulleys, idlers, carrying rollers, etc.) must be regularly checked to ensure that they are clean and functioning properly. 
The new Guideline, together with 42 other EHEDG guidelines, is for sale in the EHEDG webshop (www.world-of-engineering.eu). Company and Institute Members of EHEDG are granted a free of charge download of all guideline documents from this website. A 44th Guideline on Building Design is under final review and will be published soon.
About the author
Jon J. Kold is Chairman of EHEDG Subgroup 'Conveyor Systems' and Director of the Danish innovation network, Staalcentrum. He has comprehensive experience on production hygiene and hygienic design of food equipment from the Danish food industry and the Danish Technological Institute.
Issue
Related organisations