Competency shouldn't be taken for granted
Marko Dragan from PharmaHemp emphasises the importance of precise quantification of cannabinoids in hemp-derived products, and why you need a high-spec laboratory to achieve valid and trustworthy results.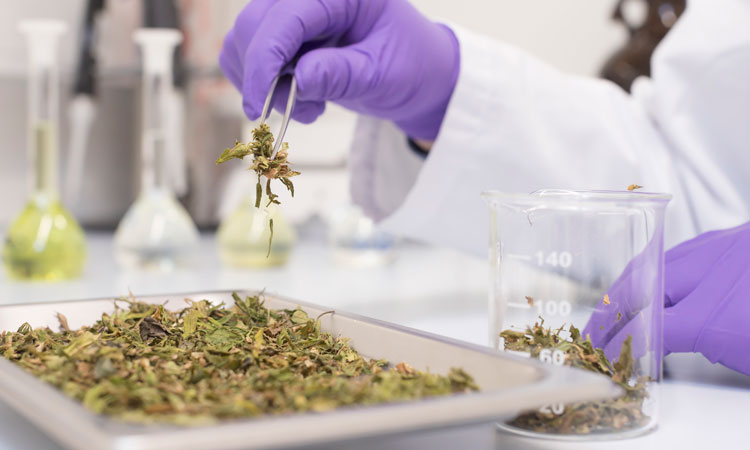 Given the rampant market expansion in the CBD and cannabis space, the quality and safety of cannabis-infused products have become an issue. Numerous providers are offering products with unspecified and unknown cannabinoid content and poor traceability.
Knowing the cannabinoid content of a specific product is crucial to ensure safe consumption and legality, which is usually associated with the content of psychoactive THC. Consequently, the quantification of cannabinoids is becoming an essential part of quality control and quality assurance for everyone involved in cannabis production and consumption. Laboratory testing at every stage of production – from biomass to final product – is an indispensable part of the industry.
Inaccuracy during cannabinoid testing is an area of concern within the industry, as no internationally recognised standardised methods currently exist for quantitative cannabinoid determination. In the absence of guidance, laboratories have been developing their own methods for measuring cannabinoid concentrations. Different laboratories have not only adopted different analytical techniques, but also unique analytical procedures, which inevitably leads to variations in the measured cannabinoid content between laboratories.
Method quality
While a certain degree of deviation in potency testing is inevitable – particularly for biomasses, where the cannabinoids are unevenly distributed throughout the plant – efforts are made to address the variability in the cannabinoid testing of cannabis-infused products in a systematic way.
There are numerous organisations that collaborate with experts from government, academia and industry, which are developing voluntary consensus-based reference methods and standards. Laboratories can evaluate the performance of their methods based on the described characteristics of the consensus methods through an on-site verification or a single‑laboratory validation. This is currently one way to ensure the suitability of any testing protocol for its intended use; ie, to identify and measure the cannabinoid profile in the given sample repeatably and accurately.
The quality of the method used is further influenced by the competence of the laboratory staff, the conditions in the laboratory and, most importantly, the reliability of the reference materials used. A certified reference material (CRM) is generally recognised as providing the highest level of traceability and accuracy for a measurement.
Under an ISO/IEC 17025 quality system, laboratories are required to maintain metrological traceability of their measurement results. Metrological traceability is vital for providing confidence in the accuracy of analytical measurements, as the result can be related to a reference through a documented, unbroken chain of calibrations, each contributing to the measurement uncertainty. CRM used by well-trained staff, under proper laboratory conditions, allows for confidence in the accuracy of the analytical results. The reference material must be produced by an accredited manufacturer, which constitutes an elemental part of bringing legitimacy to cannabis testing. It is extremely important to use properly certified, quantitative reference materials for potency testing. Furthermore, it is essential that the laboratories assess the measurement uncertainty – a requirement of the ISO/IEC 17025 standard.
The accuracy of the CRM solutions is not the only concern; so too is the stability of those solutions. PharmaHemp Laboratories conducted a study to show how light and temperature conditions affect the degradation of a CRM. We found that attention must be paid to the storage conditions of CRMs, as they are readily light and heat degradable. The standard solutions need to be carefully stored in a controlled environment and extra care must be taken during the manipulation of CRMs to obtain reliable results. Laboratories that fail to do so are bound to face problems related to the repeatability and accuracy of their results.
Complying with ISO/IEC 17025
PharmaHemp Laboratories is accredited under ISO/IEC 17025, which is the most important standard for testing and/or calibration laboratories. The accreditation confirms that a particular laboratory can produce precise and accurate test results and calibration data, along with traceability of the measurements. It verifies that the laboratory is operated by technically competent staff, who are using validated and properly maintained testing equipment. Furthermore, it assesses the suitability of the quality assurance of tests and calibration data, as well as the validity and appropriateness of the test methods. Accreditation also confirms that the laboratory is handling and transporting test items appropriately and has a high-quality testing environment and sampling process.
To ensure continued compliance, accredited laboratories are regularly re-assessed. The accreditation also requires regular participation in proficiency testing programmes as an ongoing demonstration of their competence. ISO/IEC 17025 requires the laboratories to be responsible for conducting laboratory activities impartially and must structure and manage all laboratory activities to prevent commercial, financial or other operational pressures.
Numerous providers are offering products with unspecified and unknown cannabinoid content and poor traceability​​​​​​​
PharmaHemp Laboratories utilises high-performance liquid chromatography (HPLC) for the potency testing of cannabis and cannabis-infused products. This technique is considered as the gold industry standard, as it is undoubtedly the most accurate way to measure the components of cannabis. All other methods fall short of being able to provide the accuracy, sensitivity and reproducibility that HPLC offers.
Moreover, liquid chromatography does not use heat, so it is possible to identify and quantify both acidic and neutral forms of cannabinoids. This is crucial, as the cannabinoids produced by the plant are in an acidic form and the HPLC shows the real content of cannabinoids present in any given sample.
The HPLC technique with the diode array detection (DAD) system, as used in PharmaHemp Laboratories, can reliably quantify all the major cannabinoids in all types of matrices (eg, flowers, leaves, seeds, resin, oils, extracts, isolates, tinctures, water-soluble formulations, alcoholic and non-alcoholic drinks infused with CBD or cannabis extracts, creams, lotions, balms, and edibles such as brownies, gummies and honey).
PharmaHemp Laboratories also uses a high dynamic range (HDR) detector system that makes an extremely low detector noise possible, regardless of the length of the optical path, and thus expands the linear dynamic range of the method. This enables us to not only have simplified sample preparation without any subsequent sample dilutions, but also facilitates the detection of much lower concentrations of cannabinoids in the samples. This is extremely important for markets like the UK with strict regulations regarding the THC content in final products. We can quantify so-called trace amounts of THC or other cannabinoids with high precision and accuracy and we are able to do so in a variety of different formulations.
We are currently quantitatively analysing 12 cannabinoids:
Cannabidivarin (CBDV)
Cannabidiolic acid (CBDA)
Cannabigerolic acid (CBGA)
Tetrahydrocannabinolic acid (THCA)
Cannabidiol (CBD)
Cannabigerol (CBG)
Δ-9-Tetrahydrocannabinol (9-THC)
Cannabinol (CBN)
Cannabichromene (CBC)
Tetrahydrocannabivarin (THCV)
Δ-8-Tetrahydrocannabinol (8-THC)
Cannabicyclol (CBL).
Challenges in cannabinoid analysis
From an analytical laboratory's perspective, cannabis and hemp samples are particularly challenging for analyses. The samples usually contain an appreciable amount of chlorophyl, waxes and other plant material, which make them sticky and lipophilic and so are hard to work with.
The main challenge in the analytical testing of cannabis is the variety of sample matrices in the products and also the amount of unusual, nontypical processes used in growing and extracting cannabis, which can result in the formation of similar compounds or even isomers of cannabinoids that are hard to separate from the known cannabinoids.
For the laboratory, it is crucial that a robust sample-preparation protocol is used for all sample types and that it can be adapted if required. It is important that we invest time and effort to check whether the sample preparation protocol is appropriate for new sample types received by the laboratory.
Our laboratory uses ultrasound-assisted extraction (UAE), which is an effective and rapid technique for extracting cannabinoid concentrates, as it improves the diffusion process by accelerating interphase mass transfer. In the case of plant materials, the solvent penetration is enhanced, accelerating the release of cannabinoids from the biological matrix into the extraction solvent.
Even ISO 17025-accredited laboratories struggle to reproduce one another's results. The main causes are the lack of standardised analytical methods and the variations between CMRs, which arise from inappropriate storage or handling. PharmaHemp Laboratories regularly participate in proficiency testing and comparisons of its results with other laboratories.
It is also important that we dedicate time and effort for personnel training and education and increase our level of confidence in making accurate cannabinoid analyses.
Conclusion
We would like to see a leap forward in the standardisation of analytical methods and unite the newly accepted, standardised methods with those already established by laboratories. It is essential that matrix-based reference materials are developed and used for interlaboratory comparisons. More collaborations between laboratories will be needed in the future to realise those objectives. It will be important for laboratories to adopt these new methods or show the suitability of their own methods quickly and efficiently in order to operate successfully. 
Marko Dragan
Marko graduated at Biotechnical Faculty in Solvenia where he received a Master's degree in Biotechnology. During his studies he worked at the Department of Synthetic Biology and Immunology, which is part of the Chemical Institute of Ljubljana. He was mainly involved in signal pathways of modified microorganisms and various analytical techniques. Afterwards, Marko worked at the Department of Analytical Development for pharmaceutical company Lek, where he gathered close to five years of experience in method development and validation. In 2018, he joined the PharmaHemp company, where he currently works as Analytical Laboratory Manager. Marko was also responsible for the laboratory accreditation under the ISO/IEC 17025 standard.
Issue
Related organisations