How to stand out from the growing CBD crowd
Kameron Norwood, Co-Founder of CBD brand, Half Day, answers New Food's questions in an insightful Q&A.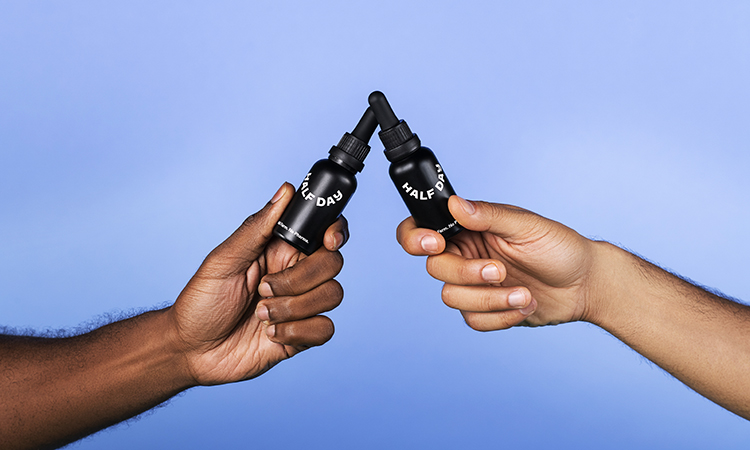 Half Day CBD hopes that its hands-on approach will win consumers over
In an increasingly saturated market, Kameron Norwood, Co-Founder of Half Day CBD, reveals how they fight off the competition….
Q: CBD is a crowded market – what makes Half Day unique?
A: Many people will notice that our prices are lower than a lot of competitors, even though it's a high quality product. That's because we go to great lengths to establish direct relationships with our farmers and cut out the middlemen.
Whereas a large majority of CBD companies white label or are far removed from links within their supply chain, we work directly with our farmers and processors to produce our oils, then bottle them in-house in a Food and Drug Administration (FDA)-certified facility; our executive chef and her team make our gummies and salve in-house in craft-batches in the same facility. We even warehouse and ship products from our own facility.
Q: Why did you begin your venture?
A: We [Dave DiCosola and Kameron Norwood] began Half Day CBD because we had been exposed to the industry through friends and family, and immediately saw the power and promise of CBD to help people. We have also been deeply saddened to see the struggles people (including some we know) are having with addiction to dangerous pharmaceutical drugs – and we truly believe CBD holds the promise to be a significantly safer, natural alternative to those drugs. We also felt strongly that they could deliver a better product for less, and with a better customer experience. It's a personal mission to help contribute to a CBD/hemp industry that becomes more reputable, regulated and trustworthy for consumers.
Q: Why is your product sourced in the US?
A: We believe that the best way to be sure of the quality and consistency of our product is to work with farmers that are as local as possible. In fact, we visit every farm personally and build true relationships with our farming partners. Currently, all of our oils and isolate come from a farm and processor right in our own backyard in Beecher, Illinois. In addition to quality and consistency, it's our mission to support US farmers as much as we can, particularly those in our community and state.
Q: Can you explain your process behind finding a reputable grower and lab to test your product?
A: We take our role in the CBD/hemp industry very seriously, so we're always attending hemp grower events and conferences, as well as networking directly with farmers in our area. With a strong knowledge of hemp and cannabis, we know what to look for when vetting partners —everything from organic standards to harvesting, drying and processing methods. As for lab partners, we work with Premium CBD Labs and Origo Labs. Third-party testing is extremely important to us. We not only test our raw material for pesticides, herbicides, heavy metals and other contaminants, but also each batch of product to ensure potency and consistency.
Q: What do your day-to-day roles involve?
A: As CEO, Dave is responsible for the overall vision of the company and managing the general business administration – including finance, technology and marketing. He is often in the warehouse supporting our teams with customer service and order fulfillment. As Chief Operating Officer, I'm extremely hands-on; you might find me at the farm checking out our most recently harvested strains of craft flower or picking up a new batch of oil, working in the kitchen with our chef to perfect a new gummy formulation, or working with our event teams to get CBD directly into the hands of the people!
Q: In the midst of the Covid-19 pandemic, we're seeing a lot of job losses – with CBD being such a popular market, do you think it could help restore economic growth?
A: Yes, CBD and hemp in general absolutely has the power to help improve the economy. With the proper support and education, farmers can make a very good living growing hemp, and we're just scratching the surface of what we can create with it beyond CBD – from textiles to sustainable materials that could replace plastic. As a CBD company that prides itself on doing as much in-house as possible, we love that it affords us the ability to hire within our community.
We believe that the best way to be sure of the quality and consistency of our product is to work with farmers that are as local as possible.
Our current team includes four full-time employees and around a dozen part-time employees, and we're hoping to continue to grow that substantially in the next few years. To us, there is nothing more rewarding—besides helping our customers live better lives—than building a strong, happy and fulfilled team.
Q: On that note, how has the pandemic impacted sales? And why?
A: We've seen an increase in sales since the pandemic, and particularly e-commerce sales. Last summer, events were a big part of our revenue, but that has obviously shifted. We've heard personally from many customers who are using CBD regularly for the first time during the pandemic because of all the stress and anxiety it has caused. Between homeschooling, working from home, worrying about friends and family and everything else this has brought on…it's a lot. We truly believe CBD can help, and based on sales, many people seem to agree.
Q: You focus on buds, topicals and gummies – do you have plans to enter into any other CBD food market?
A: We are coming out with a full-spectrum CBD hard caramel and full-spectrum CBD gummies (our current gummies are made from isolate). We also work with several local restaurants who offer CBD as an add-on in their drinks, juices, even milkshakes! It's a very popular option for restauranteurs because their customers love it and it's very good incremental revenue for them.
Q: Why is there such a surge for gummies?
A: We find that gummies are the way many people get their start with CBD because they're not intimidating to take (…and they taste delicious). Gummies are also very discreet and easy to take in public situations where you might not want to pull out a bottle of tincture or smoke a pre-roll. Because sublingual application (taking CBD oil by putting it under the tongue) has a different effect than edibles, which are processed through the digestive system and liver, some people say they feel different effects when they take gummies versus oil or smoking flower. Another benefit of gummies is that the effects of CBD tend to last longer when metabolised through the digestive system rather than smoked or taken sublingually. Finally, they're easy to share; people love to offer a gummy to a friend or family member. It is much easier and more COVID-friendly than sharing your oil dropper or pre-roll.
Q: What's currently happening with the FDA and CBD regulation? Are you worried those agencies will impose restrictions or new legislation?
A: In a statement updated 10/1/20, the FDA acknowledges that "There is a significant interest in the development of therapies and other consumer products derived from cannabis and its components, including cannabidiol (CBD)." The agency also notes it is "committed to protecting public health while also taking steps to improve the efficiency of regulatory pathways for the lawful marketing of appropriate cannabis and cannabis-derived products."
We believe that the FDA, based on the intense consumer interest of CBD, is working hard to determine guidelines for the CBD industry. The worst-case scenario would be that they categorise CBD as a pharmaceutical ingredient only, meaning only pharma companies could manufacture, market and sell it. Of course, we don't want that – it would significantly limit the number of people who could have access to CBD for therapeutic use and could cause the price to skyrocket. But we think that this is an unlikely scenario. It's more likely that the FDA would impose stricter regulations on companies who manufacture and sell CBD. While this may scare some CBD companies, we welcome these guidelines, because we're already prepared and have implemented many of the most likely regulations. For example, we manufacture our products in an FDA-certified facility with a certified Food Safety Manager, and rigorously test our raw ingredients and final products for safety, quality and potency.
Q: How do you see the future of CBD evolving?
A: We have no doubt that in the coming years, the anecdotal evidence and preliminary research results around CBD will be substantiated through more research. We also expect the FDA to more clearly define rules and regulations around CBD, which will bring the industry out of the shadows and eliminate any sketchy players. While the industry is pretty saturated, we do believe there will still be room for multiple brands that appeal to different conditions and lifestyles; however, we do expect to see consolidation over the years. And there is no doubt that the economic conditions related to the pandemic could kill off many smaller CBD companies.
Overall, CBD is not going anywhere; it's changed people's lives, and holds the promise to be a wonderful, natural alternative to some of our most dangerously addictive pharmaceuticals – from opioids to anti-anxiety medications. We're so excited to see how this industry will grow and flourish.
About the author
Kameron Norwood puts his knowledge about growing, harvesting and using hemp to good use as co-founder and COO of Half Day CBD. He is on a mission to develop strong relationships with local farmers and processors to deliver high quality and strong value to Half Day CBD customers.