Moisture Analyzers Provide Quality Control and Boost Productivity
"Original Swiss Army Knife" is a world-famous brand with a 134-year history. METTLER TOLEDO moisture analyzers enable Victorinox to monitor product quality from the very beginning of the manufacturing process. Victorinox's customers trust its products and in turn, Victorinox trusts METTLER TOLEDO.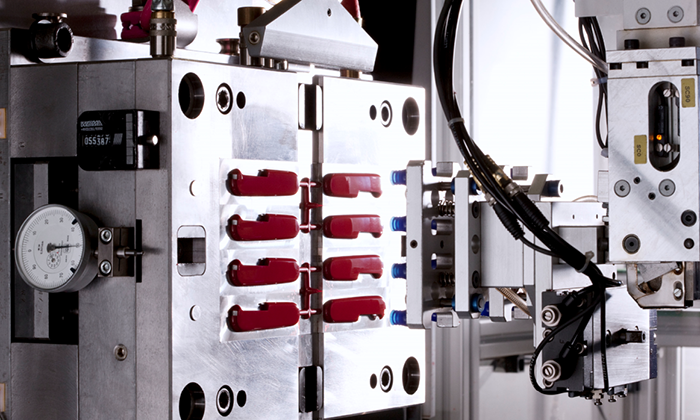 Injection mold for Victorinox Swiss Army Knives (courtesy of Victorinox)
Greifensee, 24 May 2018 – Founded in 1884, Victorinox is today a global company offering a series of innovative, functional and superior-quality products which reflect the company's timeless Swiss values. The iconic Swiss Army Knife is Victorinox's core product and is manufactured at its facility in Ibach, Switzerland.
For quality control of incoming goods and inline process control of the plastic production, the company relies on METTLER TOLEDO moisture analyzers. The process starts when incoming plastic granulate is analyzed to control the moisture content, colour and thermal properties. Fifteen tons of raw material are stored and up to 1,000 kg batches are dried daily before use.
However, this is not the final stage of the procedure: before processing a customer order, Victorinox samples from the dryer and tests the granulate batch for moisture content. Depending on the result, the company either continues drying to meet the moisture content specifications or uses the granules for production. Material that passes the moisture content quality control is automatically fed to the injection moulding machines which produce the knife handles.
Six different plastics are used, depending on the product type, and each material has its own moisture analysis drying method. The company's production floor is set up so one person per shift manages the sample preparation, changes the tools, runs seven injection moulding machines and performs the quality control.
Victorinox chose METTLER TOLEDO moisture analyzers after discovering how easy they were for non-experts to use due to a series of moisture method shortcuts. Additionally, the company was impressed with the quality and service offering.
Moisture analyzers have helped Victorinox reduce waste and boost productivity, as well as ensure material is of the highest quality, even before it goes into the injection moulder.
Since using METTLER TOLEDO moisture analyzers, Victorinox has significantly reduced the number of discarded batches. Additionally, if there's a problem with injection moulding, it can now eliminate the moisture content of the material as a cause. As a result, the company has eradicated product errors and speeded up production by as much as 5 to 10%.
Related topics
Related organisations