'Disappointing' and 'unjustified': farmers react to neonicotinoid ban
Recently announced measures that will place heavy restrictions on the use of a controversial pesticide have divided opinions in the UK and Europe.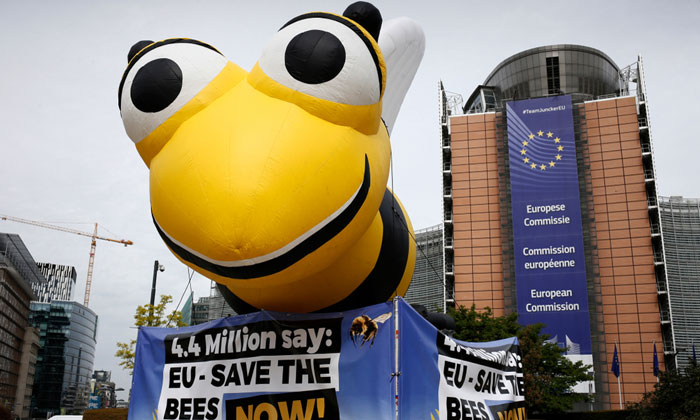 BUZZING: A giant inflated model of a bee during a demonstration in front of the EU Commission offices calling the EU to adopt a ban on bee-killing neonicotinoid pesticides
Farmers unions in Europe and the United Kingdom have described the decision to impose tough new restrictions on the use of a popular insecticide as disappointing and unjustified.
Neonicotinoids have been the subject of criticism due to their reportedly lethal effects on pollinators, such as honeybees. Their use was already restricted by a partial ban imposed in 2013. 
Last week, this was extended to a ban on all outdoor use of three chemicals within the neonicotinoid family (imidacloprid, clothianidin and thiamethoxam). They will only be permitted in permanent greenhouses where no contact with bees is expected. The European Commission has said these limits will come into force before the end of 2018. 
Commissioner for Health and Food Safety, Vytenis Andriukaitis said: "The Commission had proposed these measures months ago, on the basis of the scientific advice from the European Food Safety Authority. Bee health remains of paramount importance for me since it concerns biodiversity, food production and the environment". 
Whilst the move has been welcomed by many environmental organisations such as Friends of the Earth and farming charity the Soil Association, farmer associations across Europe have come out in opposition to the move saying that it will make their businesses less viable. 
Among these opponents, Copa-Cogeca's Secretary General Pekka Pesonen said: "We attach great importance to honeybees and other pollinators at Copa and Cogeca as they are very important for crop production and to ensure biodiversity in the EU.
"Furthermore, as expressed in EFSA's risk assessment, we understand that these substances may pose a risk for bees. But we are convinced that with the appropriate mitigation measures, these substances could have been re-authorised.
"All farmers rely on plant protection products (PPPs) to fight pests and diseases, irrespective of the sector or production method. This ban will decrease farmers' toolbox in an area where there are almost no alternatives. It will also jeopardise the livelihoods of many farmers and put our food supplies at risk".
In the UK, Michael Gove, the Secretary of State for the Environment, Food and Rural Affairs, had already shown support for further measures restricting the use of neonicotinoids. In November, he said he would be led by scientific evidence and it was clear the chemicals posed a risk to the environment.
However, the Deputy President of the National Farmer's Union, Guy Smith, said last week that the ban was not justified by the evidence available. 
"This decision doesn't change the fact that farmers will continue to face challenges to maintain sustainable and productive cropping systems and the pest problems that neonicotinoids helped farmers tackle have not gone away.
"Most agronomists agree that without neonicotinoids many crops grown in the UK will become less viable and a ban could simply mean we import more crops from parts of the world where there is no political desire to ban these key insecticides. So we will be looking to both the UK Government and the Commission to work with the industry to mitigate the effect of a ban on both food production and the environment.
"The NFU believes a risk-based approach should be taken on this issue, where the impacts of potential changes are fully understood and recognised as providing genuine opportunities to improve bee and pollinator health. There is a real risk that these restrictions will do nothing measurable to improve bee health, while compromising the effectiveness of crop protection.
"Farmers are acutely aware that bees play a crucial role in food production. Farmers rely on bees to pollinate crops and have planted around 10,000 football pitches worth of flower habitat across the country to support a healthy bee population and give them a good home – all because they recognise the key role they play in producing safe, affordable food."
NFU Scotland Combinable Crops Chairman Ian Sands said: "This decision comes as a disappointing blow to many arable farmers throughout Scotland who, for years, have strived to use neonicotinoids in a safe and responsible manner.
"The decision to ban neonicotinoids is a highly contentious one, and the arguments within the debate have become increasingly politicised as the debate has gone on. Unfortunately, it would seem that the final decision has been influenced more by politics and less by sound science.
"There are still further debates to be had on other chemicals and it is important that we continue to push EU legislators to stop basing their decision making on politics and instead on scientific facts.
"Scottish farmers pride themselves on being the keepers of the natural environment and hold the conservation of our native species as a priority. To imply that farmers and growers would knowingly use chemicals which are harmful to an eco-system which they put so much time, money and effort into growing and nurturing is a complete insult.
"It would seem that the decision will be fully implemented at the end of the year, so we now have a few months to take stock of where we are at and where we go from here. Farmers and growers will have to look at what this ban will mean for their business and we as a Union will continue to be on hand to our members for advice and help as we look to enter into a period of transition."
Related organisations
Related people