Britvic to grow take home carbonate sales with new smaller format
Britvic introduce the first 250mL range of multipack cans across Pepsi Max, Diet Pepsi and Pepsi…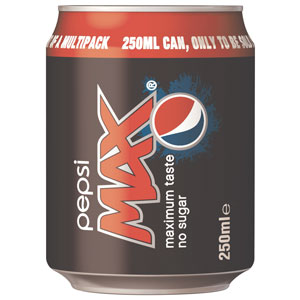 250ml Pepsi Max can
Leading soft drinks manufacturer Britvic and PepsiCo UK are once again shaking up the take home soft drinks market by introducing the first 250mL range of multipack cans across Pepsi Max, Diet Pepsi and Pepsi. The new cans have been designed to give consumers more choice in can size for different soft drink occasions, as well as grow incremental sales for retailers. Sitting alongside the current 330mL 4, 6 and 8 packs, they have been designed to fill a gap in the market, following consumer research which found that many consumers, and in particular women, would like the option of a smaller can.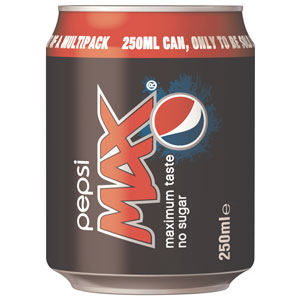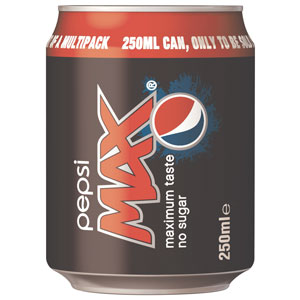 Available to retailers now, Britvic is introducing the new 250mL can format across Pepsi Max, Diet Pepsi, Pepsi, with 7UP Free and Tango available next spring. The range is available in a variety of pack sizes, including 10, 12, 15, 18, 24, 30 and 36 cans. Along with providing more choice, they give consumers an option for a smaller drink when 330ml is too much for their own individual preference, and they are packaged in new cardboard packs that are easier to carry home, store and recycle.
Noel Clarke, brand controller, Britvic, commented: "Carbonates have continued to grow over the past few years because they are constantly offering value to consumers. We are always looking for new ways to drive this growth and to understand what will meet consumer needs.
"From our research we know that consumers buy based on the number of cans inside a multipack. The more cans in a pack, the more consumption occasions there are and the more cans there are to share.
"Our new 250ml multipack range will provide value to consumers by giving them more cans per pack and ensuring that we continue to grow the category even further."
Recent research has shown that sales of soft drinks cans are up 7.5% to 26.4 billion cans in 2010* and the UK was one of the main drivers in this segment. The 250ml can innovation is expected to grow the market further.
To drive sales of the new range, Britvic and PepsiCo UK are investing in grocery outlets with in-store POS, retailer magazine and website promotional activity. Cash and carries will be supported with pallet wraps and posters to drive awareness of the range, as well as being provided with discount coupons that can be given to their customers to redeem against the new range.
To support the launch in the convenience channel, Britvic will be taking samples of the new 250ml cans to stores, handing out coupons to retailers to redeem against the range in depot and providing POS kits including shelf talkers and wobblers to help drive trial of the new range.
The Pepsi, 7UP and Tango brands are currently worth £393m in the take home market and account for 8% of the total growth in the soft drinks market in the last 12 months.**
Last year, Britvic and PepsiCo UK introduced a new 600ml PET format on their low and no sugar variants of some of their biggest brands, generating £8.5m worth of incremental sales to the category in its first 12 weeks.
* Beverage Can Makers Europe research, 2011
** Nielsen Scantrack, Total Coverage, 52 weeks to 06.08.11