IAFP European Symposium on Food Safety
Since 2005, the International Association for Food Protection's (IAFP) European Symposium on Food Safety has been shaping the future of food safety by providing a forum for the exchange of ideas with colleagues from across Europe working in industry, government and academia…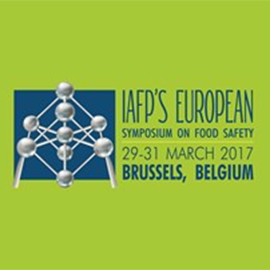 Since 2005, the International Association for Food Protection's (IAFP) European Symposium on Food Safety has been shaping the future of food safety by providing a forum for the exchange of ideas with colleagues from across Europe working in industry, government and academia. This well-known food safety conference in Europe draws food safety professionals from across the continent and around the world to interesting and popular cities throughout Europe.
The 2017 European Symposium on Food Safety will be held in Brussels, Belgium, 29–31 March, where more than 300 participants are expected to convene for three days of intense learning, sharing and networking. The symposium will be held at the Square – Brussels Meeting Centre, within walking distance of a large variety of hotels and some of the best tourist attractions in the historic city centre, including the glass-roofed Galeries St. Hubert – Europe's first shopping arcade. Attendees can also enjoy a fun afternoon at Mini-Europe or the Comic Strip Museum, discover the history of Belgium at BELvue Museum, or visit the futuristic Atomium, just outside of the city centre.
This year's symposium promises an interesting and varied list of food safety topics for attendees. Two Pre-Meeting Workshops will be held simultaneously on Tuesday, 28 March, prior to the conference: "Next Generation Sequencing: A Tutorial and Hands-on Workshop to Help Understand This Emerging Technology" and "Challenge Testing to Assess Bacterial Growth in Food: Which Guidelines, Which Tools to Optimize Food Formulation or Food Shelf Life?"
More than 140 poster and technical presentations will take place throughout the three days, along with 23 symposia sessions, covering topics such as "Foodborne Microbial Toxins, Virulence and Host-Pathogen Interactions;" "Dietary Exposure to Food Chemicals: Data Needs, Methods, and Case Studies;" "Progress in Food Safety Education and Training – Learnings from Tailored Small Group Offerings to Running Massive Open On-Line Courses;" "How to Manage Microorganism with a Complex Cycle of Life in Food Industry;" and "Globalisation Challenges in Food Safety Management – Emerging Issues in Culture, Systems and Practice." A Thursday Evening Social is planned at the Brussels Event Brewery.
For the third year, the IAFP Foundation will award a Student Travel Scholarship for a deserving student who resides in Europe and is enrolled full-time in a college or university food safety-related degree program in Europe. This travel scholarship provides a unique opportunity for a student in Europe to attend this conference and network among hundreds of food safety professionals on a vast array of topics.
Exhibits will be on display from a variety of companies, providing attendees with another avenue to exchange ideas and information on existing technologies and applications, new concepts and innovative designs, and the availability of products and services.
IAFP and its 4,200 food safety professional members are committed to Advancing Food Safety Worldwide® through the mission: "To provide food safety professionals worldwide with a forum to exchange information on protecting the food supply." We are proud to be an important part of several international food safety conferences held around the world each year. The combined efforts in recent years between IAFP and China, Dubai, Latin America, Turkey, and Asia Pacific have attracted top-level leaders and speakers from government, industry, and academia to focus on one goal: to improve food safety around the world. In addition, IAFP also hosts an Annual Meeting held throughout North America that draws more than 3,400 attendees from six continents to take part in the leading food safety conference worldwide.
To learn more about IAFP and the benefits of membership, please visit our website at
www.foodprotection.org.