USAID joins Nespresso to support South Sudan's coffee industry
Posted: 8 April 2016 | Victoria White, Digital Content Producer | No comments yet
USAID will invest $3.18 million to assist Nespresso and TechnoServe to help raise South Sudan farmers' incomes and expand export markets…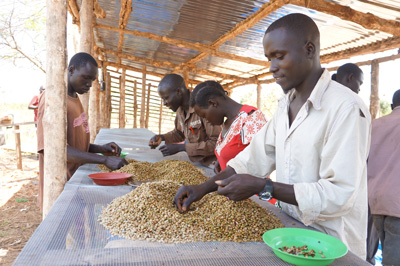 The United States Agency for International Development (USAID) is partnering with Nespresso and TechnoServe to support efforts to rebuild the coffee industry in South Sudan. 
USAID will invest $3.18 million over the next 3 years to assist Nespresso and TechnoServe to help raise farmers' incomes and expand export markets.
Commenting on the collaboration, Jean-Marc Duvoisin, CEO of Nestlé Nespresso said: "This funding injection will allow us to scale the project up and help an even greater number of farmers grow and sell high quality coffee for international export at a higher price, thus creating a better quality of life for farmers and their families."
Since 2011, Nespresso and TechnoServe have worked directly with local farmers to revive high-quality coffee production in South Sudan, while developing commercial channels to enable its sale and export. Nespresso has already invested over $2.5 million in the project.
The country's coffee industry was decimated after years of civil war, and oil now comprises 99 percent of its exports. To date, more than 700 farmers have been integrated into the Nespresso AAA Sustainable Quality Programme, which provides support, training and technical assistance to improve sustainability and productivity, while maintaining the highest quality coffee. South Sudan's first wet mills (equipment to process coffee cherries into coffee beans) have been established, and the first coffee export was sold as a Nespresso Limited Edition in France last year.
South Sudanese coffee farmer Daniel Lomoro said: "The existence of the programme in South Sudan has helped us recover the coffee trees we had lost during the war; and since we started maintaining our trees and delivering to the wet mills our lives have completely changed. We can now afford to take our children to good schools and meet the basic needs of the family. This wouldn't have been possible without that technical support. I plan to plant more coffee trees next season because I want to buy a car and build a decent house for my family. Nespresso and TechnoServe have strengthened us and taught us to be self-reliant."
"We can also see that it can lift the family, lift the nation and can bring good things," added South Sudanese farmer Nicholas Taban Solomon.
Funding will allow the programme to extend to new communities
USAID's contribution will help expand the existing initiative to support a thriving and inclusive coffee sector in South Sudan by increasing scale and ensuring lasting impact. The funding injection will also allow the programme to be extended to new communities, allowing more farmers in South Sudan to benefit from the revival of South Sudan's coffee industry. The initiative aims to triple coffee incomes and improve household resilience. By 2019, the programme will have trained 1,500 South Sudanese farmers, of whom at least 25 percent will be women, and helped establish nine cooperative-owned wet mills.
Nespresso has also launched its Nespresso Sustainability Innovation Fund, which has been established to facilitate investment from Nespresso in coffee origin revival and coffee supply chain resilience projects that go beyond the usual business operations of the company. Nespresso is committing an initial $10 million in specific innovative coffee value chain initiatives in the coming three years (2016-2018).